The Existing Scenario


It has been well established that eco friendly and certified paper consumption globally has increased by twenty times in the last few years. Leads provided by the subject of 'Global Warming' have generated an unimaginable awareness for the common man. Spurred on by growing consumer demand, the pulp and paper industry is offering more and more environmental friendly – "GO GREEN" paper options than ever before.

The current trends are indicators of an uprising revolution in the paper industry. Paper production has to be made more environmental friendly, whether it is through certified wood fiber, renewable energy consumption or chlorine free bleaching processes. One of the major leads in this direction is that both manufacturers and the consumers are looking out to minimize the environmental destruction/degradation impacts of the paper industry through well established certification by accredited agencies who are working in consonance with agencies like the Forest Stewardship Council (FSC). Paper manufactured out of certified fiber & bearing the FSC logo is the guarantee that it has come from responsibly managed & sustainable forests that maintain the highest environmental & social standards.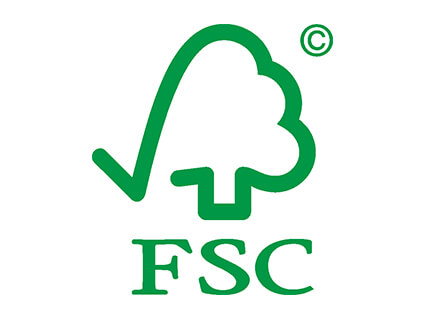 Forest Stewardship Council (FSC)

FSC advances responsible management of the world's forests through the development of voluntary, internationally recognized forest management standards and the world's most widely recognized forest certification program. FSC certification supports biodiversity, ensures protection of forests, assures consideration of human benefits, provides for stakeholder inputs and ensures long-term timber supplies.

Trend Setters

International packaging company Tetra Pak, operating in more than 165 countries and buying around 2 million tons of paper board each year has the potential to influence the market for certified fibers significantly. Tetra Pak holds FSC Chain of Custody (CoC) certification and expects all of its wood based products to come from FSC CoC certified suppliers in 2018 at the latest. Harry Potter is setting new trends with the release of its seventh and final Harry Potter book in the US. It has purchased nearly 22 million pounds of FSC certified paper. This is one of the largest purchases of the paper to be used in a single book printing, till date. 65 percent of the 16,700 tons of paper used is FSC certified, which means the paper comes from forestlands which are being managed and administered in a socially & environmentally sustainable and responsible way.

Benefits of Certification

As in the current scenario the concern for the environment is coming to the forefront, the FSC certification gives your business an edge for future survival as:

• It shows your compliance with the highest Environmental & Social standards of international market.

• FSC certification helps to protect your brand and reputation and it allows you to access highly environmentally sensitive markets, which are growing day by day both internationally and domestically.

• FSC label is an effective way to get public and consumer recognition of your responsible practices. This gives you credibility with customers and business partners as well.

FSC Chain-of-Custody is a quality assurance to your customers that your paper products have positive environmental attributes that are backed by a global system of verification. When your company earns a FSC Chain-of-Custody certificate you gain the right to use the FSC logo and trademark both on your products and in company communications. The certification label helps both businesses and retail customers make purchasing decisions that support sound forest management and also gives your company following benefits:

• Measurable contribution to protect our forests
• Improved efficiency and productivity
• Greater customer satisfaction
• Stronger reputation & brand image
• Access new markets
• Value-added integrity and quality of products
• Strengthened supplier relationship
• Pro-active risk management
• Free media & public relations
• International recognition
• Safeguard your existing market

Corporate Social Responsibility

Dealing responsibly with your company's footprint cannot only reduce risk, but can enhance your brand if you walk the walk and know how to talk about it. Carrying the FSC-certification logo on your print products tells the world that you support the highest social and environmental standards in the market where you use paper. Your purchase of FSC-certified paper and print products contribute to conservation, responsible management, and community level benefits for people near the forests that provide your paper.

International Scenario

Dalum Papir, Mitsubishi Paper Mills, Gruppo Cordenons Inc, Ontario Inc, Lenzing Papier GmBH are few paper companies who have gone for FSC certification. More than 50% of paper industry in U.K. is FSC certified and moreover most of the international companies are using FSC certified wood / pulp and recycled content to manufacture paper and paper products. This seems to be their lifeline and guiding their major marketing strategies.

Demand

The demand for FSC certified paper has increased in India and this trend will continue in the coming years. The maximum demand for FSC certified paper is generated by mainly companies which are converting paper into stationary products, printing material & annual reports etc by the MNCs for their promotional material. The companies involved in export of paper and paper products need an environmental certification as a mandatory requirement, especially in USA and EU (European Union) to establish that original source of the product is from a sustainable source.

In India most of the companies are using recycled raw material to manufacture paper but very few are using it as one of their promotional devises even though they are moving into the right direction but are not able to establish credible claims on their products. This is where FSC steps in to give your product the desired recognition in domestic as well as international markets.

Few of the FSC Certified Companies in India

BILT Graphic Paper Products Ltd, Thomson Press (India) Ltd, Repro India Ltd, Pragati Offset Pvt Ltd, Gopsons Papers Ltd, Manipal Press Ltd, Kraftile International of Santosh Group, LYNX Designers & Creators Pvt Ltd, Replika Press Pvt Ltd, Srinivas Fine Arts Pvt Ltd, Khanna Paper Mills Ltd & ITC Ltd are some of the mentionable companies who have already been granted FSC-CoC Certification and many more are in the pipeline viz., Andhra Paper Mills, Seshasayee Paper Mills, West Coast Paper Mills, Star Paper Mills, Abhishek Industries and Rupana Paper Mills.

Obtaining FSC Certification

The process of obtaining FSC certification in India is simple, effective and speedy. The process implies filling up the prescribed application form and implement the FSC standards followed by a site audit leading to submission of a report for obtaining the necessary certification. There are approved Lead Auditors / Agencies who provide internationally recognized and quality certification services

Sources of Raw Material Certified

To meet the existing demand for the FSC certified paper, paper giants like BILT & APPM are going to the extent of getting even the sources of their raw material FSC Certified e.g., FSC Forest Management Certification as it would be logically easier for them to get FSC certified raw material to manufacture FSC certified products if the sources from which they are procuring the raw material is already certified. For paper mills which are primarily running on post consumer waste and recycled fiber, it is easiest to get qualified for FSC certification and the cost makes a marginal or negligible difference for the end product. Any paper mill which is using a minimum 10% of FSC certified raw material in the form of purchased pulp, recycled pulp or FSC certified logs becomes eligible and produce FSC Certified paper.

Conclusion

This awareness has already spread like a rapid revolution in the West. Similar initiatives and activities are already visible in India. The industrialist and the customers are getting enlightened to make their contributions to ensure sustainability of our environment and save natural resources for our coming generations and thus demand FSC certified paper. Those who have taken the lead are thus able to reach out to the buyers at a premium cost than otherwise. It's time to review the satisfaction of living with the idea that one does not export or there has been no demand within India could be misleading to drive us to a point of catch up with the torch bearers who have already branded themselves with Forest Stewardship Council Chain of Custody certifications. We have to ensure that our coming generations are not deprived of the natural resources bestowed upon us as a boon of within nature's abundance. The paper industry and its associated fields viz., printers, convertors and traders must play their roles with the desired vigor and enthusiasm to comply with the global environmental trends. The cost of certification may be considered as an investment with a yield of gigantic professional and monetary prosperity.