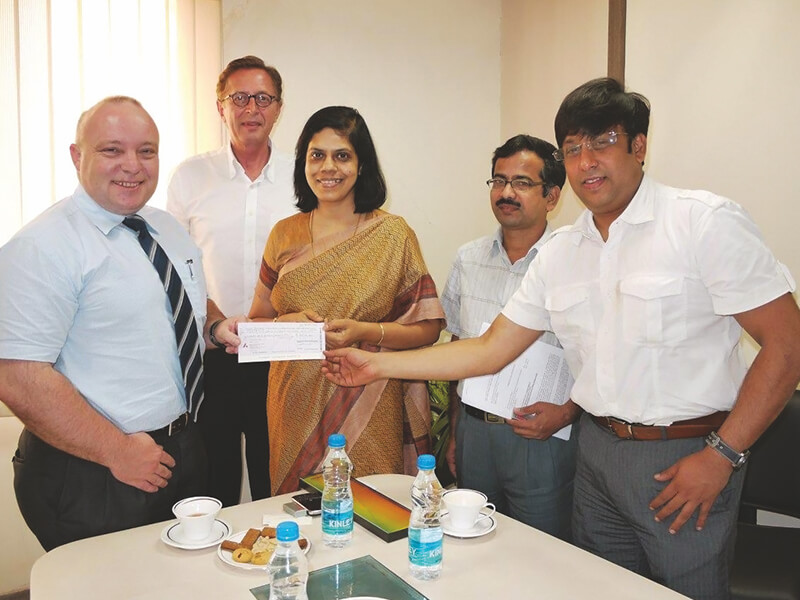 GapCon Engineering Pvt. Ltd., a joint venture between GapCon GmbH & an Indian partner  with 20% ownership is setting up a calender manufacturing unit in India with an investment of Rs. 9 crores (USD 2 million). Paper Mart interacted with the promoters of GapCon Engineering here we present the excerpts of the interaction.

Mr. Wolfgang Wiertz said: "In India there is a scope of capturing the market share of nearly 40 crore per annum, even with a low growth rate. The economy and the financial sectors are well established making it a secure investment destination. The availability of basic infrastructure & manpower is in abundance."

"The proposed plant is being setup to provide the wide spectrum of services first time outside Europe which includes assembling deflection compensation rolls, getting state of art complete calender systems, transfer of know-how for soft calender & deflection compensation rolls & incorporate a test bench".

Mr. Wolfgang Mark, formerly Technical Director of Andritz Kuesters and responsible of several innovations in paper Machine calenders highlighted the manufacturing facility and said: "Our manufacturing capacity would be around 15 calenders in a year and approximate 50 rolls to be serviced and upgraded. The scope for manufacturing will include assembly of complete calenders and calender rolls upto 9 meters wide, servicing of all kinds of calender rolls. In addition the facility will offer hydraulic test bench for calender rolls, quality control & training for industry".

Conversing on the market reach and objectives of the joint venture Mr. Ranajoy Chowdhury said: "The joint venture will transfer entire intelligent engineering base to India in phases and use the base for the world market. We are aiming to cover whole of Asia which is by far the largest producer of paper in the world".

Further on benefits that Indian Paper Industry can derive with this new facility, he added: "The benefits that the Indian paper industry will derive from the new facility would be the development of ancillaries for pulp and paper machines in India, knowledge transfer for the stated range with the objective of to export for the first time from Asia to the Asian and subsequently to the world market as we have existing brand and corporate base which is already established".