Infinity Machine and Engineering Corp. dedicate efforts to designing and engineering sustainable solutions for the tissue packaging industry to avoid using plastic packaging for sustainable products. The company has designed single-roll wrappers, and C15 Casepacker enabling more usage of corrugated trays.
Jun 1, 2023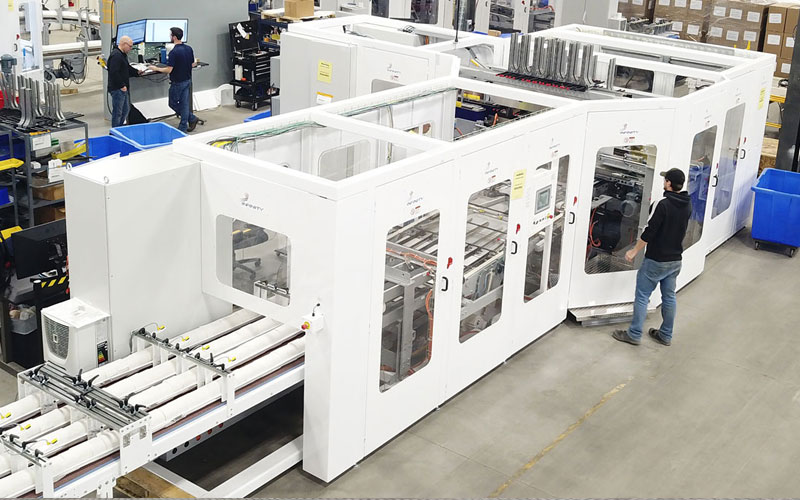 Infinity Machine and Engineering Corp. engineers have designed more sustainable packaging for individually wrapped tissue rolls. Due to the increased amount of packaging material needed to wrap rolls individually, Infinity has designed its single roll wrappers, the S250BRT and the S250HT, to wrap in the paper as well as plastic.
Infinity's C15 Casepacker is capable of loading rolls into corrugated trays. This not only provides stable secondary packaging for tissue products, but it also reduces the amount of material needed for packaging as a tray often uses less than half the cardboard of a standard case. The C15 can also package some tissue roll products directly into corrugated cases without the need for any additional packaging, cutting down on material cost, and material waste.
Watch: JMC Paper Tech Launches New Subsidiary JMC Papers
Infinity has also explored new ways to reduce the environmental impact of tissue packaging machinery. Infinity machinery can be equipped with IE3 and IE4-rated motors, which use less power while performing at a higher efficiency. The company is also trialing monitors on its new Vision G3 multipack wrapper that track the machine's power usage and air consumption. The information that is collected will be shared with the purchaser which will allow ecological opportunities to be identified and implemented based on the recorded data.
Infinity is currently testing ecological materials and new machine designs that will disrupt the current tissue packaging industry and make way for a more sustainable future. However, the company has always been at the forefront of innovating sustainable packaging solutions. 
Also Read: UPM's New Uruguay Mill's First 50,000 Tonne Shipment Set Sail from Port of Montevideo
In 2020, Infinity partnered with Little Rapids Corp. to test and develop ECOVA paper overwrap, a 100 percent plastic-free, heat-sealable paper wrap, made from 100 percent recycled fiber.