UPM's Paso de los Toros, Uruguay, pulp mill's first UPM Euca pulp shipment has set sail from its pulp terminal in the port of Montevideo. Saga Welco AS's M/V Saga Faith is carrying the 50,000-tonne shipment and it is expected to reach Asia around mid-July.
June 1, 2023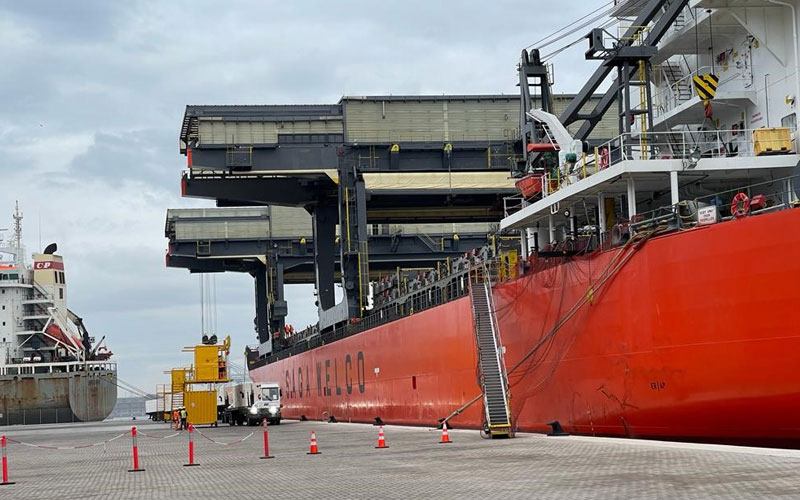 UPM and Saga Welco AS, Norway, announced the loading of the first shipment of pulp from the state-of-the-art UPM Paso de los Toros pulp mill. The first shipment has successfully loaded at UPM's new deep-sea pulp terminal in Montevideo. The M/V Saga Faith sailed on Friday, May 26, carrying a full shipload of about 50,000 tonnes of UPM Euca pulp to Asia, where the vessel is expected to arrive around mid-July.  
Watch: JMC Paper Tech Launches New Subsidiary JMC Papers
UPM's pulp terminal in the port of Montevideo started operations in October 2022. The USD 240 million port investment is a fundamental part of UPM's USD 3.47 billion growth investment in Uruguay that includes besides the port also the Paso de los Toros pulp mill, which started operations on April 15, 2023, and investments in local facilities in Paso de los Toros.
The highly specialized, fit-for-purpose pulp terminal operates 24/7 with an operating capacity of over 2 million TPA of pulp and 80 ships per year. The terminal includes a large storage warehouse of over 50,000 square meters with the capacity to store 150,000 tonnes of pulp, a control room, logistics spaces, and offices. UPM operates the terminal on a 50-year concession.
Also Read: Mondi Group Withdraws from Sale Agreement with Augment Investments Limited to Sell its Russian Entities
UPM and Saga Welco AS are partners with a long-term maritime transport agreement for the transportation of UPM Euca pulp from the ports of Nueva Palmira and Montevideo to customers around the world.
A commemorative ceremony was held on May 23 to see the loading operation of the vessel at the UPM pulp terminal in the port of Montevideo with the attendance of Mr. José Luis Falero, Uruguay's Minister of Transport.