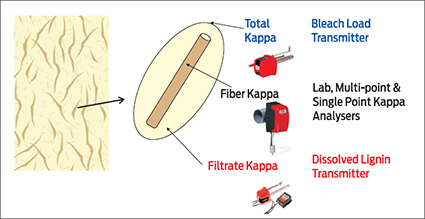 BTG's new sensors for fiberline applications have been developed around innovative capability to measure lignin in various forms in pulping and bleaching processes. Traditional process analysers have measured fiber kappa alone, but BTG now provides the full picture.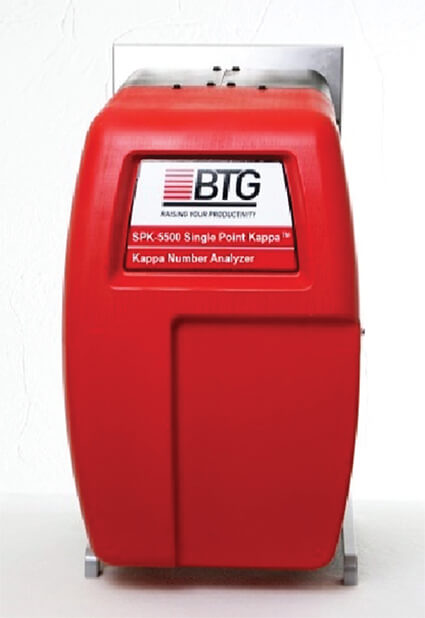 These new sensors from BTG deliver the measurements you require to optimise various pulping and bleaching unit operations.

Single Point Kappa Analyser (SPK-5500)

Moving away from complicated and expensive multi-point kappa analysers, BTG introduces the new SPK-5500 Single Point KappaTM Analyser. The SPK-5500, mounted directly onto the pulp processing pipeline, frequently measures the kappa number of pulp suspensions. There is no need for the remote pulp samplers, associated water valves and transport lines which are required for traditional kappa analysers. The SPK-5500 provides fast (4-6 minutes), reliable kappa measurement delivering better control of pulping and bleaching operations.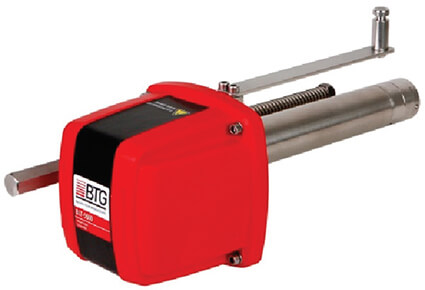 Bleach Load Transmitter (BLT-5500)

To overcome the challenge of reducing operator bias in chlorine dioxide (ClO2) charge control in a D0 or D1 stage in bleaching, the new Bleach Load Transmitter measures total lignin load (fiber lignin plus carryover) coming to the bleach plant. This allows mills to optimize expensive bleaching chemical costs by running the bleach plant in auto-mode and achieve a more stable and predictive bleaching process outcome. The BLT inline sensor has two outputs providing total kappa and brightness.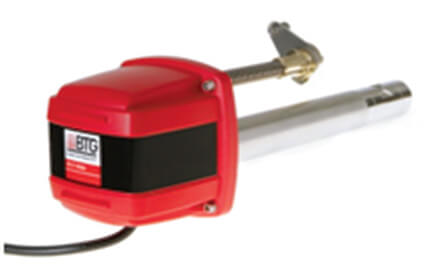 Dissolved Lignin Transmitter (DLT-5500)

In the past, pulp mills did not have a direct measurement of dissolved lignin concentration to assess brown stock washing performance. As a result, the fine balance between optimum evaporation costs and optimum bleaching costs due to carryover was seldom achieved. BTG's new Dissolved Lignin Transmitter (DLT-5500) now measures lignin concentration in the liquor phase expressed as kappa number. It is being used as a powerful brown stock washing optimization tool. The DLT output has a very strong correlation with the chemical oxygen demand (COD), allowing mills to use it as an inline COD sensor for pulp mill applications.

With these innovations BTG complements its comprehensive product portfolio enabling a complete offering for enhanced fiberline process control to pulp mill customers.

BTG: The Company Profile

BTG is a multinational company which provides highly specialized and leading technology to global pulp and paper industry. The Group is an operating unit of Spectris plc (SXS), a company based in Egham, UK.

Since its inception in 1921, the Group has metamorphosed into the present form after crossing numerous milestones of which few are:
The Group owes its origin to Källe Regulator Company in Säffle, Sweden founded by Dr. Torsten Källe in 1921
Gradually, the group became the global leader for pulp consistency and processing control and changed names to Eur-Control in 1960
In 1985, Eur-Control and AB Inventing (coater manufacturer) – both part of the Bonnier Group – merged and became BTG (Bonnier Technology Group)
BTG, in 2001, acquired Mütek of Herrsching, Germany, which complements the company with a broad portfolio of in-line and laboratory sensors and analyzers
In 2006, BTG acquired IPI LLC (formerly Integrated Products), based in De Pere, WI, USA to provide additional metering technologies for coating color and film-metering size presses
The BTG Group is headquartered in Eclépens, Switzerland. With four manufacturing sites, three research centers and several regional application centers , the company employs more than 460 professionals across the globe. Presently, Brian Pahl is the president and CEO of BTG Group.

Technology Inventory: The company's expertise lies in producing rods and beds for film-metering size presses; high-performance ceramic and cermet coating blades; high-performance tissue creping doctors and doctor holders; specialty doctor blades; pulp and paper process control sensors; and laboratory instruments.