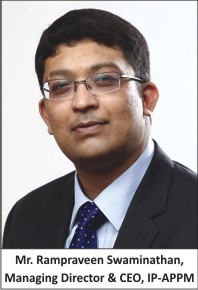 April 16, 2014

International Paper APPM Limited (IP-APPM), a group company of International Paper in India, announced the inauguration of India's largest Casurina Clonal Propagation Center (CPC) in Mulugapudi village in Vishakapatnam district of Andhra Pradesh. This is the company's 5th CPC in the country and is equipped with state of the art technology to develop superior clonal saplings, which can double the productivity of pulpwood as compared to conventional seedling methods. The productivity through the clonal saplings will increase to 65 – 70 MT pulpwood per acre during 4 year plantation cycle from existing 30 – 35 MT per acre of the conventional seedling plantations.

This new cloning centre is spread across a vast area of 5.4 acres and has 20 low cost poly houses which will enable the farmers (tree growers) to maximize not only the bio-productivity of their per unit land mass but will also enhance their socio-economic status. The centre also has 2 hardening chambers with a capacity of 8 lakh rooted clones. These superior quality saplings are then provided to farmers from the center's open nursery for further cultivation and thereafter pulpwood is sourced from these farmers for use in paper manufacturing process.

The new CPC, which follows a semi-mechanized system of clonal propagation is strategically located in the region where Casuarina is cultivated providing easy access of superior quality saplings to farmers in all weather conditions. The distribution system is managed by the IP-APPM's farm forestry team. Local communities, particularly women's groups are being trained to produce these low cost Casuarina clones, positively impacting their livelihood. The center will generate employment of 35,000 man hours per annum.

While inaugurating the new CPC, Mr. Rampraveen Swaminathan, Managing Director & CEO, IP-APPM said, "This clonal centre is an extension of International Paper's ongoing commitment to Farm Forestry. Over the past 2 years, we have adopted a decentralized delivery model for clonal production, which enables easier access for farmers and increased technical engagement. We have planted over 1 billion saplings in India. Besides providing superior quality saplings, this centre will additionally act as an information and technology center for farmers and will help them understand productivity enhancing techniques. We continue to strengthen our pioneering Farm Forestry initiative which has been the largest in India since its inception over 3 decades ago and the latest centre will further enable us to maintain our leadership in the industry."