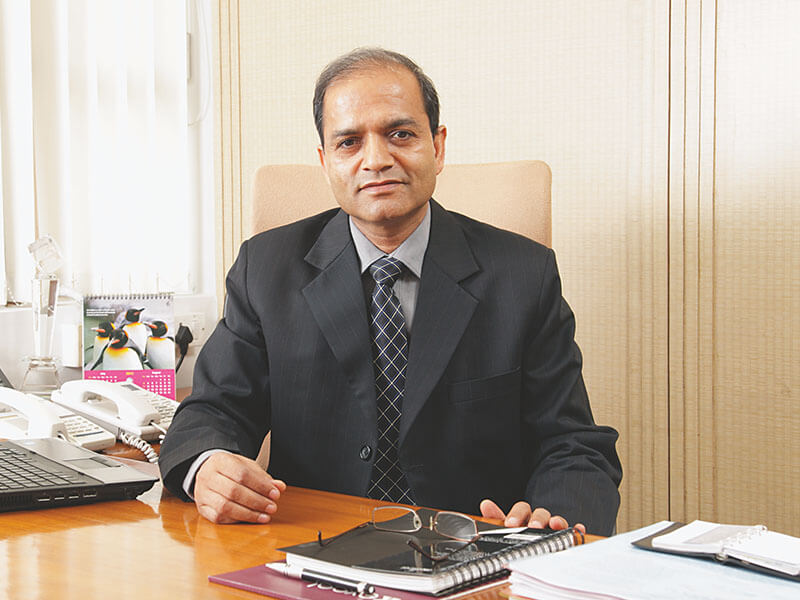 JK Paper is on the verge of commercial start-up of its Rs. 1,750 crores expansion project to be completed by August. Team Paper Mart interacted with Mr. AS Mehta, President, JK Paper Ltd to get an outline on the current status of the project, their marketing strategy for the same and how they will manage the raw material availability and so on.
Paper Mart: Brief us about the current status of the new project?

AS Mehta: Our Rs. 1,750 crores expansion project at Rayagada, Odisha is all set to churn out saleable paper by end of August 2013. The expansion includes a pulp mill of 215,000 tons, paper machine of 165,000 tons, new boiler, and 2 turbines of 55MW. The new pulp mill will replace the old pulp mill. However, we'll continue to run the old paper machines too. Most of the equipment trials have taken place and now the final trial of production is going on. The capacity of existing machines at unit JKPM taken together is 135,000 tons and the new machine will alone produce 165,000 tons. This new machine is state-of-the-art with contemporary technology, will lower the production cost substantially than the older machines. It will be dedicated to serve the A4 segment. This machine also has the capability to produce pigmented paper and as the machine stabilizes we can think of some other products also.

PM: What would be your marketing strategy with regard to the new capacity?

ASM: Having production of this kind of volume we have made 3-pronged strategy for its market dispersal. First is to introduce 2-3 new brands in the market, which widens the offerings. Second strategy is on distribution front i.e. to target those pockets of the country where we don't have strong presence like Bihar, Western UP, Punjab, Haryana, Karnataka, North East etc. Earlier because of the volume constraints we weren't able to focus on those markets. We have already appointed the distributors in these pockets, which will enable us access to these markets. Third there will be a strategy on product mix. The new machine will be predominantly dedicated to A4 products while on the existing machine we will start producing Maplitho. This will mark our re-entry into this segment. Overseas market will also be on our radar wherein we'll target developed markets like Europe, Australia, USA etc. and double our export volume.

In the next 2-3 years no new capacity is coming in and economy is believed to grow at 6-8% with the chance of having some windfalls in between. At the same rate our expanded capacity will more likely get absorbed in the next 2 years. There will be some pressure in the first year but after that it will get stabilized.

PM: What steps JK Paper has taken to ensure the uninterrupted raw material supply. Also, do you think import of wood is viable option?

ASM: India is a wood deficit country and will remain the same in the coming years. Indian Paper industry does Social Farm Forestry to tackle this situation. We are the only industry that promotes plantation and other industries that are using wood are not doing anything on this front. Moreover, these industries procure wood at higher prices resulting in lot of diversion of wood towards them. Since the wood prices are now very remunerative the farmers are attracted towards plantations. Massive plantations have happened in last 2 years and will increase in the coming years. I believe that after 3 years the availability of the raw material may improve in India. Last year JK Paper alone did plantations in around 11000 hectares and this year we are targeting not less than 15000 hectares. JK Paper Ltd is one of the leading company in promoting farm forestry since 1990 and has planted over 1 lakh hectares covering States of Odisha, Andhra Pradesh, Chhattisgarh, Gujarat, Maharashtra and West Bengal till date. Nearly 70% of this has been planted in the last decade as a result of up-scaling of our efforts in this area.

One awful thing is that there is no government intervention towards enabling wood security. The country should adopt aggressive Agro-Forestry policies making all farmers grow wood. This would go a long way in providing food as well as wood security. The major things among enabling policies may include – Free Trade of farmer grown wood (free from forest permit of any kind) across all states besides providing high quality planting material at low cost throughout the country. This would also help reduce pressure on natural forests for firewood extraction, which is again major cause of forest degradation. Massive drive on this front is needed.

As far as importing of wood is concerned it would not be a viable option. We can't compete with the international giants by importing wood, as logistics cost will not be viable in the long run. So, the long-term solution is plantation but yes for the short term (1-2 years) we have no other option left but to import wood. Right now the marginal price of wood available in the country has crossed the landed cost of importing wood in India.

PM: Are you also scouting for the raw material security outside India?

ASM: Yes, we are doing. With regard to our going to overseas is concerned we are scouting the sources in Vietnam and Myanmar. In Vietnam the woodchips are available in good quantity. So, we would be thinking of putting up a pulp mill there to harness the sources available. Myanmar is also opening up, we have got into a MOU and now the things are going further although slow at present with regard to liberalization. We are committed to develop Myanmar as our fibre source on long-term basis.

PM: Your views on the foreign paper companies trying to tap the woodfree market in India especially with regard to duties going down on account of FTA's?

ASM: The price difference of paper produced in India and the landed cost of paper coming in India is still there and was earlier too. But the paper didn't come and it was not that they didn't have surplus available with them at that point of time. Next year the duty will be zero from 2.5% from ASEAN countries but it will not make a big impact on the prices. Let's assume that 1000 tons of copier paper is coming in India every month and the market is around 50000-55000 tons per month. So, 1000 ton is just about 2% of the demand and I believe that this small quantity doesn't bother us much. The point is that it's not easy to do business in India. To create an effective distribution network in India is a very difficult job. It is more a sentimental issue than the real issue.

PM: How the scenario will look like with the new packaging board capacities in-line?

ASM: In the Packaging Board segment, FY 2015-16 will be the year to watch out when these in-line capacities will come in. Companies like TNPL has more or less confirmed their planned capacity and may be by the end of this year start placing the orders. By FY 2015-16 or 2016-17 they will be in the market. Emami's project is also likely to come around the same time – may be 6 months before. ITC has just started a machine. These capacities will put pressure on the market, there will be more pressure on the Virgin boards segment and its prices will also come under pressure.