The start-up of the rebuilt paper machine PM 5 is scheduled for the first quarter of 2017
February 23, 2016


Khanna Paper Mills Private Limited located, Amritsar, India inks an agreement to get a paper machine wet end rebuild from Valmet. The main targets of the rebuild are to improve end product quality, increase production and add paper grades by extending the basis weight range. The start-up of the rebuilt paper machine PM 5 is scheduled for the first quarter of 2017.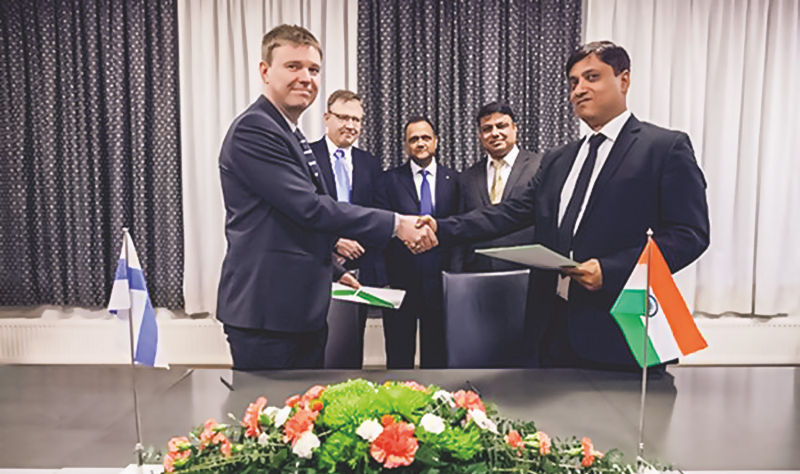 The order is included in Valmet`s first quarter 2016 orders received. The value of the order is not disclosed. A project of this type and scope is typically valued at approximately EUR 5-7 million. Valmet`s delivery includes rebuild of forming section into Valmet OptiFormer Hybrid as well as headbox measurement, inspection and service and press section runnability improvements.

"Khanna Paper Mills decided to invest in new, high technology regarding the upcoming rebuild of PM5. We selected Valmet as a supplier of the rebuild due to their ability to provide solutions that are flexible also for future needs. After the rebuild we will have flexibility to make also packaging grades according to future market demands," says Varun Jain, CEO of Khanna Paper.

"Valmet offers key technologies for challenging rebuilds. Forming technologies are good demonstrations of our core know-how. Modern forming technologies help our customers to achieve better formation, higher end product quality and significantly decrease energy consumption," says Petri Paukkunen, Vice President, Paper Mills Sales and Marketing, Valmet.

Valmet OptiFormer Hybrid with shoe and blade technology uses a unique dewatering technology to boost the output quality and capacity of both new and rebuilt paper machine over a broad range of machine speeds and basis weights. It enables easy operation within a wide operating window, superior and controllable dewatering and improved paper quality, especially formation. It also delivers a potential for fiber cost savings.

The 7060-mm-wide (wire) PM 5 produces newsprint and uncoated woodfree (WFU) grades with the basis weight range of 45 – 80 g/m2. The design speed for the rebuilt machine parts is 1250 m/min.