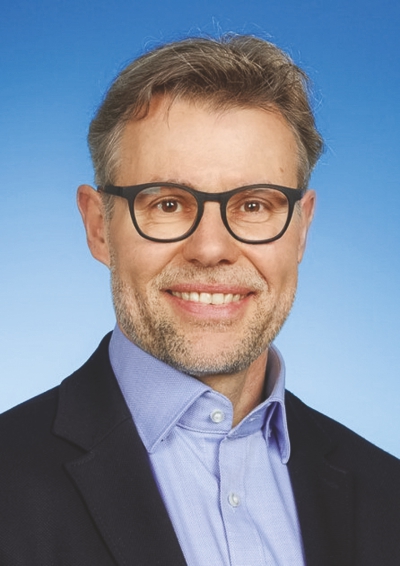 MAN Energy Solutions, Zurich, Switzerland, continues to expand its market share in the paperboard & tissue segment. In particular, tissue manufacturers are increasingly equipping their production facilities with TURBAIR® vacuum blowers. The company offers two models of the technology: RT 56 and RT 71. Mr. Manfred Dobler, Head of Paper Industry at MAN Energy Solutions, shared with Paper Mart a detailed insight into the strengths and applications of each of the models.
The global demand for paperboard and tissue products will clock an impressive continuous growth at CAGR of 4.1 percent and 4.4 percent respectively during the 2022-28 period. The major economies in the Asia Pacific region, including India and China, will be the major drivers of this growth, which will reflect in competitive large-scale production at these manufacturing hubs. The focus on eco-friendly, hygienic, and sustainable practices, and reducing the usage of harmful single-use packaging materials will result in the growing demand for board & tissue products across many industries, including food & beverage, healthcare, personal care, home care, hygiene, and online retail, amongst others. In order to meet the new demand and subsequent production scope, advanced and efficient technologies will be required to improve the quality and quantity standards of the output.
Watch: JMC Paper Tech Launches New Subsidiary JMC Papers
Single-Stage TURBAIR® Technology: Key Features
The TURBAIR® single stage RT vacuum blowers are used for many new installations of paperboard and tissue machines. Simultaneously there is a fast-growing trend of upgrades, with previously installed old liquid ring pumps being increasingly replaced with single-stage RT blowers.
Mr. Manfred Dobler, Head of Paper Industry at MAN Energy Solutions, explains, "The TURBAIR® technology gives paperboard and tissue manufacturers a huge competitive advantage with energy savings of up to 50-60 percent, and operation without water. The additional advantage of recuperating energy from clean, hot exhaust air from blowers leads to a further reduction in overall energy consumption by up to 80 percent. No other vacuum system in market can match same level of efficiency and reliability as TURBAIR®."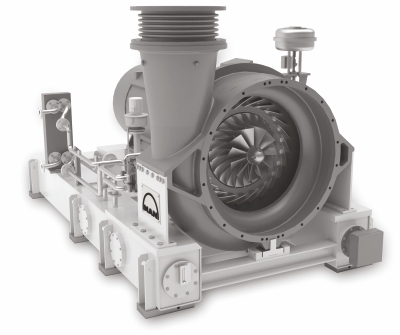 In the case of tissue machines, the RT 56 is most popular for the narrow 2.8-meter tissue machines with production speeds of up to 2,200 m/min, while the larger RT 71 is the preferred model for 5.6-meter tissue machines. URBAIR® covers all the usual tissue-manufacturing processes: conventional crescent former, TAD (Through-Air Drying), ATMOS (Advanced Tissue Molding System), and Advantage NTT technology for producing sanitary paper.
Single-Stage TURBAIR® RT 56 & 71 Blowers with Automatic Outlet Regulation
Depending on the size, an RT vacuum blower can handle 200 to 1'450 m3/min of air, and generate up to 65 kPA of vacuum. The automatic outlet regulation helps to adapt the volume flow to the requirements of the paper machines. The controller automatically governs the volume requirement from 30 to 100 percent. At the same time, the RT with a frequency-controlled drive can set the vacuum between 35 and 65 kPa. This large area of application makes the RT range perfect for felt conditioning, tissue applications, and most importantly, for replacing existing water ring pumps on older paper and board machines.
TURBAIR® Models' Relevance for Indian Market
The TURBAIR® RT 56 & 71 models offer significant advantages for the Indian market: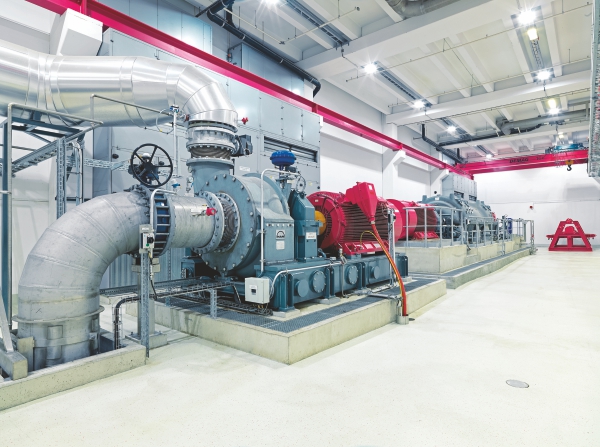 Absorbed energy consumption of up to 50-60 percent lower than conventional water ring pumps.
No requirement of sealing water contributes to additional cost savings with a sustainable footprint. No fresh water and a cooling tower are needed.
Wide working range: blowers maintain high efficiency under partial load through automatic outlet regulation, leading up to an additional 30 percent reduction in energy savings during the felt replacement cycle.
No wear parts and ease of service. Older vacuum blowers installed by MAN ES over 60 years ago are still in operation today – serving as proof of reliability with a robust design.
Blower exhaust air at 120 – 150 °C can be routed to the heat exchanger to recover up to 70-80 percent of exhaust energy.
No investment in a frequency control drive is needed in general. However, when coupled with a frequency control drive, blowers will generate up to 20 percent additional energy savings through optimal adaption to vacuum and volume requirements, e.g. to suit a wide range of tissue weights and types.
Also Read: Proklean's Green Chemistry: Chemical Free, High Performance, Sustainable Products
TURBAIR® Models Effect on ROI
Mr. Dobler further explains, "In combination, all the benefits result in a simple return-on-investment calculation for our customers. The amortization time of a TURBAIR® system of this kind, installed in an existing paper production mill, is less than two years."
Here are a few references where TURBAIR® single stage technology has satisfied customers in paperboard and tissue applications:
| Sr. No. | Paper Machine | Product | Customer | Country | TURBAIR® No. Solution |
| --- | --- | --- | --- | --- | --- |
| 1. | Zhangpu BM1 | Tulsa TM1 | Liansheng Paper Co. Ltd | P.R. China | 2x RC95-4 + 2x RT 71-1 |
| 2. | Hayat TM8 | Tissue | Hayat Kimya A.S. | Turkey | 1x RT71-1 |
| 3. | Tulsa TM1 | Tissue | Sofidel NA | USA | 1x RT71-1 |
| 4. | Tulsa TM1 | Tissue | Kimberly-Clark | Brazil | 1x Rt71 |
Paperboard and tissue production will continue to grow within India for both local consumers and exports. Along with this production growth, the need for efficient, low cost and sustainable production will become an important criterion to meet consumer demand profitably. TURBAIR® single-stage RT vacuum blowers have consistently demonstrated their ability to enhance the performance and competitiveness of paperboard and tissue producers across the globe.