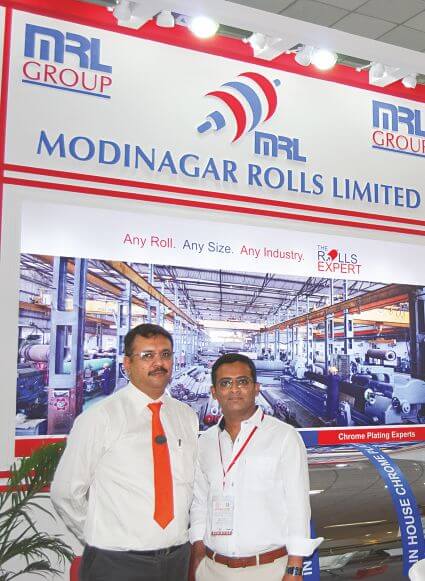 Founded in 1995, Modinagar Rolls Limited (MRL) started on a very modest scale but did not take long to become an on-time delivery and quality leader in industrial rolls for all industries, especially paper industry. It currently delivers high-quality precision custom rolls and a variety of repair and maintenance services.
Today's MRL, which has expanded its shop floor area more than ten times since its inception, has clients not only from all over India but also from countries such as Pakistan, Nepal, Lebanon, Malaysia and Bangladesh. Besides, MRL has added MRL Printing Rolls (P) Limited and MRL Coaters and Platers Limited to augment its businesses.
MRL is currently involved in doing recoating for all types of industries. It uses all types of elastomers for various applications. The company also does coating of Silicone rubber, which can be used in extreme conditions. In addition, MRL is capable of doing dynamic balancing for all types of rotating bodies.
Mr. Vikas Gupta, managing director, Modinagar Rolls Limited, recently gave an interview to the Paper Mart team about his company's major achievements, the technology MRL employs and his company's manufacturing facilities, newly-launched coating and future targets. Given below are excerpts from this brief but highly-informative interview.
Paper Mart: Your company has been active since 1995. Tell us about the history of your company and its major achievements?

Vikas Gupta: Yes, we started in 1995. We made a mark by starting production in just nine months from the date of laying the foundation stone. We have not looked back since that time; we just went on growing. We currently have one of the biggest grinding machines in India; we have perhaps the biggest fleet of grinding machines at one place in the country; we have one of the biggest chrome plating tanks in India – for rollers. And we manufacture rolls of different sizes ranging from 100 gm to 35 tons – all at one place.

PM: Is it just technology that has enabled you to give precision and quality to your industrial rolls?

VG: In mathematics, we come across something known as expressions, which have constants and variables. I consider technology, quality and delivery as constants in our expression of the MRL group. You have to work within these parameters if you want your customer to go for your products, if you want to have an edge over your competitors. But in my view, the variables are more important, as they distinguish you from others. Variables can be issues like response time to customer, customer satisfaction, good technical and sales teams, lead time of settlement of all the disputes and so on. If you are prompt in these areas, you will surely have an edge over your competitors – that's guaranteed. I'd like to point out here that although I am not a cricket aficionado, I know for sure that Tendulkar is a great cricketer because he is a good human being as well. To become a great achiever, one must first try to become a good human. It is this value that we try to foster in the company. The constants are important but not much. We need to focus well on the variables.

PM: Your company has grown its shop floor area more than five times since its inception. How equipped are your manufacturing facilities?

VG: You are slightly wrong here. We started with a 4,000 sq. ft. shift shop floor area; now we have more than 50,000 sq ft. So, it is more than 10 times. Right now we feel that we are well equipped. I have already talked about the various infrastructures we have. What has made us well equipped is our core competence, that is, doing what we know the best – making rolls and rolls only. Today we are making rolls/shaft/rods – and this makes us robustly equipped. We now find it very easy to add a new type of roll to our product portfolio, as the basics remain the same. Focusing on your core competence is really very important.

PM: You have recently introduced PU coating for all applications of the industry. What is so special about this newly launched coating?

VG: PU coating was really necessary for our growth… though for paper industry the coating is not popular in India due to various reasons: cost is one of them. But it is really necessary for steel industry and other industries as well. For paper industry PU coating is being used all over the world, but currently lot of rolls that need PU coating go outside India to get the job done. I must confess that an evil eye has fallen on the rolls that are moving out of India. Let us see what the future has in store for us as far these rolls are concerned.

PM: What have you to say for your R & D and testing lab? How has this lab contributed to the growth of the company? Are you planning to invest more in research and development?

VG: Before telling you about R&D in our roller business, I'd like to tell you that roller companies do not open up with regard to technology or R&D. It is surprising to note that, as far as I know, the Bureau of Indian Standards does not have a chapter on the standardisation of rollers. So, investing in R&D is a necessity rather than an option. You need to have your own standards of working and systems for doing things. Yes, we are investing a lot in this area.

I want to be honest here by stating that in the Indian roller industry, the scope for copying is bigger than that for inventing. Because the benchmark is already very high, we need to rise up to it; and only then we will have space for invention. So, we are making special efforts to reach the benchmark set by the other companies worldwide. And that demands a heavy investment.

PM: You claim that your company is committed to maintaining the highest standards of quality. How do you strike a balance between quality and price?

VG: You cannot sell at a price that is higher than the price set by your competitors. So, price is a constant again. Now we come to quality. If the quality of the product supplied by two suppliers is the same, then the suppliers will have to sell at the same price.

Price of a roll depends on its expected life. In other words, price is directly connected to the life of the roll, which is measurable. So, if two roll-manufacturing companies offer rolls that have the same life, they will have to sell the rolls at the same price.

Users have already categorised the suppliers in this field, and better suppliers get better prices. Yes, a supplier can command a better price by playing with the variables – as I have already mentioned.

PM: What are your future targets?

VG: I always ask a question: "Dreams are free", so why don't you start having them? In today's world, almost everything has a price tag. So, have big dreams – dream of becoming the prime minister of India, of becoming the head of the department of science at MIT, USA. Or dream of becoming the best rolls manufacturer in India and then the world. But work hard to achieve your dreams, to be a good human being. Have compassion for your team members and try hard to make them happy. They are the ones who will take you to the top one day. This is something I know for sure.