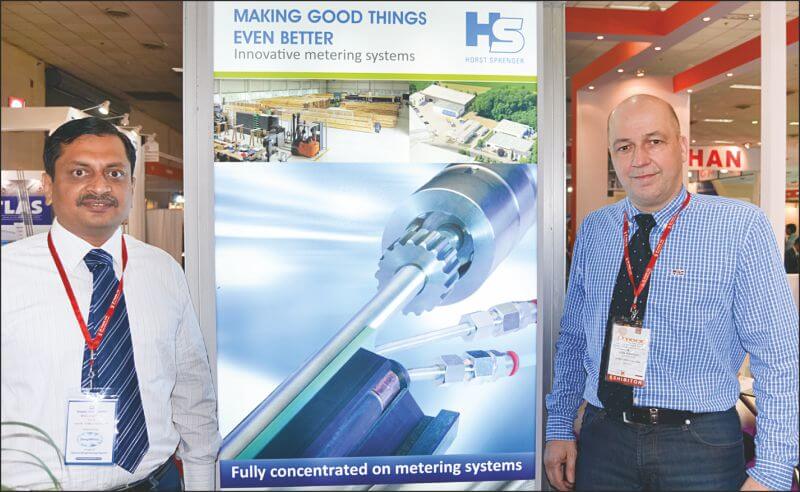 While paper industry has been hit hard by the global economic slowdown, Horst Sprenger GmbH – a German expert for metering systems in paper and printing industry – has been able to keep business as steady as ever. "Our rod metering business continues to be steady. Every year, our sales go up by 3 to 4 per cent. You may wonder how we manage to keep our company afloat. Well, we have been decreasing the price, and the rise in the number of products sold compensates the reduction in price. In fact, our sales have been slowly increasing. Paper mills always need spare parts because of constant wear and tear of their machinery – and so demand for our products never dwindles. We also keep track of the way markets behave. Different markets behave differently. Markets in Europe and North America have been shrinking, but markets in Asia – especially China – and South America have been expanding. We recently set up our office in Brazil. In 2007, we became active in India with Arjun Technologies as our partner. We have also been focusing on the Brazilian market. Besides, we have to take care of our most important markets – markets in Germany and China. We have also been looking for new markets. So, by and large, our business has been looking up. Our main future targets are to make our coating blades more popular in the global market so that they get a higher market share in different markets. To push our products, we have fortified our sales and marketing team. Our sales and marketing team currently consists of five people; earlier it consisted of three persons. We are also trying to get greater production depths to raise our profit margin in this business. Besides, we are keenly involved in developing new products," said Mr. Dirk Schepers, managing director, Horst Sprenger GmbH.

New Developments

Efforts at product development and the recent installation of a new production line for ceramic coating blades also underscore the robustness of the company. "We are currently working on alternative wear coats for metering rods. We are also planning to transfer the knowledge that we have gained from our experience in producing coating blades to rod metering system technology. This is a major project. We installed a new production line for ceramic coating blades this year. This production line is also able to apply thermal application to metering rods. Although we do not have a separate department for research and development, we have a certain person who takes care of product development. Major inputs with respect to product development are coming from our general Mr. Knop, who formerly was technical director for coater division at Jagenberg" said Mr. Schepers.

Speaking on the Indian paper market, Mr. Schepers said, "We have been active in India for the last six years, and during this period I saw quite a few developments taking place in the Indian paper industry. India now has many small paper mills and quality matters a lot to them. The quality of their machinery has also improved. Things may not be looking up at the moment because of the exchange rate, but I'm optimistic that the market in India will pick up in the coming years." Corroborating the managing director's view, Mr. Sujeet Kulkarni, regional sales manager for India, Horst Sprenger GmbH, said, "We have been waiting for a boom, but unfortunately, it has not come yet. But the good news is that in the last couple of years, there has been some growth. So, generally speaking, the industry has shown some signs of growth, which I think is the beginning of a positive trend… . Since we are into consumables, we have to work harder: make special efforts at reaching out to our customers to serve them with our products."

Paper Industry's Impact on the Environment

Mr. Schepers believes that paper industry can have a negative impact on the environment, but the impact can be regulated. "Paper industry can damage the environment. The main question is how we can regulate the industry's impact on the environment. There are ways of regulating it, but that's a costly affair. Indian paper mills may not like to invest in buying equipment that enables them to reduce their impact on the environment, because such an investment doesn't have any direct return. Whereas in Germany, for example, you see mills going for a high level of environment protection. I think paper industry must spend enough money on environment protection, as that will surely improve its image."

Sharing the managing director's view on environment protection, Mr. Kulkarni added, "By providing Indian paper mills with our special technologies we help them to reduce their cost of production. These mills can, in turn, spend the amount saved on environment protection. Some of our special products, such as our combi-system, help paper mills reduce wastages such as rubber, PU or PE. By reducing wastages, these mills can reduce their impact on the environment."

Delivering Metering Systems and Coating Blades

It may be mentioned that Horst Sprenger GmbH supplies complete rod metering systems to paper and printing industry. These systems consist of metering rods – hard chrome plated or ceramic coated – and rod beds made of polyurethane or polyethylene suited for any rod coating station or film-presses.

As a manufacturer of wear parts for scrap processing, the company specialises in machining high-quality material.

Its ceramic coated and tungsten carbide coating blades and creping blades of its product series Ceradia® are manufactured in Moers. The blades for coating and finishing of paper and cardboard are available in the bent blade and stiff blade modes and manufactured in all common dimensions.

The company's high-resistant wear coats, such as chromium oxide and tungsten carbide, provide maximum life time. Also, homogenous layer composition, reproducible geometry, minimum surface roughness and porosity guarantee optimal MD- and CD-profiles and maximum life time.