///////////////////////////////////////////////////////////////////////////////////////////////////////////////////////////////////////////////////////////////////// Marika Mattila, Metso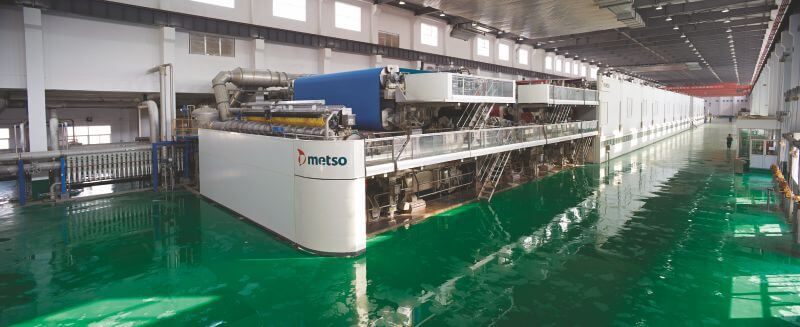 Economy of total investment, personnel safety, easy machine usability and reduction of environmental load – these were the key targets guiding the development work of a wide group of experts responsible for Metso's novel full-scope paper and board making concept, OptiConcept M.

OptiConcept M represents a new way to design, build and operate a fit-for-purpose paper machine. It is a concept for cost-efficient, high-quality and flexible paper and board making. As a single-supplier production line, it also means fewer risks and easier, more economical investment projects for the customer.

Maximum efficiency with minimal operating costs

The operating profitability of OptiConcept M derives from its high overall efficiency – its energy-efficient and resource-efficient processes and its high-speed production. The most significant cost savings potential can be found in machine operation. For example, during a lifecycle of 10 years, only about 10% of an average recycled fluting machine's costs are caused by the initial investment while the remaining 90% comes from operating costs. With Metso's OptiConcept M, the mill can achieve substantial savings in the operating costs. The savings are attributable to precise process dimensioning, proven technological solutions, optimal running methods, effective maintenance operations and fully integrated automation solutions. These features result in minimized cost per ton produced, and in shorter investment payback.

Taking work safety and usability seriously

OptiConcept M has been developed for its end users – the mill personnel. Both visually and physically, it has been designed with the requirements of its users in mind. For example, the design of the machinery allows for easy and safe changing of rolls and wear parts, thus reducing the duration and cost of service shutdowns. A totally new spacious walkway design also improves accessibility and safety on the drive side.

Efficient concept arousing growing interest

Metso has already sold four OptiConcept M board making lines to Asia. The first Metso-supplied OptiConcept M production line, PM 6, for Liansheng Paper Industry in China.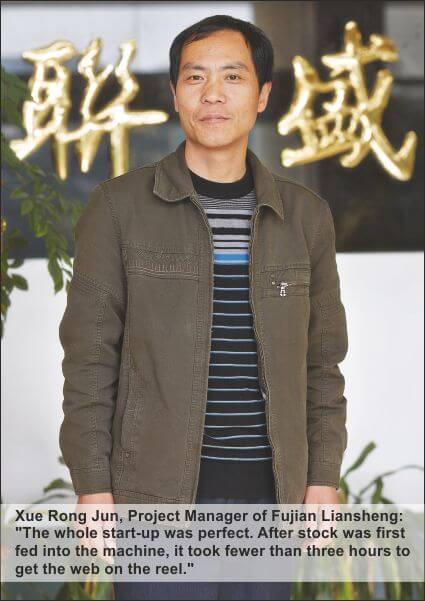 The first ever OptiConcept M line goes on stream

On December 12, 2012, Liansheng Paper Industry (Longhai) Co., Ltd. started up their new containerboard production line, PM 6, at their Longhai site in Fujian Province, China. This is the first start-up of Metso's novel OptiConcept M production line, representing a new way to design, build and operate a paper machine.

The PM 6 start-up set records right from the outset. "The whole start-up was perfect. After stock was first fed into the machine, it took fewer than three hours to get the web on the reel, and we had a very good start-up speed of 800 m/min. No paper tails were seen on the hall floor during the start-up period," proudly reports Xue Rong Jun, Project Manager of Fujian Liansheng.

The PM 6 OptiConcept M line is designed for high productivity at low operating cost. Its innovative industrial design and engineering facilitate assembly of the production line. "The installation required 30 to 40% fewer working hours than a conventional project," comments Xue Rong Jun.

Usability and safety are also at a new level. For instance, the design allows for easy, fast and safe changing of wear parts, which reduces the duration and cost of maintenance shutdowns. "The design of the walkways is very ergonomic and spacious. They are on one level, with no need to run up and down stairs, so the machine is very safe and convenient to operate and maintain. Since there are no cantilevering beams at the wet end, the drive and tending sides are symmetrical, and the machine drive side is much more spacious than it is in a traditional machine construction," says Xue Rong Jun.

Metso's delivery included a complete OptiConcept M boardmaking line from headbox to reel, with air systems, a machine control system, a quality control system, two winders and Metso clothing. The new 7.25-m-wide production line has an annual production capacity of approximately 300,000 tons of recycled fluting in the basis weight range of 65 to 100 gsm. The design speed is 1,200 m/min.

Liansheng Paper Industry (Longhai) Co., Ltd. is a subsidiary of Fujian Liansheng Paper Co., Ltd. The company was founded in 1999 and is based in Zhangzhou, China. PM 6 is the third Metso-supplied production line for Fujian Liansheng.

Lee & Man to install containerboard line in China

Lee & Man Paper Manufacturing Ltd. has ordered an an OptiConcept M containerboard production line to Metso for their Chongqing site in Sichuan Province in China. The new production line is targeted to produce a high-quality end product with excellent strength properties. The start-up of the production line is scheduled for 2014. The value of the order will not be disclosed.

"This production line optimizes the machine investment in line with the mill's capacity needs and ensures optimized productivity at minimal operational cost," summarizes Sami Anttilainen, R&D Director, Paper business line, Metso.

The 7.25-m-wide (wire) PM 20 will produce testliner grades out of recycled raw material in the basis weight range of

70-160 gsm. The production capacity of PM 20 will be approximately 1,160 tons per day and the design speed 1,100 m/min.

Lee & Man Paper Manu-facturing Ltd. manufactures various linerboard and corrugating medium grades for different industrial packaging purposes and operates also in pulp making, plantation and recovered paper collection. The company was founded in 1994. At present, the company has five plants in China.