Sheet Break Performance is the latest addition to several other ABB Performance Services, including Wet End Control and Paper Machine Drives Performance, at the mill.
July 27, 2021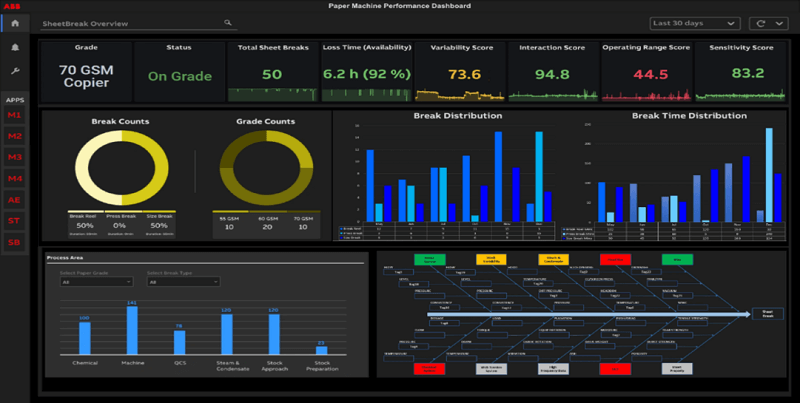 PT. Riau Andalan Kertas mill – RAK Mill, Indonesia, has signed a new contract with ABB as part of a digital transformation project to help achieve its highest-ever production. This is the first order for ABB for its recently-launched Sheet Break Performance as part of a major digital transformation project at the mill in Indonesia, part of Asia Pacific Resources International Limited.
ABB is a long-standing digital transformation partner to RAK, helping the papermaker to reach its optimization goals and improve paper machine runnability, with the end objective to move from diagnosis to prediction and eventually prevention measures. The mill has recently reported achieving its highest-ever annual paper production.
RAK had experienced a high number of sheet breaks and wanted to better understand the causes. ABB started with base-level control tuning and Paper Machine Fingerprint and is implementing recommended actions, all delivered via Collaborative Operations, to enable RAK to reach the next level.
Sheet Break Performance is the latest addition to several other ABB Performance Services, including Wet End Control and Paper Machine Drives Performance, at the mill. The site is capable of producing up to 2.8 million tons of pulp and 1.15 tons of paper per year.
"ABB was the natural digital partner for our ambitious mill transformation, and we have complete confidence in their vision to help us to accurately diagnose sheet breaks and move up the curve to a more predictive approach to operations," said Mr. Clinton Vught, RAK BU Manager. "The digital transformation journey that we have been on with ABB has so far enabled us to increase overall equipment effectiveness (OEE) and set a new output record. With our mill being one of the top five most efficient pulp and paper mills in the world, sustainability is equally important to us, so we look forward to using ABB's Sheet Break Performance to enhance our operational performance while fulfilling our ambitious sustainability goals."
"The RAK operators desired to improve OEE by reducing web breaks," said Ramesh Satini, Product Manager at ABB. "We recommended following our three-phase methodology that first benchmarks performance followed by a systematic implementation of solutions that would address any uncovered issues. Digital services were implemented to sustain and further improve the performance in key areas with remote support made possible via Collaborative Operations. The customer's positive approach and confidence to try new digital solutions has enabled them to make signficant headway in reaching their end goal."
With automatic curation and contextualization of multiple data points into an intuitive user interface, Sheet Break Performance enables immediate diagnosis and action. RAK will further benefit from root cause analysis within a minute after the break happens, and operators will get alerts when a break is imminent in order to take corrective actions sooner.
Also Read: ABB's Digital Sheet Break Analysis Helps Maximize Operational Performance in Paper Mills
The system's connected service element in addition to its operational and process variability analyzer modules will help the mill achieve the 'golden run' by finding planned operational times to run the machine, further contributing to their objectives of increased EBITA, runnability, and availability.