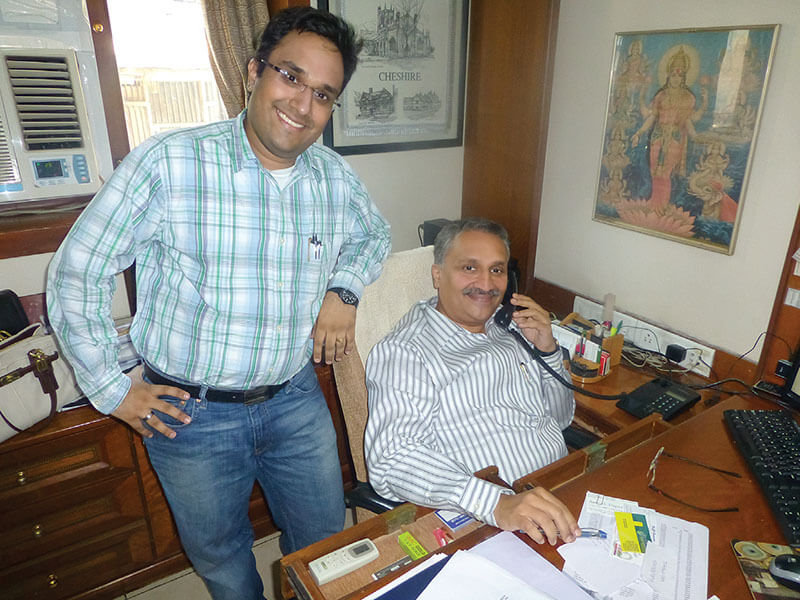 Recycling industry is getting steadily streamlined and organized in the country. The sheer impetus, the concept of recycling has drawn from all corners of industry, is amazingly new to the waste management world. The waste availability and recovery rates have become most often used terms in the area. Recycled fiber and the respective rate volatility have also taken center stage in the discussions. Established and start-ups alike are showing vigorous interest in the field-slated to become a massive success in the future.

Paperworks, founded in 2008 as a specialty company, is mainly involved in re-use and recycling of waste paper. The company ensures a continuous and reliable supply of raw material through its systematic network. It is headed by Devang Vora, a known name in the field of waste paper. Paperworks also represent one of the most reputed companies in the UK- Recycling Uk Ltd. Paper Mart recently underwent a detailed exchange with Mr. Vora who underlined the company's fundamentals along with the status and scope of recycling industry. Here is the brief of the communication.

Paper Mart: Recycled fiber has always remained volatile. Share your views on the matter and do you foresee any stability in near future?

Devang Vora: There was a time when the rates of recycled fiber used to change every 6 months. Soon, this started changing to price fluctuations every 3 months and then on to every month. Now it has come to a stage when we have to check the rates every single day. This is something akin to the volatile share market where one needs to be online and sit in front of the computer screen from 09.00 AM to 3.30 PM (hoping things will get better!!). No, I donot see any stability in the prices of this raw material, in the foreseeable future because there are too many factors at play. These factors include CHINA buying or not buying, accumulation of stock in the suppliers' warehouse, logistics, seasonal changes of freight rates, etc. Also, nowadays icy weather has become a key factor. Perhaps one day, someone will do a historical case study and create an app or a software which will assist people in reading the correct rates/expected rates. I know for a fact that certain portals do exist where people have started trading online. However, online or offline, there is nothing better than a personal relationship between the buyer and seller to determine rates. In short, the markets will remain volatile as far as prices are concerned.

PM: Availability of recycled fiber from western world is maturing. So, how would the demand for waste paper be met in developing countries (especially India)?

DV: Developed countries will always have excess recycled fiber to sell and there will always be developing countries in need of this fiber. Countries like China are looking for more ways to collect recycled fiber locally, for their own use and to try and reduce their requirement of imported fiber. This is also the case with India. Here, the local recovery is going up slowly, but surely. However, demand is also growing. But, import prices have to be viable for the users in India. Our country is growing at a tremendous rate and the demand of all consumables is increasing. Also, people are jumping on the bandwagon trumpeting the cause of recycling. Smart savvy people are realizing that recycling is the future: whether it is waste paper, or waste plastics, or waste metals, or any waste that can get a second life.

PM: What are the key factors affecting the supply of waste paper?

DV: The key factors which will affect the supply of waste paper are many, chief of them are as follows: (a). freight and logistics, (b). the collection of Indian (i.e. local) waste which is growing rapidly, (c). growing number of paper mills near sea ports who will import waste paper and in turn, use this logistically strategic base for considering export of finished cargo.

PM: Share, how the recycling industry has been in India.

DV: The recycling industry is in its nascent stages in India. "Just developing" is the correct context. From small road side tin sheds to huge warehouses outside the main city limits, recycling is growing and will continue to grow. What was once a looked down upon occupation has now become a thriving and gradually more and more organized business? People's attitudes are changing. One can now see 'dry' and 'wet' waste segregation even by the roadside! That's true not only for waste paper, but for all recyclables. Actually, it is now one of the most organized 'disorganized' industry in India!

PM: What kind of future of recycling do you foresee in India?

DV: The future is good. And getting better for recycling. 'White goods recycling' is going through a whole new phase as we speak. The government is putting in place certain guidelines to be followed by companies who are recycling metals, paper and plastic. Recyclers are putting in new plant and machinery. Old school waste paper collectors are putting in new balers. Recycling is now being looked at as a proper business. It is no longer considered foolish to invest time, money and energy into this business. It is getting more organized. There is more methodical segregation of paper, plastics, metals and even e-waste. The future is good. I have always been a proponent of the future of recycling.

PM: According to you, what are the waste recovery rates in India?

DV: For newsprint the recovery rates are almost at 98%. For the rest, it is growing annually at a compounded rate. It will continue to grow in the near future.

PM: How can the waste recovery rates be increased to significant level in our country?

DV: Firstly, awareness is being created. Collection points are increasing. Transport costs are being consolidated. More and more fiber is being collected. Industrial and household dry waste and wet waste is being segregated. And this dry waste is given to small-time rag pickers who can salvage the same and sell into the recovered paper market.

PM: How the intervention of technology can support the recycled fiber industry?

DV: Massive technology is required by India for RECOVERY. Government participation is required on a war footing. Our cities are being buried under garbage, so to speak. We need help in the form of know-how, capital, technology, waste water recovery facilities, etc. The scope and possibilities are endless. Anyone with an understanding of our country and its functioning can do wonders in this field.

PM: Lastly, tell us About Paperworks, its principals, its evolution and the promoters.

DV: Our firm, Paperworks, was conceived with an eye on this passion of recycling that we share with our partners, Recycling UK. Our principals are extremely dynamic, hard working and enterprising and export savvy. They have their incomparable way of networking with large corporations in the UK. In fact they have been voted as one of the best emerging companies in 2011/2012.

On the other hand, Paperworks' identity is unique in the sense that with the introduction of fresh young blood in its ranks, we have been able to bring in a method to this business which is one of the most un-organized in the country. The business graph of Paperworks has only risen. The unique method of doing quality business in this not-rocket-science waste paper market is what makes Paperworks different from the other indentors. Our passion and attention to detail is what sets us apart.