"Stora Enso will continue to strengthen its leading positions and grow its business by being a forerunner in sustainability, delivering value to customers and shareholders. We will remain focused in what we do and ensure that we put our efforts in businesses that can grow, be profitable, and where we are strong – Ms. Annica Bresky, Stora Enso's President and CEO."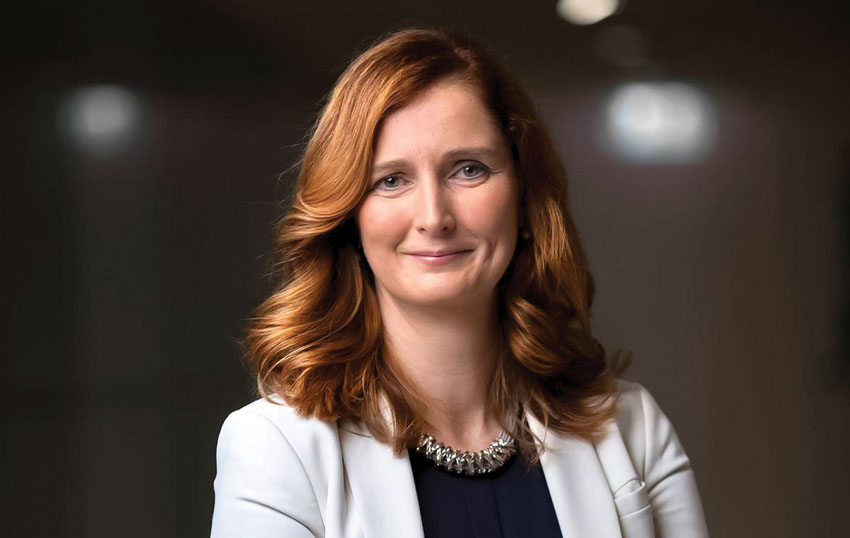 Your first quarterly report as CEO is behind you. What were the main takeaways?
All in all, despite disappointing results in the last quarter, I feel confident that we are on track for long-term growth and in a unique position to capitalize on business opportunities within renewable materials. To start with, I'm pleased that we delivered a record cash flow which gives us greater flexibility to maneuver the current market challenges. As reflected in lower results and sales, we are suffering from weaker market prices, but we are doing what we can to mitigate that. Short term we focus on what we can impact: our costs, cash flow and managing value over volume. We want to be prepared for a more profitable future when the cycle turns. I'm also satisfied that we were early out with our profit protection programme. It is proceeding ahead of plan and the total implemented cost saving amounted to EUR 150 million in 2019.
As of 2020 Stora Enso is adding a new Forest division and has changed the structure of the packaging business. Why?
The Forest division is a natural extension of our business after acquiring the Bergvik forest assets in Sweden, making us one of the world's largest private forest owners. We strongly believe that control of our main raw material source will give us business advantages in the growing bio-economy. From a customer perspective, the creation of Packaging Materials division is a logical structural move that gathers all virgin and recycled boards under one roof to create new innovation opportunities and synergies. The Packaging Solutions division will focus on packaging innovations for growing segments, such as e-commerce and retail. The division will also ramp up the formed fiber business where we see strong demand within single use food applications.
How will you allocate your investments in R&D and what are the primary focus areas?
Our promise to society is that everything that is made by fossil-based materials today, can be made of a tree tomorrow. This is also the foundation for our innovation agenda. Today, from a renewable material perspective we work on main innovation themes: bio-based chemistry, material science and design, and wood as a construction material. Additionally, focus on digitalization has increased, specifically in the areas of Robotic Process Automation (RPA), machine learning, smart operations, transparent supply chain, digital customer experience and intelligent packaging. Connected to our R&D work is also the Accelerator programme where we collaborate with startups that we think can add value to our product portfolio and production processes.
The EUR 350 million Oulu mill conversion is planned to start production in 2021. Given softer market conditions, will there be enough capacity demand to support this investment?
The Oulu mill conversion, similar to all of our investments, have a long-term horizon of multiple decades. Regardless of the current market conditions, we are confident that gradually the volumes will be absorbed as the average growth on the market is 2%. The typical end uses of kraftliners are in segments that require high strength, box endurance in long distance transportation and purity. In addition, the kraftliner from Oulu will be suitable for food packaging applications. We see big potential in these segments coupled to global megatrends of more sustainable food packaging and continued growth of e-commerce.
How will you accelerate the transformation of Stora Enso?
Having stepped into the CEO role as an internal candidate, I naturally stand behind our transformation strategy. We will continue to strengthen our leading positions and grow our business by being a forerunner in sustainability, delivering value to customers and shareholders. We will remain focused in what we do and ensure that we put our efforts in businesses that can grow, be profitable, and where we are strong. Now that the Bergvik Skog restructuring is finalized, we will move into the next phase where we will drive growth and value creation from our Forest division. We constantly assess the strength of our businesses and build our internal capabilities to drive innovation and harvest the benefits of digitalization. We will continue to invest in areas that we believe have a great potential, like cross-laminated timber for wooden buildings, packaging materials and solutions, and viable alternatives to fossil-based plastics. One example is our recent investment to build a pilot facility for bio-based plastics. Moreover, in order to speed up the transformation it is essential that we collaborate with other stakeholders in the bioeconomy ecosystem and partner with organizations and businesses that can help us move faster. I'm very excited to make this journey together with all our dedicated people in Stora Enso.