The inaugural session and ensuing technical sessions at Paperex, Chennai canvassed the major issues and future strategy of all the segments of paper and paperboards based on virgin, agro, and recycled pulp.
Paperex South India held its 4th International Technical Conference & Exhibition on Pulp, Paper, Conversion and Allied Industry on 11-13 November, 2016 in Chennai. Paperex South India, the South Indian chapter of more popular Paperex, aims to provide the regional business platform with an international presence. Close on the heels of the recent AGM and conference of the Federation of Paper Traders Association, this was yet another significant event to attract the players of the Indian and global pulp, paper, and allied industry with an emphasis to tap the significant regional presence. The event saw sizeable presence of the industry, underlining yet again the significance of such events to thread the industry on a common platform.
The technical conference with the theme 'the Road Ahead for Paper and Packaging' saw some really good turnout because of the topics selected for the discussion. The inaugural session comprised some pithy opening speeches from the luminaries of the paper industry, breaking the ground for two-day long deliberation canvassing a slew of major subjects and themes crucial to the industry. Booming packaging trends, changing raw-material structure, emphasis on more use recycled pulp, the need to curb import of paper into India, better collection and recovery methods for waste management, etc. were some of the high-points in speeches of the inaugural session.
Paper Industry: Steady on Sustainability Path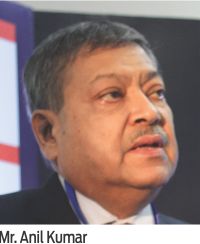 Speaking on 'Salient Features of the Conference & Agro-based Paper Mils' Mr. Anil Kumar, Sr. Vice President, IRPMA and ED & CEO, Shreyans Industries Ltd. said, "Started way back in 1992, I think Paperex has become the most popular show in the world today. We had two editions in Coimbatore and this is second edition in Chennai. We are encouraged by the response to this exhibition and you will be happy to know that we have 176 exhibitors from 19 countries this year, and we are expecting a footfall of over 5000 in next couple of days. Every industry evolves with every passing year as you make changes by accepting new technologies and understanding clients' demands."
The intensive nature of the paper industry in terms of water and energy usage has been a point of discussion every now and then, not to say its purported high carbon footprint. The mythical anti-forest image of the industry has also been a matter of concern for the industry requiring urgent attention to mass awareness programs to highlight the true and sustainable nature of paper and paper production. Speaking on these points, Mr. Kumar said, "Paper industry faced many problems as it was considered to have high carbon footprint and a resource-intensive and high water consuming industry. Also, it has a general impression associated as a reason of deforestation.
"The papers presented over next two days will focus on how to cut down our carbon footprints. We have come a long way in the last 25-30 years and today we are talking about how to further cut down power and water consumption and go for efficient chemical recovery in a fully integrated pulp mill. We have come a long way in cutting down the resource consumption and effluent generation, but there is still more to improve. Also, improving our environmental performance would help us spread the new thinking that forest being the raw material, paper industry cannot destroy forest."
India's Box Demand to Be Driven by Domestic Demand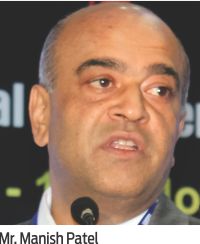 Mr. Manish Patel, MD, The South India Paper Mills Ltd., during his presentation on the theme 'The Road Ahead for Indian Corrugated Packaging Industry', gave a vivid idea of the journey the corrugated packaging has taken so far and the opportunities lying for it in the future.
"There have been various changes till date in the areas of manufacturing paper and converting it. We have seen the changes in demand from the user industry. I would like to give you a fair idea of corrugated box known as brown box and also about the industries doing it and its evolution from how it started to what it is today. Today, many in the industry are looking for opportunities in this evolving segment, said Mr. Patel.
Putting some statistics before the audience about the corrugated box industry, Mr. Patel said, "Paper converted by the corrugated box industry is about 4.8 to 5.0 million tonne in 2015-16 (40 percent of total paper output in India). Corrugated board and boxes production is approximately 7 billion sqm in 2015-16 with approximate value of output as INR 180 billion (INR 18,000 Cr or USD 2.6 billion). Corrugated box makers manufacturer operate in about 15,000 units, both in organized and unorganized sector as large, small and micro scale. Moreover, container board and fluting (kraft paper) are produced in about 400 units with an installed capacity of about 8.0 million tonne per year."
Talking about the growth of the corrugated board/box industry and major consumer segment, Mr. Patel said, "The corrugated board industry is growing at CAGR of 13.5 percent to touch a level of 4.5 million tonne in 2013 from 4.2 million tonne in 2012. The 60 percent of corrugated packaging is consumed for FMCG shipping. The large volume buyers are big brand owners whereas small volume buyers comprise industrial SMEs and exporter of manufactured goods. There has been an upsurge in corrugated packaging usage due to online marketing also."
"There are about 275 box makers with continuous corrugated board lines and automatic plants producing 40 percent (about 2.0 million tonne) of the total production. Moreover, there are between 12,000 to 14,000 box makers with semi-automatic litho-lam type board making line producing about 60 percent, i.e. about 2.7 million tonne. The box makers with continuous corrugated board lines are mainly clustered in north, west, and south regions of India, viz. north-35 percent; west-30 percent; and south-25 percent. In the east and central regions of India, only 6 and 4 percent of the box makers respectively are located," said Mr. Patel briefing on the size of industry segments by numbers, output and location.
Speaking on the technology employed in corrugated board units across the country, Mr. Patel said, "As far as technology of the main stream units (small players) with 50 to 100 tonnes conversions per month is concerned, they use semi-automatic units – litho-lam board making with natural drying. In Converting, these players use stand-alone scoring and slotting units, stand-alone 1-2 color flexo long way printers, stand-alone stitcher (manual and semi-automatic ), and flat bed traversing/manual die cutter.
"The evolving majority units (larger players) with up to 500 to 1000 tonnes conversion per month have continuous corrugated board manufacturing lines with low automation intensity. For conversion purposes, they generally use printers slotters with rotary die cutting, stand-alone stitcher (manual and semi-automatic), stand-alone folder gluers (automatic and semi-auto setups), and manual in-process material handling equipment.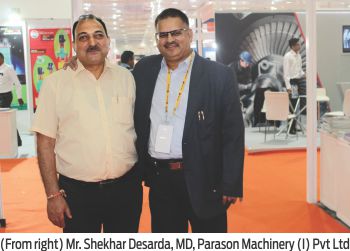 The players with 1500 MT and above conversion per month use high-speed continuous corrugated board manufacturing lines with high degree of automation and quick flute change capabilities. In converting units, they mostly have conveyerized, in-process material handling system, printer slotters with pre-feeders, stand-alone automatic folder gluers with counter ejectors, case makers (flexo folder gluers with in-line pre-feeders, strappers and load formers), and auto platens.
Mr. Patel also attributed the present structure of the corrugated box industry to a number of historical factors, including the reservation of the corrugated box making for the SSI, with an investment cap of INR 10 Million (Rs. 1.0 Cr) till 2008. This reservation resulted in low capex entry barrier, proliferation of low productivity, low output and low quality box making facilities across the country. Mr. Patel also blamed the structure of the excise duty and a broken CENVAT chain between paper mills and end users as limitation for the growth of the industry. "Prior to April 2006, output of mills below 3500 tonne/year was completely exempt from excise duties. For production above 3500 tonne/year, ED was 16 percent and corrugated boxes were exempt from charging ED/CENVAT. There was also broken CENVAT chain between paper mills and end users. As a result of these policies, vertical alignment of excise duty exempted paper producers, exempted box manufacturers and exempted end users," he said.

He further added, "Tax structure applicable to paper mills (based on capacity and raw material), discouraged larger organized players from entering this segment. As a result, the segment was dominated only by small, closely-held entrepreneurial organizations, with low CAPEX and small capacities, based largely on locally available recycled paper and serving regional/local markets. These units were highly dependent on dealers/agents for marketing, credit support and collection of accounts receivable. Overall, it (tax structure) resulted in low productivity, low degree of automation and poor paper quality.
"Paper is manufactured and sold on a classification based on burst strength and grammage. About 80 percent comprises of grades less than 20 BF, however the trend is shifting towards stronger paper as measured by BF. Only 2.5 percent corrugated case raw material used in India is imported. Most imports are from stock lots and odd sizes."
Explaining the trade credit issue affecting the segment, Mr. Patel said, "Historically, due to the fragmented supply base and undifferentiated paper quality, credit has been a major factor affecting sales and small box makers have enjoyed trade credit disproportionate to their output.
"Moreover, historically, dealers have bridged the credit requirements of the small convertors with margins based on riskiness and credit period. The cost of credit is usually passed on to non discerning small volume box buyers. However, larger paper buyers tend to negotiate directly with mills based on their buying strength in terms of volume and ability to pay bills promptly.
"Small, semi-automatic plants upgrading their facilities to automatic plants will likely draw heavily on trade credit from mills and dealers."
Mr. Patel also underlined the important industry features and buyers selection strategies, which are in vogue. "Markets for corrugated boxes are highly regionalized due to high transport cost and long lead time. Average economic reach for larger players serving high volume, organized buyers is 200-250 kms. Paper Sourcing also tends to be within 500 kms.
"Smaller players serve a much smaller region and often sell intra city/within large urban industrial clusters only. Other small volume buyers are highly quality conscious and not very price sensitive. Box makers who meet their quality and service requirements are profitable. Buyers for small volume box makers are fewer prices sensitive and less discerning in terms of quality. This allows small box makers to make reasonable profit."
Highlighting the general trends happening in the corrugated packaging segment, he said, "Lighter and stronger boxes are being increasingly demanded by brand owners with the objective of material reduction and better protection in transit. There are changes in design and specification of boxes for functional performance-shift from historical BS/GSM specs to ECT/BCT. Packing is now done uninterrupted with high speed, automated lines. This will eliminate blemishes whilst improving the stability and quality of the final product."
Mr. Patel is of the opinion that changes in tax structure are likely to impact the industry. "In the last 10 years, investments by large brand owners have been in tax incentive zones, mainly in North and North-Eastern India, with most of these tax incentives expiring in 2016. New investments by large FMCG brand owners are likely to be made based on logistical advantage/convenience and better regional presence. Moreover, preferred location for such investment in the near term is expected to be near large urban clusters in the Southern and Western regions of the country. Unlike China, India's box demand is likely to be driven by growth in domestic demand in the near term," he said.
Status of South Indian Paper Mills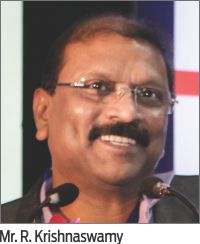 Speaking on the issues faced by the south Indian paper mills, Mr. R. Krishnaswamy, President, South Indian Kraft Paper Manufacturing Association & CMD, Sripathi Paper & Boards Pvt. Ltd. said, "Kraft paper industry feels good and the Govt. of India's initiative, 'Make in India' has been of great help. For the last two years, India has been growing 7.2 percent to 7.6 percent. The projected growth is 7.9 percent for another two years. According to the data available, the paper industry in India is around 15 million tonne. Surprisingly, out of this 15 million tonne, south Indian paper mills are contributing 35-40 percent. In India, 60-70 percent is packaging sector and only 10-15 percent is writing and printing. Also, the demand for packaged boxes is 4.5 to 5 million tonne in India. You will be surprised to know you that south Indian kraft mills have installed capacity of over 2.5 million tonne.
Mr. Krishnaswamy also highlighted the huge demand-capacity gap affecting the operations of the south Indian kraft mills. "Here in south India, the demand would be 1.5 million tonne, but capacity installation is 2.5 million tonne with 155 mills operating in this segment. Due to the gap between demand and supply, the kraft paper mills are operating at 50 to 55 percent level and because of this small mills are in huge danger with 30-45 mills already closed down. This gap is not allowing the industry to run continuously. This also hinders the increase in prices even when there is an increase in the prices of raw material. Before the grid connection, when there was a power cut, mills were outsourcing power; but later southern grid was connected with northern," he said.
Mr. Krishnaswamy also said that the break level point of kraft paper segment was very high as compared to any other industry and the segment was able to survive despite aforementioned issues. "All these are the reasons that made small industries close in last 3 years. However, to survive in the market, kraft mills opted for consolidation as consolidation is taking place in every field and today; this is the scenario of kraft paper industry too. Moreover, due to closure of some major expansions, the gap between demand and supply has lowered. Recycled paper and newsprint are also facing many problems. Government initiatives like 'Make in India' have made us hopeful and I think the industry has a very bright future despite all the shortcomings. Lastly, all we need is right technology for manufacturing right product," Mr. Krishnaswamy concluded.
Recycled Fiber in Paper & Packaging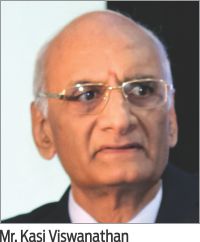 Speaking on the theme 'The road Ahead for Recycled Fiber in Paper & Packaging', Mr. Kasi Viswanathan, MD, Seshasayee Paper & Boards Ltd. said, "The industry looks a bit complicated. The changes are very fast which clearly means that we need to be abreast with time to understand new technology and latest trends in the industry. Firstly, we all should believe that we are a part of one of the best industries in the country. Our product is a noble product, which is used in education and is completely sustainable. It allows you to retain more information and keep records. Our inputs are also sustainable. For instance, let's talk about cement industry, where the input is limestone, which is not so sustainable. Then you have aluminum industry, which uses bauxite, which is again not sustainable. But, in our case, you can get wood within 4-5 years time, which means our inputs are sustainable."
Refuting the hypothesis of a paperless society, Mr. Viswanathan said, "There have been reports for the last 30 years about paperless office or paperless society. But it is impossible to visualize a paperless society. Demand may fall or paper consumption might be less, but it can't be zero. Also, we have to carefully nurture our consumers so that it doesn't happen."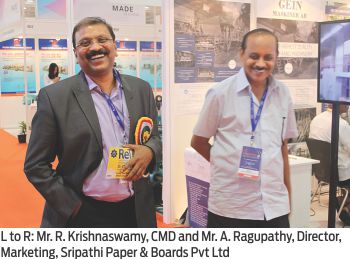 "The global production today has gone up to 400 million tonne/year, in china it is 100 million tonne/year, in USA it is 75 million tonne/year and in India it is around 10 million tonne with similar productions in countries like Sweden, Finland, South Korea and many other; so we are not in bad position. The product percentage is around 2.5 percent in India. The product base in global market segment comprises 45 percent packaging, 7.5 percent tissue, 37.5 percent W&P and around 10 percent newsprint," said Mr. Viswanathan indicating the rising production outputs of the paper industry globally, including India.
He also said that global production seemed steady and where W&P and newsprint were coming down, packaging and tissue were going up. "If we go country-wise, then USA has been producing over 100 million tonne of paper per year which has come down to 75 million tonne; in the last 10 years, China has moved up from 20 million tonne to 100 million tonne of paper per year. So, this is the global scenario," he said. "Paper industry in India has an annual turnover of Rs. 50,000 crore and India's share in world production of paper is around 2.5 percent. Our industry offers 15 lakh indirect employment and around 5 lakh direct employments."
Whether electronic media would lead to the paperless society is the biggest question in everyone's mind. Elaborating further on the aspect, Mr. Viswanathan said, "Yes, it has an impact both negative and positive. See, electronic media is city centric and not so popular in rural areas. The paper is easily accessible in rural region and can be afforded by poor. Most of us still find it convenient to take a printout for easy retention of data. Additionally, it is a pleasure to note that few magazines that went 100 percent electronic have switched back to printed paper magazines. And, the paper has its own set of consumers whom we need to nurture. We should be concerned about our children and must teach them the value of technology along with the use and importance of paper."



In response to what will happen to paper and which product will grow, he said, "Well, given the thrust on manufacturing, packaging should grow faster than other varieties. Thanks to our population and thrust on education which leads to consistent growth in W&P paper; then comes tissue, which depends on affluence and habits. Thereafter, we have newsprint, where our cost of production will be deterrent for aggressive growth. Also, we have to constantly look for new products and development."
On harmful imports, Mr. Viswanathan said, "Threat from rising imports indicates that even if market is there we have to protect our share. Imports of paper and paperboards into India are increasing steadily. In the last three years (2010-11 to 2013-14), imports have risen at a CAGR of 21 percent in value terms of USD 993 million in 2013-14 and 18 percent in volume terms of 0.87 million tonne in 2013-14. Imports are growing at a faster rate when compared to the increase in domestic production rate. Similar trends are expected to continue in the future unless measures are taken to discourage imports."



He further said, "Under the Indian-ASEAN FTA, import duties on paper and paperboards have been progressively reduced. From the base MFN rate of 10 percent, the basic custom duty has come down to nil rate w.e.f. 01.01.2014. As per FTA, there is gradual reduction in basic custom duty from South Korea and it will be zero percent in the year 2017. The conventional markets of China have been the USA and EU. In both of these markets anti-dumping/anti-subsidy tariffs have been imposed on import of paper and paperboards from China to protect their domestic industries. Further, the economic slowdown in developed economies and export dependent economies like ASEAN countries has led to excess capacity of paper and paperboards in paperboard manufacturing countries. Also, the imports into India will accelerate further in view of higher capacity creation in China which is expected to cross 130 million tonne shortly."



Explaining the structure and scope of pulp used by the industry, Mr. Viswanathan said, "Till recently, on a global basis, wood used to be around 60 percent, recycled paper 35 percent and agro residue 5 percent in the pulp furnish. But, this scenario has gradually changed and today wood is around 50 percent while waste paper has moved up closer to 48 percent and agro residue is around 2 percent. As far as India is concerned wood usage has come down to 31 percent from 33 percent while waste paper increased from 33 to 47 percent and agro residue has gone down from 33 to 22 percent. The demand for waste paper is going up because of increased packaging grade production.



"Raw material wise paper production in the country is 22 percent from wood, 31 percent from agro and 47 percent from waste paper. For high-speed paper machines, we require wood pulp while agriculture residue is a good raw material for paper making; such residue is not used in developed countries due to easy availability of good quality wood. In view of this, the technology development of paper making from agro residue has never been the same as that of wood based paper making.
"However, thanks to some excellent efforts by our SPB group and paper mills like Abishek in Punjab, TNPL Tamil Nadu, large agro-based paper mills with high technology, producing good quality papers have been established in India. I am really happy to tell that world's largest bagasse based and wheat straw based paper mills are in India."



Mr. Viswanathan also emphasized the need for increased usage of waste paper for paper making purposes in times to come. "While wood and agro-residue are excellent fibers for paper making, the need to maximize use of recycled paper cannot be overlooked. Logically, first option for any paper mill should be to exhaust all avenues to maximize the use of recycled fiber before using virgin raw material. Using renewable and recyclable paper is a practice that will help sustain our world for future generations. This is the very definition of sustainability and an important step towards minimizing our impact on the world we live in.
"In view of quality issues, particularly cleanliness, percentage in furnish is normally less particularly in W&P grades. Today, the technology for manufacturing good quality paper from recycled waste paper is so good that quality of paper is at par with paper made from virgin material like wood. In some countries like Japan, the recycling is as much as 70 percent. Also, these countries have proper waste sorting system which makes recycling easier by storing wet waste, recyclable waste and non recyclable waste separately. Waste paper recycling has to coexist with virgin fiber based mills.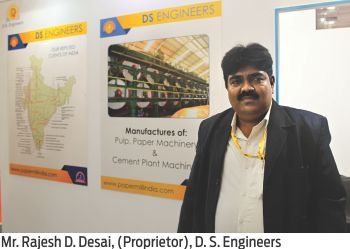 "But, in India we don't have an organized system for waste paper collection. Add to this problem, nearly 60 percent of paper manufacturers in India uses wood. And agro fiber is from short fiber which loses its strength considerably during recycle. Due to low recovery rate (around 27%), Indian mills rely heavily on imported waste paper to meet their raw material requirement. The import bill has increased significantly from USD 5.1 million in 1980 to more than USD 1 billion in recent days. Today, India imports more than 5 million tonne of waste paper. Recycling requires less energy, less water and fewer chemicals when compared to virgin fiber.
"Industry should focus on conducting awareness program regarding effective segregation and collection of waste paper and focus on improving collection of waste paper from offices, schools, villages and households. Government should impose legislation for collection of waste paper. Public private partnership models must be set up in India for improved waste paper collection. Also, govt. should allocate land on lease for development of centers/warehouses for sorting, baling and storage of waste.
"Due to e-commerce boom and retail sector, India has good growth potential for packaging which further opens up opportunities for recycled paper usage. Hygiene will continue to dominate human lives increasing the demand for tissue. We have to be extremely cautious on environmental issues. To become green, we have to reduce our specific consumption of energy and water."