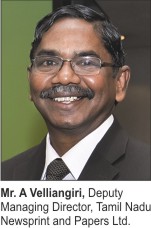 Tamil Nadu Newsprint and Papers Limited (TNPL), the biggest manufacturer of paper from bagasse and sugarcane residue, is now entering into packaging board segment.
Tamil Nadu Newsprint and Papers Limited (TNPL), a Government of Tamil Nadu Undertaking, commenced production of Newsprint and Writing & Printing paper in 1984 with bagasse and sugarcane residue as primary raw material. Starting with the capacity of 90,000 tonnes per annum, TNPL reached a mammoth 4,00,000 tonnes per annum capacity with the Mill's expansion in 2010. About one-fifth of its produce is exported to more than 40 countries. Manufacturing of quality paper from bagasse for more than two decades itself is an indicator of TNPL's ability to harness technological advancement for the purpose. Over the years, the company has emerged as the largest bagasse based Paper Mill in the world consuming about 1.4 million tonnes of wet-whole bagasse every year.
With its socially responsible business model, TNPL has been able to reduce pollution load through sustainable practices and emerged as one of the most environmentally compliant paper mills in the world. TNPL is accredited with ISO14001:2004 certification for an effective environmental management system. By using bagasse as primary raw material, TNPL preserves over "40000 acres of land from depletion every year". There are registered CDM (Clean Development Mechanism) projects in TNPL, Methane Extraction and Fuel Conservation Project and 6.75 MW Small Scale Grid Connected Wind Electricity Generation Project, to exhibit its environmental commitment further.
Currently, TNPL is all geared to enter into packaging board segment through a huge capacity addition by way of a board plant. Mr. A. Velliangiri, Deputy Managing Director, TNPL, had a wide ranging conversation with Paper Mart to divulge more about the slated diversification program, raw material scenario and marketing strategy to be adopted once the production starts.
Packaging as Product Diversification
TNPL specialize in writing and printing (W&P) paper and now envisaging expansion into packaging board. Having successfully completed the Mill Expansion Plan (MEP) in 2010, the mill has now embarked upon a green field project to install a double coated multilayer paper board machine. The pre-project activities have commenced for this project from May 2013. The target set for commissioning of the project is 2016.
When asked about the reasons behind this decision, Mr. Velliangiri said, "Packaging board comes within the paper industry itself. We have reached a capacity of 400,000 tonnes in our present portfolio. We, therefore, thought that it is a better time for us to achieve growth in the same industry with product diversification and accordingly we have initiated the process of establishing a board plant. It will be 200,000 tonnes capacity and a Greenfield project. We have taken up the implementation and our plan is to execute the project in all respects by Dec 2015."
TNPL has begun sourcing advanced machineries for the packaging board plant from various companies, national and international. "We have placed order for almost all machineries. The main board plant is purchased from Voith, Germany along with a waste paper plant. The AS/RS is being supplied by Pesmel, Finland whereas the boiler is being sourced locally from Thermax. We are installing two boilers. TG is sourced from BHEL and orders for all other machinery are in the pipeline. Civil works is also progressing as per schedule. We are likely to complete our civil works by February of 2015. By January 15, erection will start for the board plant, and as far as the boiler is concerned, erection activities have just started," said Mr. Velliangiri.
When asked about the intent to expand further capacities in W&P division, he added, "No, as of date, we are just contemplating only packaging. We would like to take some time before going for next phase of expansion."
Board Sector, Promising Growth
Packaging segment is exhibiting remarkable growth promises. This growth trend is expected to continue in future, driven by greater demand because of economic growth; increasing share of organized retail will be a key driver The annual growth rate of this sector is about 15 per cent per annum and it is expected that annual turnover of Indian packaging industry will touch USD 32 billion by 2025 from the present USD 24.6 billion, according to a study. In the world scenario, the total turnover of packaging industry is about USD 550 billion where Indian share is about USD 24.6 billion per annum. As per the Mckinsey report, there will be ten times increase of middle class population by 2025 in India which will further trigger the consumption of packaging material and thus, the packaging industry will grow further.
Dwelling upon this, Mr. Velliangiri said, "We believe the growth momentum is more in the board sector than in the paper sector. Paper growth is roughly 6 to 7 percent only. Growth of retail segment is posing huge demand for the packaging. We, therefore, believe, as per the study we conducted, that the demand for the paper board will be about 12 to 14 percent per annum. So, we have taken a conscious decision of going for a board plant. We will produce only some specialty boards like folding box board, SBS or solid bleached board, cupstock, etc. Also, we will do white line chipboard (WLC). Initially we will have these things; and as time passes, we will be able to consolidate the market by trying to concentrate on the specialty boards."
In the last few years, there have been many packaging expansions taken place in Indian market. Whether Indian market is ready to absorb the produce from these expansions remains a question before all who are either mulling or going ahead with packaging portfolio addition. Confronted with the question, Mr. Velliangiri said, "One more plant is likely to come in 2015. We will add up the capacity by the end of 2015. Initially, our capacity utilization will be about 70 percent in the first year. Subsequently, it will be stepped up to 85 percent in the second year and 100 percent in the third year. By the time, the demand growth also will be there. Besides selling to the domestic market, we will also try to sell some quantity in the neighboring countries like Sri Lanka and others. I am sure with the combination of both, export and domestic (domestic growth is 12 to 14 percent per annum), we will be able look up at things."
TNPL: Growth With Consistence
TNPL is one such company in the India paper industry consistently performing well with a good profit ratio. Asked about the strategies or line of action TNPL adopts in its operation to perform steady even when market looks gloomy sometimes, Mr. Velliangiri states, "See, we have got some inherent advantages with the company. The first is the raw material. We have chosen- bagasse as our premier raw material. Bagasse pulp cost is always found cheaper than the wood pulp; this competitive advantage we will continue to retain forever. The second is the economy of scale; 4,00,000 tonnes capacity mill in a single place producing W&P paper gives us the benefits of the economy of scale. We are really focusing more on the cost factor by keeping it as low as possible through continuous technological improvements and new innovations. These factors have helped us to keep the cost under control and, as of date, we are the least cost producers in the industry."
Optimizing Cost via Technology
Underlining the role of technology and embracing innovations in operations to be always on the right track of growth, he added, "In the case of innovation, we have implemented bio-methanation plant; this is taking the methane gas from bagasse waste water. This was introduced in 2004-05; today we are roughly capturing about 27,000-28,000 of cubic meter of methane gas per day which is collected and used as fuel in the lime kiln replacing the furnace oil. This gives us a good advantage in the fuel front.
"We have gone for a cement plant which is also a new idea in the paper industry. We generate lots of lime sludge about 200 tonnes per day and 100 tonnes per day of fly ash which we generate in the boilers. Instead of deposing these two waste materials to the third party, we have put up a plant adjacent to the mill where these waste materials are converted into high grade cement. This helps us to improve the environment standard and a the same time generates profits.
"Recently, we have added a mill for producing PCC (precipitated calcium carbonate) and WGCC (wet ground calcium carbonate); these two plants are put up through Omya on BOO basis. These are giving a good cost advantage to us. We are, as of date, sourcing about 180 to 200 tonnes of WGCC and PCC from the OMYA plant on online basis. Certainly, it has helped us to reduce the overall cost of production by about some 750 rupees per tonne of paper. These are some of cost advantages."
Sourcing Waste Paper
The waste paper is sourced indigenously as well as through imports. Since India does not have a developed waste paper collection system, raw material availability is low and prices are high. Consequently, imports of waste paper accounts for 55-60 percent of the total waste paper consumed (mostly from the US, the world's largest waste paper market). With the new packaging board plant of 200,000 tonnes capacity in place, TNPL's requirement of waste paper would be immense. How would TNPL proceed to source adequate raw material for its plant?
"We will source the waste paper both from domestic sources and imports. It will be a combination of both. In the board plant producing white lined chipboard (WLC), typically made from layers of waste paper or recycled fibers, the waste paper goes into the middle layer. Waste paper for producing paper grade pulp is more difficult to source from the country. But, probably, we will be able to procure the waste for the WLC production more from the domestic market supplementing it through our imports as well," said Mr. Velliangiri.
When asked whether TNPL is also planning to step into the shoes of ITC which has initiated WOW (Wealth out of Waste) project for better waste management and sourcing of recyclable waste, Mr. Velliangiri said, "As of date, we have not established any such system for procuring the waste paper. We are procuring all the waste paper from the governmental departments, educational institutions, and large commercial undertakings. The government departments, universities, colleges are giving all of their used paper to us that gives us some comfort in comparison to others. Besides, we are procuring paper through the tender mode."
Targets and Marketing Strategy
"The paper production is currently roughly about 3,90,000 tonnes. We will be able to reach 4,00,000 tonnes next year, or so, by consistent improvement in operations. The paper production should be at that level (4,00,000 tonnes) for few more years before we plan to augment it further. Then, the board production, coming in December 2015, will go for commercial production from 1st April, 2016 with another fifteen months needed to sell our boards finally in the market," said Mr. Velliangiri about the targets TNPL aims to meet in coming times.
He elaborated further on marketing strategy to sell board plant produce, "In the meanwhile, we are also collecting data through deputing persons on field to know about the consumption points and users et cetera. Based on the field survey, we'll also try to establish the whole marketing department in the next five-six months time. I think, by the end of June 2015, we will be setting up a full fledge marketing department for the board plant. We will be selling the board through dealer's network. In addition, we will try to establish contacts with the big converters and end users. As usual, we will appoint export agents to sell the board at exports points."
Packaging: Consumption and Growth
Speaking on consumption trend, he said, "Before launching this expansion scheme, we did a feasibility study on the market factors and consumption data. Based on the study outcomes only we have taken our decision to expand. Now, what we are doing is trying to collect some information about the actual end-users by deploying some fresh graduates .
Commenting on the foreseeable growth in the packaging and paper industry, he adds, "There will be a good growth in the retail sector in coming times. When the retail trade improves, certainly there will be a consequential good demand for the packaging which will manifest in the growth of packaging segment. It will be consistent and much higher than the paper."
He added, "We are adding 200,000 tonnes; Emami are adding some capacity of 100,000 tonnes plus. As things stand, another capacity expansion is expected in the next two-three years .
Green Pal and e-Commerce Initiative
TNPL introduced a new variety of paper under the brand name "GreenPal", using only bagasse and de-inked pulp complying with environment friendly measures. No wood pulp is used in the manufacture of this paper. "We have introduced a paper called GreenPal. This paper is produced from using bagasse pulp and de-inked pulp. No wood pulp is used manufacturing of this paper. So that way, it is 100 percent eco-friendly paper manufactured using only bagasse pulp and de-inked pulp. No tree is cut for making this paper. We are also producing notebooks by using this GreenPal paper which is an eco-friendly paper notebook," said Mr. Velliangiri.
TNPL is marketing GreenPal Notebooks online through its own website at normal retail rate with free delivery across all five states in South India and the Union Territory of Puducherry. "It is the first time in the paper industry that we are selling our GreenPal Notebooks online with free delivery throughout South India at the normal retail price. We have launched this very recently. To start with, we are getting some enquiries and I am sure this concept will be liked by the students. They will come forward to buy this paper manufactured from non-wood pulp. The reach is faster compared to the normal retail sales. At the same normal retail price, we deliver free of cost to the remote places in villages," said Mr. Velliangiri.
"People can go to the website www.tnplgreenpal.in. They can place orders; it is available in three different sizes small, medium, and large as ruled and un-ruled. Pages vary from 48 pages to 196 pages sold on set basis. We have approximately 125 rupees per set cost. For initial orders, we are allowing 10 percent reduction on normal retail price with free delivery. This is for the first time that a company's own portal is used to sell the paper products. We will be delivering to all the five states- Karnataka, Tamil Nadu, Kerala, Telengana, Andhra Pradesh plus Puducherry," concluded Mr. Velliangiri.