Since 2006, Pune workshop has manufactured 50 washers for its Indian customers and the remaining to customers in other parts of the world.
March 22, 2021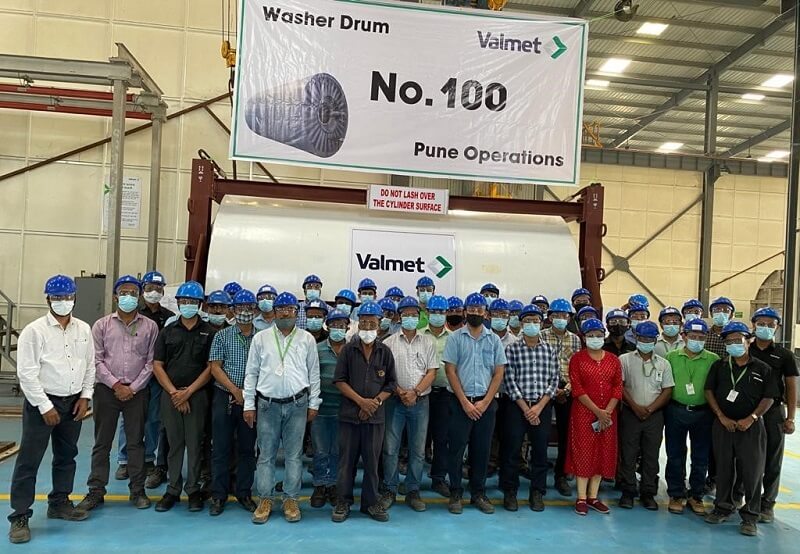 Valmet's Pune workshop in India achieved an important milestone in the beginning of 2021 as it delivered its 100th vacuum washer to a pulp mill. The vacuum washer technology decreases the wastewater pollution and improves the washing process efficiency in the pulp and paper industry. The 100th vacuum washer was delivered to a pulp mill in North America.
Strengthen the operation through constant development
Pune workshop started its operation in 1999 as a technical office. With the manufacturing facility expansion in 2006, the production capacity of Pune workshop has been increased to better support the growing customer needs.
Today Valmet's Pune workshop manufactures chemical pulping equipment such as vacuum washers, liquor filters, pressure screens, chemical mixers and other bleach plant equipment. It also manufactures equipment for stock preparation including refiners, disc filters, pulpers and agitators.
"The facility is located in the golden triangle of Mumbai – Pune – Nasik in India. The region is known for wide range of quality suppliers and technical talent. This, coupled with Valmet's expertise in pulp and paper, helps us serve our customers well and move their performance forward," said Mr. Abhay Warhadpande, Managing Director, Pune Operation, India, Valmet.
High performance vacuum washer technology with top manufacturing quality
Valmet vacuum washer technology provides high consistency stock discharge for high performance washing and thickening. The technology features improved washing efficiency and faster and easier maintenance.
Also Read: Valmet LignoBoost XS-Concept Development and Experience With First Plant Delivery.
"Quality is one of the keys in our manufacturing excellence; we aim for the top-quality products with lean manufacturing process. Positive feedbacks have been received from our three largest customers." Mr. Abhay Warhadpande added.