2021: The year that was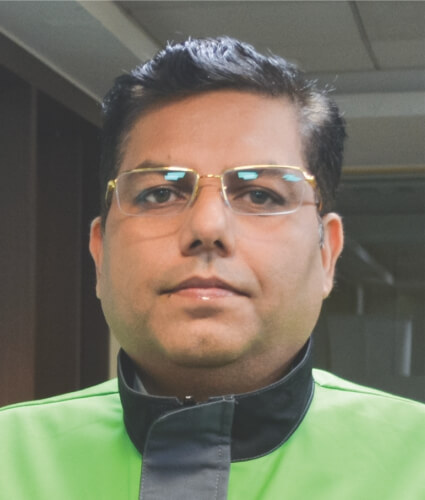 In India, our business activity was affected during the peak of the second wave and later recovered and got back to normalcy during the latter part of the year. The project activities have been back on track and all the manufacturing activities for the ongoing projects are going on in full swing. In addition to this, we are in regular touch with multiple companies for grade conversions and future expansion plans in the packaging and hygiene segments. There has been positive development from the supply chain front. We have been able to establish sourcing from India to be an integral part of Valmet's global sustainable supply chain.

Valmet has four offices and two workshops in India. Our presence and capability in India have been developing systematically. We expanded automation's operation facility and increased our footprint in India through GL&V acquisition in 2019. Last year, we invested in filter fabric manufacturing in Pune and the operation started from June 2021 onwards. All these efforts show our strong presence and commitment to the Indian market.

India is one of our key markets, we're also constantly developing our local competence to better serve the customers in India, Asia Pacific, and globally. The Indian market also plays an important role in our global engineering, manufacturing, and supply chain.
Watch: Evolution of Paper-Based Packaging
2022: The year that will be

At Valmet, we have done a good job of finding innovative, new ways to serve our customers during the pandemic. We have, for instance, started a Valmet Advantage DCT tissue machine remotely at Century Paper's Lalkuan mill without our overseas experts on site. We have also successfully started up a new coated board machine at JK Paper's Fort Songadh mill. Many customer problems have been resolved with remote connections and through virtual meetings, and sales negotiations with customers are also carried out via video meetings.

In the coming year, we see a good potential of investment from the leading paper mills in upgrading their technology or will come up with a new line. A new containerboard project is set for commissioning and a few of our bioethanol projects will also get commissioned which will create a benchmark for Valmet in the Biotrac business in the Asia Pacific. We are working closely with our customers to set our footprint in new businesses like flue gas desulfurisation, New OCC Lines, BCTMP, etc.

India is one of the markets that hold the most potential business. We continue to develop process technologies, automation, and services to address customer needs and help to develop their sustainability performance. We are building up strong local service teams that are backed up by our global expert network. We will continue to invest in R&D to:

Address customer needs;

More expansion of local sustainable local supply chains to meet the customers' urgent demands and improve lead time;

Energy-saving & environment-friendly technology; and

Continue to strengthen our footprint with sustainable solutions.

Also Read: Valmet Kickstarts Supplier Innovation Workshop 2021 in India
Key trends driving the growth

Climate change and global warming are significant challenges that are driving companies to rapidly transform and reduce their carbon dioxide emissions. Valmet believes that technology plays a key role in mitigating climate change and global warming in the transition to a carbon-neutral economy. Therefore, we have created an ambitious climate program − Forward to a carbon-neutral future − which continues our comprehensive sustainability work.

We are proceeding with a wide range of actions like decreasing the weight of our products, increasing the share of recycled steel they contain, and introducing alternative materials. We will support our CO₂-intensive suppliers in reducing their emissions and centralise spending on selected suppliers offering low-carbon transportation. We will also continue to develop freight planning.

Valmet is also targeting a reduction of 80 percent of CO₂ emissions in its own operations by 2030 without emission compensation. Valmet's current multi-fuel & bioenergy boiler technology already enables 100 percent fossil-free heat and power production today. Our target is to enable carbon-neutral production for all our pulp and paper industry customers by 2030 as well. We will achieve this target by developing new technologies that enable fossil-free pulp and paper production when the customer is using carbon-neutral electricity.