Sixty suppliers from India with over 120 participants participate in Valmet India's Supplier Collaboration Day celebration.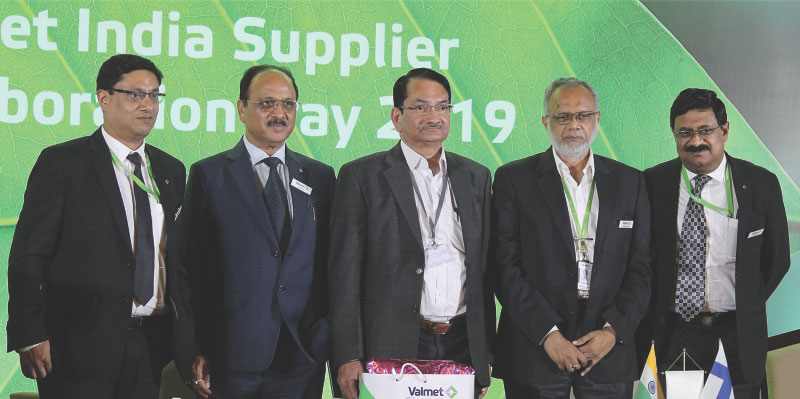 Held at ITC Maurya on May 7, 2019, this significant event was Valmet's second Supplier Collaboration Day held in India. Overall, 60 suppliers from India with over 120 participants participated in the celebration. The main purpose of this event was to showcase Valmet's expectations from the suppliers and meet global standards keeping in view the health, safety and quality of the end product. This platform also gave the suppliers a golden opportunity to network and to share their suggestions with the Valmet Global Supply Management team. To make the event more informative, Valmet also invited one of their key customers, Mr. K. Nagahari, Senior Vice President of Projects at ITC Limited, to attend this event and share with the other participants his insights about the recent deliveries from Valmet and his future expectations.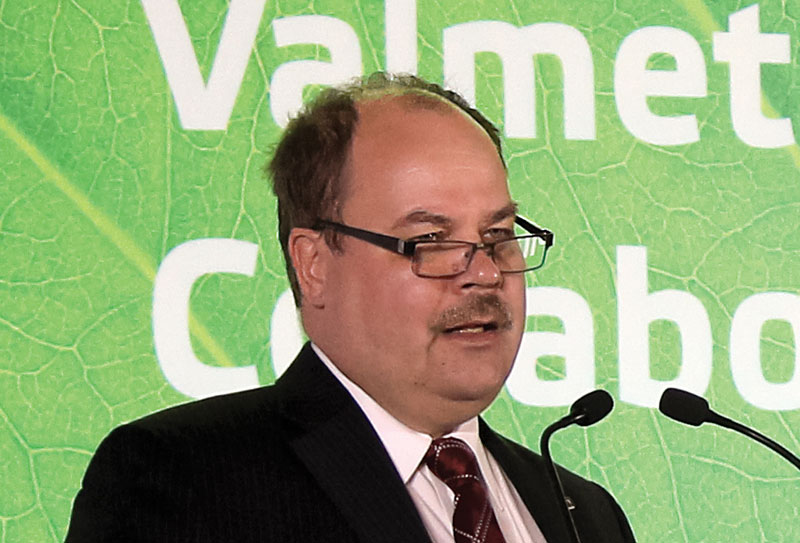 Giving an overview of Valmet in Asia-Pacific, Mr. Jukka Tiitinen, Area President, Asia-Pacific, said, "Valmet in Asia-Pacific is young; as a stock-listed company we have been in existence for a little more than five years, but Valmet is a 200-year old company. We have been growing through acquisitions. The last of these acquisitions took place last month.
"Valmet is organized around four business lines and five geographical areas. The business lines are services, pulp and energy, paper and automation; and the areas are North America, South America, EMEA (Europe, Middle-East and Africa), Asia-Pacific and China. The areas are responsible for sales, providing services that meet customers' needs and support of project deliveries in their respective regions."
He also said, "According to the latest figures, we have spent EUR 2 billion to buy services, products, engineering components, and so on in 2018. In the same year, Valmet received orders worth EUR 3,722 million; our net sales were worth EUR 3,325 million; our comparable Earnings Before Interest, Taxes, and Amortization (EBITA) was worth EUR 257 million; our comparable EBITA margin was 7.7%; and we had 12,528 employees as of December 31, 2018.
"Now let's look at the orders received by our business lines. In the services line, the share of orders was 35%; in automation it was 9%; in pulp and energy it was 27%; and in paper it was 29%. As far as orders received by area is concerned, North America's share was 20%; South America's share was 13%; EMEA's share was 43%; and China's share was 14%.
"We believe that a strong global presence is a good platform for growth. Valmet has 100 service centers, 85 sales offices, 35 production units, and 16 R & D centers. In the Asia-Pacific region, we have 12 service centers and 12 sales offices."
Customer-Focused R & D and Sustainability
Mr. Tiitinen said, "We have gone for significant customer-focused research and development work. Customers' needs drive Valmet's R & D work. We have 16 research and development centers, 1,300 protected inventions; and we spent EUR 66 million on R & D in 2018. We believe that the key power of our success is our people and our partners. We have been investing a lot in training. We focus on increasing production efficiency, presenting high availability, providing high-value end products and new revenue streams, maximizing value of raw materials, improving safety, reducing emissions and energy and water consumption, and improving usability. We have a growing customer base. Valmet has the widest range of offerings and leading marketing position on all markets.
"We also give a lot of importance to sustainability. We want Valmet to be sustainable in front of our customers. We also expect our suppliers to do the same. Valmet also gives a lot of thought to how it can improve its customers' success. In fact, our success depends on our customers' success and our commitment to bringing new ideas for paper mills to the table. We expect our suppliers to come up with new ideas that can help us have post-effective solutions as a source for our R & D.
Valmet – Sustainable Customer in India Region
In the post-lunch session of the event, Mr. Varun Jain, Director, India Region, spoke on the topic, "Valmet as Your Sustainable Customer in India Region." He said, "Before I start my presentation, I would like to give you a brief account of my journey into the paper industry and how I learned the importance of suppliers or business partners in the industry. Twenty-two years ago, I started my career at a paper mill in Pune. That mill was one of the state-of-the-art mills in India. While working for the mill I noticed that my bosses always used to be engaged with the suppliers. This engagement built up a lot of innovative capability in the team; and that unit is still one of the islands of excellence. My mentors told me that if you want to innovate, you will have to respect and trust your suppliers. You should not regard them as a financing company. You must always be ready to learn from them. Those fundamentals are still alive for me. Then I went to China. I consider my visit to China as a great learning experience. There I learnt how suppliers can transform a country from being almost nothing to being one of the largest global suppliers. China had the biggest and fastest machine. That machine was from Metso. It could produce around 3,000 tonnes of paper per day. Nobody knew how to operate that machine. So, we worked together with Metso, and today's China has many machines that are as big and fast as the one I saw during my visit. In fact, China currently has machines bigger and faster than the ones it had around 20 to 25 years ago. So, growth comes through your effort, basically. We all want to grow but sometimes we forget that suppliers help us grow. After my visit to China I did global sales and marketing for Asia Pulp & Paper (APP) for about six years. And that was another learning experience for me. Whenever I went to countries like Europe, U.S. and Japan to sell my board, they would ask me whether I had met their sustainability head. So, I had to meet their sustainability head and talk to him about our HSE principles, our safety aspects and our labor practices. That was a mandatory step for us in the sales process. It was an unforgettable learning experience for me. I learnt that if you want to be a global supplier, you need to take care of the people around you."
Projects and Expectations
During his presentation, which was on the projects that Valmet India has been carrying out and the company's expectations from the participants, Mr. Jain said, "GL & V in Pune is Valmet's recent acquisition. At this location, manufacturing of some of the paper machine components is done. This acquisition has enhanced Valmet's Indian capabilities. After this acquisition, we are now present in six cities, namely Gurgaon, Pune, Mumbai, Kolkata, Chennai and Vadodara. Our head office and sales office are in Gurgaon. So, after Valmet's business areas in North America and China, we are the third largest business area in terms of employees. We have around 350 people working for us. We expect to have 400 people working for us at all our Indian locations by the end of this year.
"We currently serve the pulp, paper and energy industries – right from wood handling to paper converting and finishing, including automation and services. Valmet offers the entire scope of pulp and paper making. It is important to know that we are in a segment where we still expect the highest growth rate in the world – about 6.3 to 6.8 percent. India's current production capacity is 20 to 21 million tonnes per year. In the next couple of years, we expect our production to grow up to 25 million tonnes per year and then 35 million tonnes per year.
Sourcing
Presenting an overview of Valmet's local sourcing, Mr. Jain said, "As far as local sourcing is concerned, the share of pulp and recovery is around 50 percent; the share of paper machines is around 15 percent; the share of automation is around 30 percent; and the share of services is around 20 percent. On average, the share of local sourcing is 30 percent of all sourcing. It is worth close to EUR 30 to 35 million. That means we are giving business worth EUR 30 to 35 million to local suppliers for local businesses. In addition, we have business where we source from India to supply to the other global markets. So, it is roughly around EUR 45 million of the business, which is Rs 400 cr."
Speaking about Valmet's ongoing projects and local sourcing and key suppliers to leading companies in India, Mr. Jain said, "In the pulp and pulp and recovery category we have ITC Recovery Boiler & Ash Leaching, Naini Cooking & Fiberline, Recausticizing and Lime Kiln, JK Paper Fiberline Relocation & Lime Kiln Retrofit, Grasim Bale Dewiring system and Grasim (Harihar) BSW rebuild with press and screen room rebuild; in the paper category, we have ITC PM7 rebuild, JK Paper New Board Machine, Century Pulp & Paper New Tissue Machine DCT 100 and Century Pulp & Paper Rewinder; in the automation category, we have Silverton, QCS DCC, Analyzers & Consistency Transmitter, ITC PM7 QCS Profilers, JK Paper Board Machine Automation, NR Agarwal 3 Nos QCS and ITC Kovai QCS; and in the services category, we have International Paper Recovery Boiler rebuild and International Paper Burner modification.
"We are currently working on another project. So, the business pipeline seems to be quite healthy for us. We believe in having a sustainable source of supply, which is helpful for our suppliers as well. Also, I want our suppliers to adhere to quality standards, HSE compliance, ethical working, cost-competitiveness and quick response."
Sustainable Supply Chain in Asia-Pacific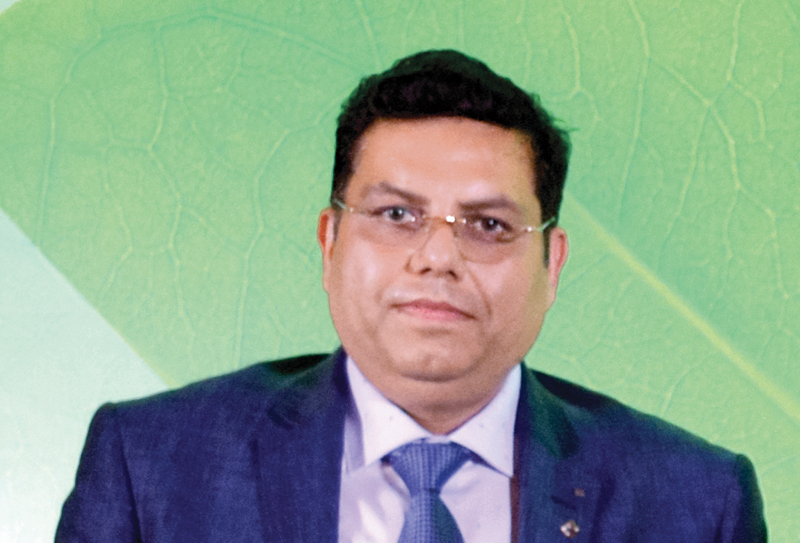 Speaking on the topic, "Sustainable Supply Chain in Asia-Pacific", Mr. Manish Sharma, Director, Asia-Pacific Supply Centers, said, "We are spending around EUR 1.9 billion annually on direct procurement. We have around 10,000 active suppliers in 55 countries. Our top 100 suppliers account for about EUR 500 million, and we have 450 procurement professionals around the world. Around EUR 0.45 billion annual spend goes into indirect procurement. But we want to grow more in the Asia-Pacific region. So, we want to make sure that we are spending more and more in Asia-Pacific. When it comes to cost competitive sourcing in the Asia-Pacific region, India is one of the most preferred destinations.
"Valmet's category structure is worth EUR 2.4 billion and comprises segments such as services, components and equipment, machines and systems, raw materials, Valmet drawing products and indirect procurements. The main theme in Valmet procurement is collaboration focusing on value creation. So we will need early suppliers' involvement. This involvement is needed when we design new products or when we discuss new requirements. We also need to keep in mind end-customer needs. The best total cost is possible only when we look at the total cost of ownership, and for that we need good category management, supplier relationship management, sustainability and design-to-cost. So we continuously need to innovate and bring in the most cost-effective solutions. Also, we need to see where we can change our designs to meet end-customer requirements. Sustainable supply chain is one of our top agendas. Sustainability is an integral part of the supplier approval process. So, any supply that we approve has to be in accordance with the supply chain approval process, which has several steps. Sales are done according to risk assessment. We aim to conduct full-scale sustainability audits on all medium and high-risk suppliers in the long term. India is a medium-risk country. These audits are done by third-party authorities together with the government. On average we are doing 15 to 20 audits in a year. In the last couple of years, we carried out 59 audits.
"When we say that sustainability is an integral part of the supplier approval process, we mean that there is no deal if the sustainable supply chain policy is not signed. Signing this policy is the first step towards becoming a Valmet supplier. The policy has six elements to comprehensively cover all areas of suppliers' operations. They are business ethics, compliance, human rights and labor rights, occupational health and safety, environmental management and products and services. In the Asia-Pacific region, non-conformities are quite high with regard to human and labor rights and health and safety. We found 1312 non-conformities, out of which 999 non-conformities were verified and closed. We need to bring much-needed improvement in these areas. Valmet is also working with its suppliers to improve their sustainable operations."
Quality Expectations
According to Mr. Sharma, Valmet attaches considerable importance to quality. He said, "In our company, quality is high on the agenda when we select suppliers. We define quality as excellence in supply chain delivery: the right product in the right quantity, at the right time, at the right cost. We expect our suppliers to go for quality. We expect them to follow the first-time-right policy; reduce lead times; maintain on-time delivery performance; adopt lean thinking and methodology; comply with internationally recognized quality management standards; improve continuously; learn from their mistakes; promote development ideas; and establish open communication, which involves early warnings, two-way feedback, joint development efforts and sharing of best practices.
"We also encourage our suppliers to give us development ideas. In addition, we invite them to attend design-to-cost workshops. At a workshop organized in Chennai a year ago almost 62 ideas were generated out of which 15 were implemented.
"We expect our product suppliers to design products for safe installation, use and maintenance; to manufacture products so that workers and all involved, such as inspectors and advisors, are protected from all potential hazards; and to provide documentation, such as CE Declaration of Conformity and Quality documentation and product manuals (installation and user manuals).
"Moving on to services, we expect our service providers to install products and provide services following local legislation at all time, the safety instructions given by the customer, project site-specific HSE plans and Valmet's subcontractor's HSE manual; to manage work-related risks; to be professionally skilled, trained and licensed; to demonstrate active management commitment to safety through, for example, safety audits; to have valid insurances such as travel insurance; to execute quality work; and to have open communication.
"We need suppliers who are highly committed to quality lead time and capacity, especially when it comes to sharing capacity. Sometimes suppliers take orders without taking into consideration their ability to manufacture the product or products on time. This issue should be a topic for open discussions. If capacity becomes a bottleneck, then there should be clear communication about it. We give plenty of opportunity to our suppliers to participate in open discussions and share their views on manufacturing-related issues."
Reliability and Consistency in Local Manufacturing
Speaking as Valmet's customer in a panel discussion on the topic, "Importance of Reliability and Consistency in Local Manufacturing", Mr. K. Nagahari said, "In the early 1990s, the industry's buzzword was 'quality'. Had we not installed a quality machine and manufactured quality cigarette board, our growth in cigarette board manufacturing would not have been as good as it is today. Product quality is of great importance in the paper industry. During those days, the processes that we ran to manufacture cigarette board helped us in manufacturing the rest of our products, which were of high quality. My experience tells me that the abilities or skills acquired in one area can be used in other areas as well. The skills and abilities that you acquire to make a particular product can be used in manufacturing other products. So, the skills and abilities a manufacturing unit acquires do not go to waste once a specific product has been manufactured. The quality standards that you achieve for a certain product usually go on to stretch across the entire product range.
"In 1994, we got machines from companies like Meccano and Valmet. We did not get non-critical components from Valmet. For the project we completed last year the machinery we used came from Valmet. We chose Valmet as our supplier because we were confident that we would get the right product at the right time.
"In my opinion, sharing of engineering information or details between the supplier and the customer is very important. Of course, revisions take place for various reasons as the project runs. More often than not, customers concentrate mainly on functional issues. They usually disregard aesthetics, which is of paramount importance. The product we buy should meet not only our functional requirements, but also our aesthetic requirements. Aesthetics should not be misunderstood as 'visual look'. It means ease of maintenance and durability. The functionality of Valmet's products is surely up to the mark. In fact, most of the parameters of supply, such as engineering, communication and functions, are satisfactory. But there is some room for improvement in aesthetics."
Customer Feedback
Responding to Mr. Nagahari's critical comment on aesthetics, Mr. N. K. Jain, Director-Sales (Asia Pacific), Valmet India, said, "Although we are constantly trying to improve the quality of our products, we also need to change our mindset." We should take the customer's feedback on our products after the completion of each project. This feedback would surely help us in improving the quality of our products.
"We also need to look at delivery, which has a major impact on a project. Delays in delivery can jeopardize the whole project. They can cause a big loss of money. In addition, we need to focus on sustainability and safety. We have to take care of the people involved. One of the major problems that India currently faces is retention of capability. Very few manufacturing companies in the country are able to retain capability, but that costs them a lot of money. When we started manufacturing in India, we had to get experts to train the people on manufacturing procedures and keeping delivery time. So, we need to keep and retain our resources if we want to maintain quality."
Reliability and Communication
Referring to Mr. Nagahari's observation about building confidence in local manufacturers, Mr. Suresh Kumar, Director, Engineering and Projects, Valmet India, said, "Reliability stems from trust, which develops over a period of time. It involves relationship-building. So, when a customer builds a relationship with, let's say, Valmet, then the relationship gradually matures, the level of confidence rises and a win-win situation develops. Trust is something that needs to be earned and sustained.
"Communication between Valmet and its suppliers, vendors and partners is enormously important. Many a time we have expectations but we don't voice them. We must communicate our expectations as soon as possible. As partners you may have restrictions or constraints regarding what needs to be delivered. This issue can be resolved through a proper flow of engineering information and communication. All aspects of contracts between Valmet and its partners should be based on effective communication. Let me tell you that Valmet has introduced a global quality management system across all its units, business lines and manufacturing locations."
Closing the discussion with his observations on the Asia-Pacific region and products of Indian origin, Mr. D. Ravi, Director, Project Sales at Valmet, said, "The accommodation of Indian goods in South-East Asia in the last 10 to 15 years has come up well. A change in the mindset of people in the Asia-Pacific region, especially Thailand and Indonesia, is quite perceptible. Some of the products of Indian origin are already well established in countries like Japan and Korea. But still we have a long way to go. When it comes to doing business with India, these countries show their concern for health and safety, aesthetics and Intellectual Property Rights (IPR) – dilution of technology know-how. India is not very strict about IPRs. So, an improvement in this area needs to be carried out."
The discussion was followed by two panel discussions on the topics, "Sourcing Opportunities for Indian Suppliers for Asia-Pacific and Global deliveries" and "Building Reliable and Sustainable Supply Chain Prioritizing 'Make in India'." Supply Awards were given out after these panel discussions.