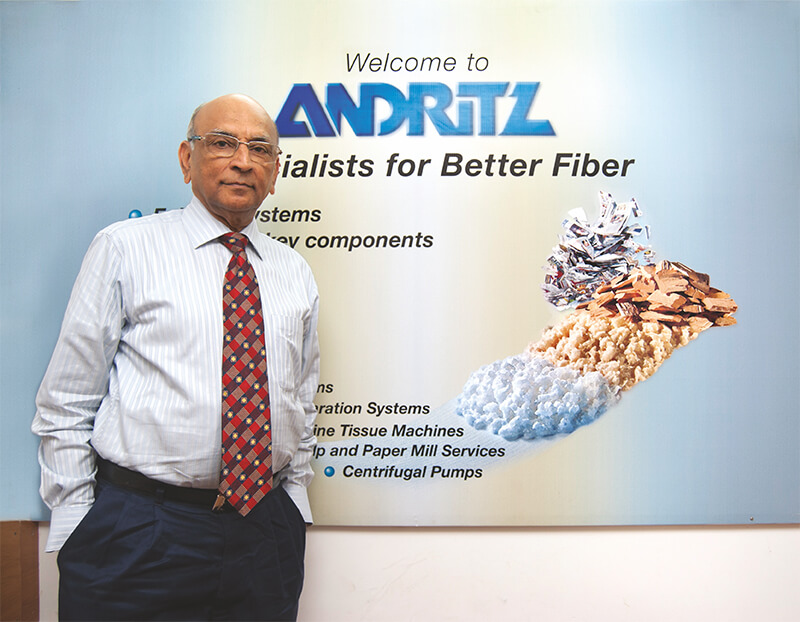 .
.
.
.
.
Mr. Vikas Kothari (Country Manager)
ANDRITZ OY, India Liaison Office, New Delhi.
A son to a first generation paper technologist Late Mr. P.S. Kothari who held various managerial positions in the paper mills at the time when people didn't even know what paper technology is all about. Vikas did his chemical engineering from BITS Pilani, and carries along a strong experience on the technological front. He has experience of over 4 decades with world's foremost engineering companies like A. Johnson & Co (Sweden), A. Ahlstrom Corporation (Finland) and currently ANDRITZ OY (Finland) – "triple AAA" company.
.
ANDRITZ in India started off with a flier by supplying a new fiberline to APPM in 2004 which was a success. They continued their journey by supplying small orders like bleach plant systems, screening plant systems, mill pumps, agitators, etc. over the past two decades. Mr. Kothari said "Technologically we have excellent offerings, which are proven worldwide. We understand that we have competition, and this inspires us to continue to develop our technologies and services. If a customer does not choose us, then there are perhaps other commercial elements at play. We are in a very strong position, and as a leading company, others will try to emulate our success. And with the recent prestigious orders from TNPL and JK Paper we certainly have our foot on the accelerator. We are here to serve the Indian paper industry having long term and sustained growth potentials." Taking the conversation further he explained us about ANDRITZ pulp & paper operations, the Indian journey so far, recent major orders, and closed the conversation by highlighting the strength of ANDRITZ Group.
About ANDRITZ Group
The ANDRITZ group is globally a leading supplier of plants and services for the hydropower, pulp & paper, metals and other specialized industries (solid/liquid separation, feed and biofuel). The Group is headquartered in Graz, Austria, and has approximately 16,100 employees worldwide. ANDRITZ operates over 180 production & service sites worldwide with a total order intake of 4132 million Euros in 2010. The business areas of the ANDRITZ Group are:

Hydro: a global supplier of turnkey electromechanical equipment and services for hydropower plants. The product range also covers pumps for the pulp and paper industries.

Pulp & Paper: technology and services that enable the industry to produce practically all grades of pulp for the manufacture of paper, board, and fibreboard, and also specialized machines for tissue production.

Metals: plants for the production of cold-rolled and hot-rolled, surface-finished carbon steel, high-grade steel and non-ferrous metal strip. This includes plants for the regeneration of pickling acids and for metal oxides. In addition, the business area builds plants for punching and metal forming.

Environment & Process: comprehensive range of technologies, products, and services for mechanical and thermal solid/liquid separation for municipalities and major industries (e.g. mining, steel).

Feed & Biofuel: systems and machines for industrial production of conventional mixed animal feed and high-quality, special animal feed. In addition, the business area holds the leading position in equipment for wood pelleting.
ANDRITZ Pulp & Paper
ANDRITZ Pulp & Paper is a leading global supplier of turnkey systems and services for the production of all types of pulp, paper, tissue paper, board, fiberboard (MDF), nonwovens, and plastic films, as well as of biomass boilers and gasifiers for energy production. The technologies available are employed for the processing of logs and annual fibers, the production of chemical and mechanical pulps as well as recycled paper fibers, recovery and reuse of chemicals, generation of energy from biomass, preparation of paper machine furnish from virgin or recycled fibers, production of paper, tissue paper and board, calendering and coating of paper, and the handling of reject materials and sludges. Services include complete mill maintenance, equipment upgrades and rebuilds, engineered wear products, and spare parts.
Indian Pulp & Paper Journey of ANDRITZ
ANDRITZ is the only company who has secured to deliver two complete pulp mills (i.e. from wood yard to bleached final pulp and complete recovery island) to APPM in 2004, which was commissioned in 2006, and JKPM ordered in January 2011 to be commissioned in late 2012. Enmas Andritz Pvt Ltd is the JV between ANDRITZ and Enmas, who have been the market leaders in supplying recovery boilers, evaporator plants, lime kilns, and recausticizing systems.

Their first major stride in Indian pulp & paper industry began in the year 2004 with the execution of order of a new fiberline at Andhra Pradesh Paper Mills (APPM) consisting of down flow lo-solids cooking system, brown stock washing with DD washers, two-stage oxygen delignification, deknotting/screening and ECF bleaching with DD washers and wood yard up-gradation with pulp capacity of 625 TPD based on mixed hard wood. It also included recovery boiler and evaporation plant from JV Enmas Andritz Pvt Ltd. Delivery also included CD- filter for white liquor, an LMD-filter for lime mud and lime kiln burner as part delivery from Andritz, Finland.

In the year 2005 they supplied systems for washing, oxygen delignification, screening and bleaching to produce 300 TPD pulp from mixed hardwood & bamboo to Sirpur Paper Mills Ltd.

In the year 2007 they delivered recausticizing plant, including an X-filter for green liquor handling and a CD-filter for white liquor filtration to West Coast Paper Mills.

They have also successfully installed recycled fibre preparation and DIP technology in India and the major breakthrough for them was the DIP line at Malu Papers Ltd and a retrofit/upgrade of an existing DIP line at ITC-Kovai.
Tamil Nadu Newsprint & Papers Ltd (TNPL)
ANDRITZ will supply a three-loop deinking plant for the TNPL mill in Kagithapuram, Tamilnadu. This will be the first three-loop deinking plant to be commissioned in India. The deinking plant reflects the latest state of the art in terms of environmental protection, as well as energy and water consumption. The supply of this first three-loop DIP line to India is an important step for ANDRITZ in this growth market. Start-up is planned for the first quarter of 2012. The deinking plant, with a three-loop and two-disperser configuration, has a capacity of 300 TPD and was part of a program to extend the paper production capacity of the TNPL mill from 245,000 to 400,000 TPA. The raw materials used in the DIP line are 80% sorted office waste and 20% magazine grades. The deinked pulp will be used to produce high-quality writing and printing papers.
JK Paper Ltd
They will supply a fiberline and recovery island for the pulp mill (design capacity: 635 BDTPD) of JK Paper Ltd in Rayagada, Orissa. The scope of supply covers equipment delivery of:
Woodyard: chipping line and chip storage systems with chip screening
Complete fiberline including continuous cooking, washing, oxygen delignification, screening, and EFC bleaching as well as instrumentation
Recovery boiler
Evaporation plant
White liquor plant: lime kiln and a recausticizing plant with lime green, lime white and lime dry filters as well as green dregs washing and dewatering with lime free centrifuge.
Start-up is scheduled for autumn 2012. This delivery will be the largest mill-wide scope of equipment from ANDRITZ in India.
ANDRITZ Strength
The growth of ANDRITZ is mainly through research and development. On an average 3% of the sales are invested in research and development every year and over 300 employee works in the Group's research centers. Research and development activities focus on making ANDRITZ a technologically preferred supplier that enhances the productivity of customer's plant, minimizes operating costs, and maximizes energy efficiency and environmental protection. ANDRITZ tailored solutions for all its business areas help them to deliver products according to the customer requirement.