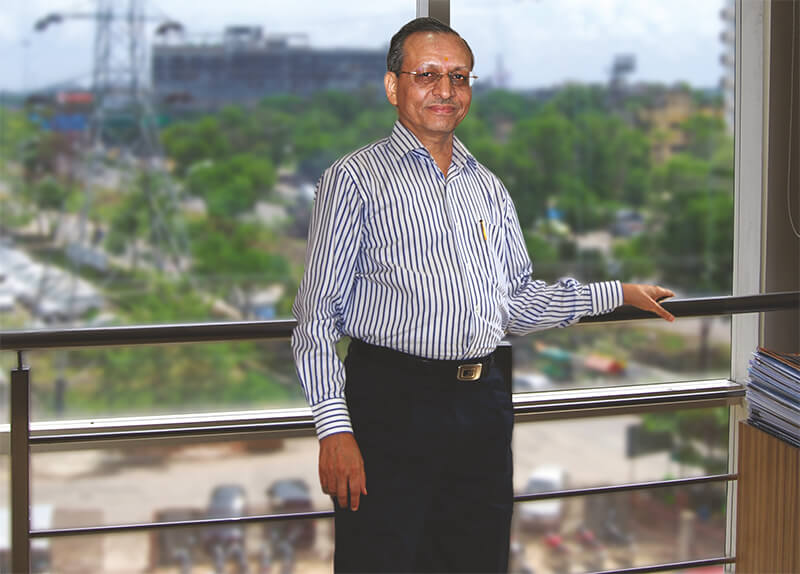 Incorporated in the year 1974 Emami's beginnings were humble. The company's headquarter building, 'Emami Towers', has become one of Kolkata's most adored business landmarks. The company's multi-business portfolio encompassing a wide range of health, beauty and personal care products for over 35 years has established them as a household product. Gradually they started venturing into other business like real estate, paper, healthcare etc. 30 years back they ventured into the paper business with a small capacity and now rose to become the largest producer of newsprint in the country and have some ambitious plans to expand in this business. In the course of the conversation with Mr. P.S. Patwari, he told us about the vision that Emami sees for its paper business "In paper today our turnover is Rs.450 crores and after 3 years it should be around Rs.1300 crores and after the addition of packaging board it should be Rs.2000 crores." With this positive note the conversation carried on where he detailed us about the Emami as a group, its present operations, market scenario, and there ambitious plans of expansion in newsprint, copier & packaging board segment.
Emami group, headquartered in Kolkata, a diversified business house enjoying leadership positions as:-
4th largest Indian FMCG Co (Emami Ltd)
Largest newsprint manufacturer (Emami Paper Mills Ltd)
4th Largest manufacturer of ballpoint tips in the world (CRI Ltd)
Largest healthcare provider in private sector in Eastern India with hospitals and pharmacies (Advanced Medicare Research Institute)
Prominent real estate player
Ventured into edible oil & cement manufacturing (Emami Bio-tech Limited, Emami Cement Limited)
Turnover of over Rs 4328 crores (USD 940.86 mn) (FY 2010-11)
EBDITA of over Rs 821 crores (USD 178.68 mn)(FY 2010-11)
Net worth of over Rs 1358 crores (USD 295.21 mn) (F.Y.2010-11)
Strong and dedicated workforce of over 20,000 people.
Emami entered into paper business 30 years back with a small newsprint plant of 15-20 TPD based on rice straw. In the span of 30 years they rose themselves to become the largest manufacturer of newsprint in India with 145,000 TPA capacity. They serve most of the leading newspapers – The Economic Times, The Times of India, Hindustan Times, Anandabazar Patrika, The Telegraph, The Hindu, Dainik Bhaskar, Dainik Jagran, Rajasthan Patrika, Samaj, Sanmarg, Deccan Herald etc.
New expansions on the Cards
Emami initially chalked out 2 expansions for its paper business. First to install a 400 TPD newsprint machine at their existing location with total outlay of Rs. 500 crores and second an integrated wood based writing and printing paper unit of 175,000 TPA with a project cost of approx Rs 1225 crores (USD 272 mn).

Seeing the market scenario they have switched their plan of expansions and now they are first putting up an integrated W&P unit which will be followed by newsprint unit. Highlighting the reasons for switching the plans Mr. Patwari explained "the market scenario for newsprint is bright with 8% per annum growth. Today the country's total requirement is around 2.2 million ton out of which 50% is manufactured domestically and 50% is being imported. Our entire production is getting consumed amongst the selected clients. We face competition from the inter-national players only. Internationally the growth in the newsprint segment is slowing down and contrary to that it's increasing in India and China. Newsprint being exempted from import duties creates threat of imports. Thus in order to balance our portfolio we thought to go first for the integrated W&P unit.

Describing the idea behind opting for W&P first, he said: "The copier segment is growing at 15% per annum which act as a requisite force to go ahead. Besides, the Indian printing industry is expected to grow at a CAGR of 15-18% and recent trends show India has emerged as the outsourcing hub for printing and publishing businesses".

"The W&P plant will get commissioned in April 2014. Once this W&P project is commissioned we will add up capacity in the newsprint segment as there is a ready market and ready customers who are comfortable with us and need our product. Sooner or later we may enter into packaging board segment too."
Securing raw material
The planned capacity of 175,000 TPA would need around 500,000 TPA wood for the pulp making. We have done the complete research work for securing of raw material availability within 200-300 kms area. Since last 2 years we have started the plantation activities in Orissa, Jharkhand, West Bengal and in and around areas under 300 km radius. We have opened agro-forestry division within our company and a team of 60 people has been created. We roughly need 7000 hectares land per annum for the plantations. Last year we covered around 2000 hectares and this year we will cover 5000 hectares. Our target is to cover 70,000 hectares in next 4-5 years.

To secure the marginal land from the farmers our team goes village to village to meet the leaders, panchayats and convince them by giving audio and video presentations to give there marginal land for growing trees. Once they are convinced then we provide them saplings at 1/3 cost. We have created more than 30 nurseries in all the districts and are developing the saplings with the clonal technology. We also arrange finance for the farmers from the banks and give them buy back guarantee. We are growing the species like eucalyptus, casurina, subabul etc.

From this agro farm forestry we will roughly get 25-30% in the first year, 50% we will take from open market like Andhra Pradesh. 2nd year it will be 30-40% and 3rd year roughly 50% and 4th year we will get full 100% of our own, so that way we are considering our project also that first 2-3 years we have to incur roughly Rs 1000 per ton for wood as extra cost. Moreover, we can also access the plantations that are standing for long due to the closure of paper mills like Titagarh, Bengal Paper Mill, IPP etc.
Planned Technology, Product and Project Finance
The W&P integrated unit will be established at the current campus in Balasore, Orissa where we have further acquired the land. We will manufacture copier, offset printing and if requirement is there then base paper for coatings. We are targeting to produce internationally competitive product as 3-4 years down the line import duties will come down further giving push to imports from South East Asian region. So, we have to be at par in terms of quality & pricing. We are planning to put up an environmentally sustainable technology in which the consumptions of energy, water, chemicals and other variables can be minimized. For W&P we have identified a second hand machine and we will be rebuilding it to the latest standards. The cost of the W&P integrated project is 1,225 crores. Financing of this project will be majorly through debts (70%), partly by internal accruals and equities (30%).
Steps taken to become environmentally sustainable
Whatever waste we generate out of pulp making we burn it in the boiler to generate power. Secondary sludge is also used as manure in nearby areas. Similarly, fly ash generated is utilized 100% by manufacturing fly ash bricks, in road construction and filling low lying areas and in asbestos sheet manu-facturing. Then, we are planning one cement unit also at Chhattisgarh so we will be using the waste from our mill over there.
Initiative for waste paper collection
Considering the global scene there is dearth of waste paper. In order to tackle the future scarcity of the waste paper we have tied with local rag pickers for dumping all the collection of paper every day at our various dumping points and take immediate payment, which act as an incentive for them. To encourage the households to sell it as a scrap rather spoiling it we have made it more remunerative for them i.e. instead of Rs.6/kg we give them Rs. 9/kg.
CSR activities at Emami
Our founder's philosophy is to incur 10-20% of the income towards CSR activities. Our CSR activities on education side includes opening schools with all the basic amenities, giving scholarships and distributing free text books, sponsoring colleges for providing higher education. We have also in the process of opening up an industrial training institute (ITI) to train local people and provide them employment. On healthcare side we send the mobile vans equipped with latest medical equipments for free check-ups of the local people. For empowering women we supply sewing machines and other employment opportunities.