The 7th CII National Conference on Pulp & Paper, organised over a virtual platform on August 31, shared good practices for water use efficiency in business operations, through two plenary sessions, contributing to overall environmental protection and sustainability.
The waste and wastewater management of the pulp and paper industry is a big challenge but also presents huge opportunities to transform waste materials into value-added products. Indian paper industry is experiencing considerable changes, including technological advancements, environmental factors, and sustainability objectives.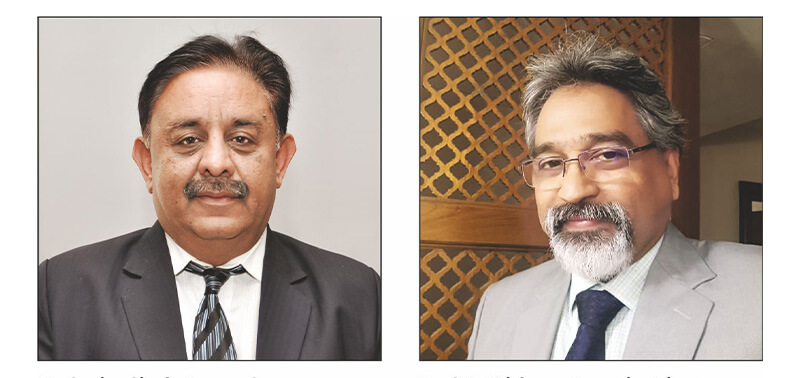 CII Water Institute has been partnering with the pulp and paper industry over the years, to work together on improving water usage, setting new baselines and benchmarks that are both nationally as well as globally realisable. To reinvigorate the debate, the Confederation of Indian Industry (CII) organised the 7th National Conference on Pulp & Paper on 31 August 2022. Themed 'Being Future Ready in Pulp & Paper sector: Water & Wastewater Management', the Conference shared good practices for water use efficiency in business operations over the virtual platform contributing to overall environmental protection & sustainability with two plenary sessions. The CII conference was chaired by Mr. Sanjay Singh, Former Group Head – Paper & Packaging, ITC Ltd. – PSPD and co-chaired by Mr. SVR Krishnan, Executive Director (Operations) TNPL.
Mr. Sanjay Singh set the tone for the proceedings and said, "The ban on single-use plastics has suddenly opened the door of opportunities for all of us. Now, it is up to the industry, how to use that opportunity for the benefit of the country, the world, and the environment. The demand for paper products has substantially gone up in the past one year. Pulp & paper industry is one of the most sustainable industries. The only negative thing is the high energy and water consumption, but things have substantially changed. When I joined the industry 40 years ago, it used to be 200 -250 m3 of water per tonne of paper. Today, the industry is talking about 30 m3 per tonne for integrated paper mills and 8-10 m3 for non-integrated mills. The paper industry has done a lot in terms of conservation in the recycling of water and reducing the pollution level."
Watch: IVAX Paper Chemicals Interview

He also shared the idea of using sewage water after treating it. "If you are stationed near a city, or town on the banks of any river, you can work with the local municipality, collect the sewage water, treat it well, and use that water in your own industry. With this, you would be reducing the water consumption drawn from the ground. Secondly, you will reduce the pollution load. And my gut feeling says that in that next 15-20 years, there'll be a huge value to the sewage water in city or town," he suggested.

The water is going to be the crucial thing. On the other front, the paper industry is very capital intensive and you have to keep on investing throughout your life. If you don't invest, your efficiency will go down. And that's one of the reasons that today, the pulp & paper industry is very innovative. A lot more things can be introduced such as Industry 4.0, which is catching on and I've had the experience of using Industry 4.0; it is very useful. I'm sure many other paper mills are doing it and they'll continue to do it. I am very confident that in the coming years, the pulp & paper industry will become the benchmark for use of water, pollution load, and innovative ideas," said Mr. Singh.

During the CII Conference, Mr. SVR Krishnan, Executive Director (Operations) TNPL added, "Just like the water flows from the top, these types of initiatives, action plans, and awareness on water conservation should also be driven from the top. The paper industry in India is of huge value to the Indian economy, with respect to the job generation for the farmers, and for the skilled and unskilled workforce in the country in various parts of the states and townships, and also bringing the balancing of trade and with the good amount exports happening now, bringing foreign revenue. Right from the people who are helping the farmers to fell the trees until the time it reaches the consumers; the industry connects everybody in the supply chain."

Talking about water conservation being the need of the hour, he added, "Water consumption is no more a choice. It is a dictum that you need to do for the sustainability of your own mill. It is the need of our own industry. A lot of trials are happening after the single-use plastic ban which is definitely a great opportunity but the viability depends on how responsibly we are going to carry it forward by looking at water consumption, steam consumption, and energy utilisation. Further, he suggested that the moment we consider waste as a by-product, we attach a value to it. "We at TNPL are conscious of the Triple P concept – people, planet and profit. We believe that if we take care of people, they will take care of the planet and both of these will take care of our profit", he said.

Dr. A.K. Vidyarthi, Scientist, (Water Quality Management), CPCB through his presentation appreciated the industry for being environmentally conscious and taking corrective measures with regard to freshwater consumption, sp. effluent discharge, BOD, COD, and TSS. Talking about BOD at the CII event, he highlighted, "Around 49.06 percent of the mills are operating in less than 20mg/l at their outlet and 45.51 percent are operating between 20 mg/l to 30 mg/l. The BOD is more than 30 mg/l for only 9.43 percent of the mills."

Mr. D.P. Mathuria Executive Director (Technical), National Mission for Clean Ganga, said "A lot has been done by the pulp & paper industry as far as Ganga river basin is concerned both in terms of compliance of these industries, environmental standards as of the date as well as water consumption. However, the industry is said to have reduced specific water consumption by 30 percent but we found that groundwater extraction remained the same. We need to see what has been the impact of this on the recipient environment. We have been stressing CPCB to review these kinds of arrangements. Apparently, freshwater consumption should have come down in the industries that have been able to achieve zero effluent discharge. Reuse channels should be monitored. We need to understand the challenges of the industry in order to find the best possible solutions."

Mr. M.K. Gupta, Director, Central Pulp & Paper Research Institute (CPPRI), at the CII Conference, pointed out that the paper industry has done well even during the pandemic and that is a big achievement. "Our production was steep for two years and but it never went down", he said. He mentions the use of mixed raw materials, low level of technology, lack of optimised process conditions, use of low capacity multiple paper machines, variations in varieties of end products (restricts reuse/recycle), low cost of water and mental block as some of the reasons of high water consumption in the paper industry. He added that the installation of flow meters on borewells and distribution pipes has helped in the quantification of freshwater consumption, identification of major water-consuming areas, and development of appropriate strategies for reducing freshwater consumption. He further said that the installation of the fiber recovery unit has reduced inlet pollution load, increased reuse/recycling of backwater and treated effluent and improved ETP performance. Other strategies adopted by the paper mills include reduction of the nozzle size, high consistency pulper, equalisation tank, and diffused aeration. Biomethanation of backwater in ZLD paper mills along with aerobic treatment and CIO2 are some of the recent trends.

Mr. Avinash Mishra, Adviser (Land and Water Resources), Niti Aayog, said, "India is one of the growing pulp & paper markets with around 4 percent of the share of global production and around 6 percent market growth per annum. We produce several types and grades of paper through a mix of raw materials, most of which are based on recycled, followed by wood and agro-residue. The sector has demonstrated good examples of improvement in operational water use, efficiency, reuse, recycling and recovery of wastewater. There's a need for a scale-up of good practices. Water scarcity and uncertainty in freshwater supplies from groundwater and surface water system are growing. In times to come, the sector should look at the integration of operational efficiency and operational sustainability. The paper industry today holds immense potential for growth in India. The per capita consumption of paper in India is one of the lowest in the world. With the ban on single-use plastic, quality packaging and FMCG product, pharmaceuticals, textile and organised retail would see great demand. However, the sector has one of the highest water footprints – it takes an average of seven litres of water to produce one A4-size paper.

The existing technology in India consumes water between 80-150 m3 per tonne of paper production while the global average is 29 m3 per tonne. I believe that it has further been revised a little lower than that, which is close to 12-15 m3 per tonne. The availability of fresh water in India remains a challenge owing to its uniqueness. However, this must not stop industries from adopting sustainable and efficient use of this crucial resource in the process chain. We are always ignoring one assured resource which is the wastewater that is being produced and still being released to the water bodies and polluting them. This can be put into circulatory use and there should be multiple uses of the wastewater to reduce the net consumption of water. I think that it is high time for us to move in that direction. The first step is identifying the consumption and its sources. Water use audits are essential for understanding how water is used at your facility to identify the opportunity for reducing consumption. Having the assessment, knowing the machinery efficiency technology at each stage of the process for cost-effective wastewater treatment can be adopted for recycling and reuse such as filtration and biological treatment phase. Planning and approach can lead to a reduction in water consumption, energy saving and effluent generation."

Mr. Kapil Narula, Executive Director, CII-Triveni Water Institute, concluded the session by mentioning the key takeaways, "We see a sea change in the demand for people. That's a great thing that's happening, but at the same time, we see a tradeoff between the capacity enhancement, the need for capacity enhancement, and the need for a more stringent way of looking at resource management. A very important message is to look at wastewater, not as a wastewater stream, but as a byproduct stream. This immediately changes the mindset. Another important message that has come from the industry is source diversification. We really need to look at freshwater source diversification. There is a need to move away from fresh water, be it surface or groundwater. To do this, there is a need for technology upgradation. The cost comes out as a big factor but we need to make an intelligent choice. The industry needs to prevent malpractices and come out as a strong example of showing a leadership role in water and wastewater management," he said.

The inaugural session was followed by the first session on 'Improving Operational Efficiency in Pulp & Paper sector- Role of Technology and Source diversification'. Moderated by Mr. Bipin Thapliyal, Secretary General, Indian Agro & Recycled Paper Mills Association, it saw the discussion on new and advanced technologies being developed, accepted and implemented in the pulp & paper sector in order to improve the operational efficiencies of the system. Mr. Elanchezhiyan M, National Product Manager, Paper & Pulp Paques India, through his presentation, talked about Paques Anaerobic Wastewater & Gas Treatment that can help the industry to reduce freshwater intake, save on operational costs with the production of green energy, reduce emissions, reduce on discharge costs, and recover valuable elements. Mr. C.K. Sandeep, Executive Vice President, ION Exchange (India) Ltd., talked about the ECSB reactor and its features and technology. He further suggested some integrated solutions for the industry. Talking about better and quicker water management practices, Mr. Berthet Christophe and Ms. Prachi Gaurkar from Nalco Water: An Ecolab Company discussed 3DT TRASAR DAF – a digitally connected solution that monitors DAF performances and control chemicals treatment and FLOCMASTER technology. Ms. Heli Karaila, Business Manager, Valmet- Finland, talked about the wastewater management solutions offered by Valmet such as Valmet Total Solids Measurement (Valmet TS), Valmet Low Solids Measurement (Valmet LS), Valmet Dry Solids Measurement (Valmet DS) & Valmet High Solids Measurement (Valmet HS), Valmet Nove, Valmet Sludge Dewatering Optimizer, and Valmet DNA Automation System, among others and Mr. Sanjay Gupta, Senior Counsellor, CII Water Institute gave his presentation on optimising water use through water pinch analysis.

The second plenary session at the CII Conference was 'Leading by Example Good Practices in Pulp and Paper: Being Future Ready for – Managing Water and Wastewater'. The panelists in the discussion were Mr. B Makarand, Head – Manufacturing & Projects, ITC Paper Boards & Specialty Papers Division; Mr. Ashok Kumar Singh, Vice President (Operations) & Mill Manager, Andhra Paper Ltd.; Dr. R.K. Jain Technical Expert, United Nations Industrial Development Organization; Mr. Satyajit Mohanty, General Manager (EHS), JK Paper Ltd.; and Mr. Parvinder Singh Taunque, Vice President- Engineering, Kuantum Papers Ltd.

Mr. B. Makarand talked about ITC's initiatives within the fence and beyond the fence. "There is water scarcity. If you see, in India itself, there are 600 million people who are facing extreme scarcity of water. Around 75 percent of the households do not have drinking water on their premises. About 70 percent of water sources are contaminated. India is currently ranked 120 among 122 countries on the water quality index. The industry is the third major consumer of water. First water goes to agriculture. Second, it goes for the drinking purpose. Third, it goes for industrial purposes. And if you see the priority for the government to distribute the water, the industry will be at the last. Hence, the industry has to work not only to reduce their water but to see that enough water is available for drinking and irrigation purposes. If these two sectors are not under stress, water will be available for the industries also," said Mr. Makarand.

"To mitigate that risk, we have put up our sustainability targets. The first target is that by 2030, our specific water consumption will come down by 42 percent. The second target is that we will create a rainwater harvesting potential of 60 million kiloliters, which will be five times our net water consumption. We have also taken a target that we'll get the Alliance for Water stewardship certificate for the unit by 2025. To achieve these targets will benchmark over performance with the global mills that emerged as leaders in the pulp and paper sector. To reduce the consumption by 5 percent, we increase the recycling of the treated effluent within the plant and maximize reuse in the process. The second thing, enhance the ownership of the employees. And the last is to adopt innovative technologies," he concluded.

Mr. Ashok Kumar Singh highlighted that the approach of Andhra Paper is mainly on following three basic fundamentals – Focussing on cleaner production technologies, water reduction, reuse, recycling, and recovery, and wastewater reduction, reuse, recycling and recovery. To see that we always keep ourselves focused, we have set sustainability goals for 2030.

Talking about CLO2 as an effective odour and slime control biocide, Dr. R.K. Jain said that CLO2 can be applied at a site immediately before the problem area, unlike many conventional biocides, which are generally slow acting. Mr. Satyajit Mohanty discussed various projects undertaken by JK Paper Ltd. such as drained sealing water of Voith vacuum pump reused in the shower, overflow water of seal water pit controlled by providing VFD to seal water pit pump, higher capacity pump installed to restrict overflow of CLO2 plant cooling water pit, etc.
Also Read: IPMA, CII Organise PaperTech Conference on Making the Paper Industry World Class

Parvinder Singh Taunque talked about the technologies adopted by Kuantum Papers Ltd. Some of those are the installation of new state-of-the-art DAF technology viz. Megacell high-performance filter which is used for wet washing filtrate to achieve outlet TSS levels < 100ppm1000 m3/day, recycling back the hot water from heat exchangers through the cooling tower back into the process for paper machine wire & press section LP showers 100 m3/day, foul condensate used as hot water in the unbleached section for pulp washing at 250 m3/day, use of sealing water return in wet washing section @30 m3/day.

With the two interesting sessions, the Conference aimed to share good practices for water use efficiency in business operations, and thereby contribute to overall environmental protection and sustainability.