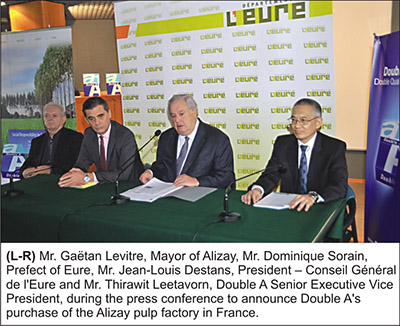 December 17, 2013

Double A has purchased the pulp factory including the bio-mass power plant that borders its Alizay paper mill and brought its expertise in operating integrated pulp and paper mill together with bio-mass.

This new step confirms the exemplary nature of the recovery process on the Alizay site, which has become emblematic of the stakes linked to re-industrialisation in France. After restarting the paper machine in June 2013, Double A Alizay's objective is to boost pulp production during the first semester of 2015. This investment is also a symbol of Double A's commitment to the continued re-industrialisation of the area. The pulp mill will increase Double A's competitiveness in Europe and complete Alizay as a key production site for Double A's expansion plans into Africa, the Middle East and the Americas.

"We have agreed on the selling price of the land, the buildings and the assets necessary to revive the production site. All that remains is for us to prepare and sign the deeds as soon as possible, this is in both parties interest, as it will initiate the revival of paper pulp production on the site," said Jean Louis Destans, Chairman of the General Council of the region of Eure.

This step is the follow-up of the exemplary industrial operations launched on 23rd January 2013 between the Department of Eure, employees and the paper manufacturer Double A. After acquiring the entire site in a form of 'micro-temporary nationalisation' in a bid to save the industrial tools, the Department of Eure resold it the same day to the department linked to the production of paper and energy supply at Double A.

It may be mentioned that Double A is a global leader in premium copy paper and one of the most advanced fully integrated pulp and paper manufacturers in the world. Double A produces high-performance, super-smooth Double A paper, which is available in more than 120 countries worldwide.