The company has set up India's first on-site PCC Plant in a recycled pulp based paper mill; as of now, the company has successfully set up six satellite plants which include the two on-site plant of PCC and WGCC set up in Bangladesh, says Mrs. Arushi Jain.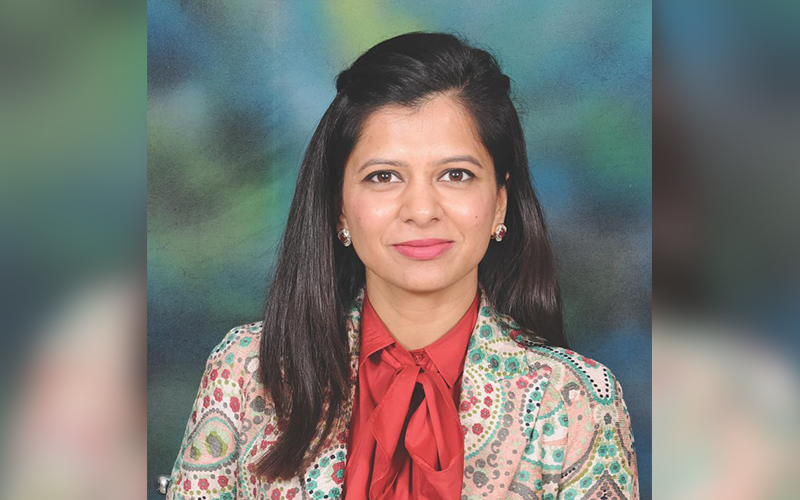 Gulshan Polyols Limited, incorporated in 1981 as Gulshan Sugars & Chemicals Limited, is among market leaders, manufacturing precipitated calcium carbonate (PCC) and wet ground calcium carbonate (WGCC). Its business, spread over 35 countries, comprises starch sugars, calcium carbonate, agro based animal feed, alcohol and on-site PCC plants.
The company claims to be the first Indian company to have set up its own R&D and have introduced PCC for use in paper making in powder form, and then to have introduced the fine quality of ground calcium carbonate (GCC) in powder form for its use in coated paper as coating pigment, first time in India.
The company has set up India's first on-site PCC Plant in a recycled pulp based paper mill. Paper Mart recently interviewed Mrs. Arushi Jain, Director, Gulshan Polyols Ltd. where she gave us some interesting details about the company and its objectives. Here are excerpts:
First share with us the journey of Gulshan Polyols as a manufacturer of specialty chemicals.
Gulshan Polyols Limited (GPL) is a multi location, multi product manufacturing company and has become a market leader in most of its products in India with global presence in 35 countries, across 3 continents. Its business portfolio covers starch sugar, calcium carbonate, agro-based animal feed, alcohol, and on-site PCC plants.
The company was incorporated in the year 1981 in the name of Gulshan Sugars & Chemicals Limited (GSCL) with primary business of manufacturing calcium carbonate at Muzaffarnagar with installed capacity of 2100 tonnes per annum, and expanded its capacity over the period up to 150000 tonnes per annum. Going forward, GSCL was merged into Gulshan Polyols Ltd, a Public Ltd. Co. listed on BSE and NSE.
As a company, we try to fulfill customers' need through our economic, tailor-made technical solutions and have pioneered the way for the multipurpose use of precipitated calcium carbonate (PCC) and wet ground calcium carbonate (WGCC), including paper applications.


The process of product refinement and improvement is continuous, and Gulshan is supposedly the first company in India to have set up an in-house R&D facility for the purpose. Moreover, we have introduced PCC and ground calcium carbonate (GCC), both in powder form, to be used in making paper.
And going one step ahead, the company has set up India's first on-site PCC plant in a recycled pulp based paper mill. The company, as of now, has successfully set up six satellite plants which include the two on-site plants of PCC and WGCC set up in Bangladesh for Bashundhra Group of Companies with installed capacity of 20,000 dry tonnes per annum and 30,000 dry tonnes per annum respectively. These plants are running successfully.
We have our own 15 MW captive power plant for uninterrupted production and supply of good quality power at its Muzaffarnagar and Bharuch facilities. We are self-sufficient in terms of power and don't depend much on grid supply.
As a producer of starch derivatives and calcium carbonate, which industries do you serve? Please elaborate on your clientele and how they use your compounds.
Gulshan's extensive product repertoire is aimed at serving a wide variety of industries, namely sweeteners, paints, paper, pharmaceuticals, plastics, personal care, nutrition enhancer for humans and cattle, etc. GPL has an impressive clientele comprising of Colgate, Palmolive, Hindustan Unilever Ltd, ITC, Asian Paints, etc. We have recently been recognized as 'Star Export House' by the Government of India for consistent export of our products to various parts of the world.
We produce starch for its captive use to make sweeteners like Sorbitol 70 percent, dextrose monohydrate, maltodextrine, rice syrup and liquid glucose.
PCC and WGCC are being produced for use in specialty paper and paper applications. Mainly these products are produced at a satellite facility and pumped in slurry form directly to mills in vicinity to provide economical solutions with enhanced quality and at the same time saving the cost involved in drying.
Apart from on-site product, such products are also produced at our merchant plant facility in powder form and in loose packing to cater to small customers. The company has four merchant plants at different locations to give the logistic advantages to the end users. All these plants are strategically located nearby raw material reserves which are enough to last for many years to come, and the quality (of raw material) is at par with international standards.
Our two sites Bharuch and Abu Road are near to port. This gives us the flexibility of using either imported or indigenous raw material, thereby making it easy to serve customers with the right product at economical price, which is our utmost priority.

Recently, you signed a MoU with Birla Group for setting up an on-site plant, your 6th, for PCC/WGCC. Please share details.
It gives us immense pleasure to inform that the aforesaid satellite plant has already commissioned and has started its commercial production from December 2015 itself. This is our 6th on-site PCC plant, which we have set up for Orient Paper Mills (OPM), a Birla Group Co., located in Amlai, Madhya Pradesh. This on-site plant is set up for its captive use by OPM.
In an on-site plant, PCC (Precipitated Calcium Carbonate) is produced in a satellite facility; on-site or close to a paper mill and the resultant slurry is pumped directly to the mill. In this arrangement, all plant and equipment required for producing PCC are installed under lease agreement in the premises of its end user. The utilities like Power, Water, Steam and CO2 from the boiler stake (going into the air after ESP) are used to make PCC in slurry form for its use in paper application. This unique environment friendly technology not only reduces the energy consumption, drying time and cost, but also utilizes the CO2 emitted from the boilers so that paper mills may claim carbon credit for using clean technology.
How do you maintain the constancy in the quality of chemicals? Please explain about your in-house R&D facilities and procedures therein, in brief.
We have all the needed capabilities and infrastructure to adhere to our strict quality control parameters. Raw material analysis, in-process analysis and analysis of final products are undertaken duly to affirm the desired product quality. Our storage facilities are extensive and working environment at plants quite safe.
Quality control cells at all the manufacturing facilities are manned by the experienced and qualified staff. Each of these QA/QC blocks is equipped with wet labs, instrumentation labs and microbiology labs to carry intermediate, in process and final product analysis. We have a range of high precision & accuracy instruments viz. in-micro section – Autoclave, BOD incubator, incubator 35°C, laminar air flow, refrigerator, bio-safety hood, muffle furnace, hot air oven, etc.
The Company also has PSD analyser, Sedigraph facilities to ensure the fineness of the product. We have pilot plants in our R&D to design new products to meet the customer's need.
How long have you been serving the pulp and paper industry? Please elaborate on trends of chemical usages in the pulp and paper industry.
Gulshan has been serving the paper industry for over 25 years. Paper grade calcium carbonate is a special molecular structure of chalk, which enhances paper's optical properties like brightness, opacity, bulk, printability, etc. Our paper grade calcium carbonate has been in market since 1990. The abrasion of PCC is very less as compared to chalk or coarse grade of PCC that produce the tear and wear of paper machine fabric.
We made our first big step of supplying bulk calcium carbonate in paper industry by setting up a satellite PCC plant at the site of Magnum Papers Ltd in May 2009. On-site PCC plants bring economies of scale and environment friendly technology to paper mills.
Awareness and size of paper mills is growing in India. Market's pull for better quality paper, with pressure of cost efficiency, is driving paper mills to consider paper grade PCC with satellite plants. We have recently replaced PCC being imported by ITC for its cigarette paper by setting up an on-site PCC plant at Hooghly, Bengal in April 2014.This on-site plant has the unique feature to produce the filler grade quality as well as well as the nano particle material with very fine and narrow band particle size distribution for its use in cigarette paper.
We foresee better days for value added chemicals such as functional PCC and WGCC as far as demand in the market place is concerned. These chemicals may act as a substitution for expensive fiber and English clay by increasing ash contents/loading without changing or detracting the customers' quality standard. Competence of Indian technology, manufacturers and suppliers has increased over decades. Customers now trust the Indian manufacturers for their enhanced credentials in providing products at par with global standards.
What are your future goals as regards to overall chemical business in general, and the Indian pulp and paper industry in particular?
Value added chemicals, which bring higher quality and economy to business, are on the rise in India. As of now, we are merely at the beginning of a consumer economy. Our consumers are aware and have access to global markets. They understand the value of better quality products and are willing to pay the price for it. This is a positive indication for growth across all sectors.
We are in dialogue with many paper mills and trying to convert these dialogues into business opportunities and are hopeful that we will set up more satellite PCC and WGCC plant in the years to come in the domestic market as well as in the Indian sub-continent.