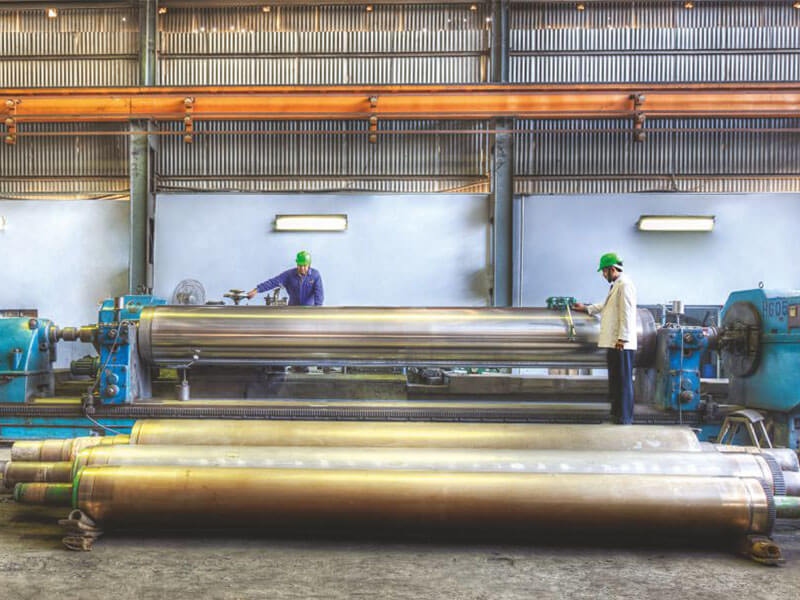 Rolls Matter

In papermaking, rolls carry out a variety of functions. They give a stable run either to the paper web or to wires, felts or belts.

Suction rolls apply controlled vacuum at a certain angle to the roll circumference to dewater the web or for pick-up and transfer, and press rolls form a loaded press nip for mechanical dewatering of the paper web.

Calender rolls equipped with special covers and coatings generate web smoothness and gloss, and spreader rolls spread the paper web in the width direction to avoid wrinkling or flutes. Spreader rolls consist of several short cylindrical roll sections that are covered by one common flexible hose. The overall axis can be bent for spreading.

Deflection control rolls overcome the disadvantages of deflection of the conventional rolls resulting from internal and external forces.

Rolls are made from steel, cast iron, bronze or fibre reinforced plastics – depending on their application. A roll may be driven by its individual drive and may, therefore, drive in turn the paper web, the wire, felt or belt. Alternatively, rolls are driven through friction by a wire, felt or belt. Depending on their application, rolls are equipped with varying covers and coatings. Increased machine speeds make good roll balancing ever more important to avoid machine vibrations with their negative effect on paper quality and machinery.

To continuously improve sheet quality and increase productivity, today's paper industry wants highly reliable roll solutions – rolls that can provide maximum performance and extend maintenance intervals. Rolls must have excellent operating performance, durability, low vibration levels and fewer sheet breaks. This is possible with strong roll-manufacturing experience, innovative R&D, modern roll workshops and the process know-how.

Adding Value to Paper Industry

A roll manufacturer should focus on providing a roll solution that is capable of incorporating the latest technology, of delivering the highest performance and runnability and of redesigning for higher speeds or nip loads. In addition, rolls should be fully interchangeable with existing rolls and easy to install. They should also have fewer maintenance needs.

The long operational life of new rolls can be ensured by accurate dimensioning, durable materials and functional roll design.

A roll solution provider can add a lot of value to a paper mill:

Revenue
Improved process performance through efficient dewatering, better sheet quality
Better roll runnability through reduced sheet breaks
Life-cycle cost
Savings in energy consumption
Savings in maintenance costs through longer maintenance intervals and less wearing parts
Reduced cleaning water usage
Minimising risks
High roll reliability with fewer unexpected roll-related shutdowns
Roll condition monitoring
Fully compatible spare rolls
Roll Evaluation

To evaluate roll manufacturing in India, team Paper Mart recently visited some of the leading rubber roller manufacturers in India, namely Lathia Rubber Manufacturing Company Private Limited, Amar Elastomers Private Limited and Modinagar Rolls Limited. After interacting with the representatives of these companies, the team found that Lathia has the maximum experience of manufacturing in paper industry. It also found that both Lathia and Amar Elastomers have some kind of collaboration with overseas companies, while Modinagar Rolls does not have any such foreign collaboration. This means that Modinagar Rolls has better technical capabilities and has been able to do product development on its own, while the others had to look for overseas partnership.

Amazingly, Modinagar Rolls is younger than both Lathia and Amar, but has emerged as a roll provider with a rapidly improving product portfolio. We can call it the best roll provider for the Indian paper industry, as its manufacturing setup is much better than those of the other two companies. The manufacturing setup at Modinagar Rolls has various coating facilities, a bigger shop floor area, better and bigger equipment and, above all, a management with an incredible readiness to share information about the company's manufacturing infrastructure. It may be mentioned that one of the directors of the company is a rubber technologist. Modinagar Rolls also has the advantage of having the widest product portfolio, which includes all kinds of rolls, that is, PU, rubber and chrome.
.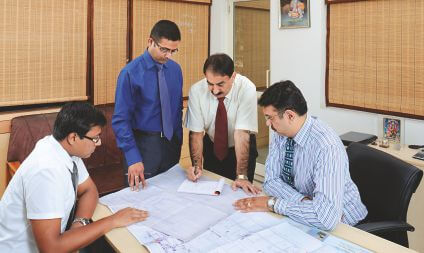 Modinagar Rolls Limited



Leader in Industrial Rolls
Founded in 1995, Modinagar Rolls Limited (MRL) started on a very modest scale but did not take long to become an on-time delivery and quality leader in industrial rolls for all industries, especially paper industry. It currently delivers high-quality precision custom rolls and a variety of repair and maintenance services.

Today's MRL, which has expanded its shop floor area more than twenty times since its inception, has clients not only from all over India, but also from other countries. MRL has added MRL Printing Rolls (P) Limited and MRL Coaters and Platers Limited to augment its businesses.

MRL is currently involved in doing recoating for all types of rolls for all types of industries. It uses all types of elastomers for various applications. The company also does coating of Silicone rubber, which can be used in extreme conditions. In addition, MRL is capable of doing dynamic balancing for all types of rotating bodies. In fact, MRL is one-stop shop for all kind of rollers, that is, rubber, PU and chrome.

Company's Journey

An ISO-9001 certified company, MRL Group hopes to touch the magical figure of 100 crore turnover by the year ending 2015. "Starting in 1995 we made a mark by starting production in just nine months from the date of laying the foundation stone. We have not looked back since that time; we just went on growing. We currently have one of the biggest grinding machines in India. In addition, we have perhaps the biggest fleet of grinding machines at one place in the country. We also have one of the biggest chrome plating tanks in India – for rollers. And we manufacture rolls of different sizes, ranging from 100 gm to 35 tons – all at one place," said Mr. Vikas Gupta, Managing Director, Modinagar Rolls Limited.

For Rolls Servicing Industry

MRL currently boasts of many things, such as:
One of the biggest grinding machines
One of the biggest collections of grinding machines at one place.
One of the biggest hard chrome plating plants in India.
One of the biggest PU coating setups in India.
Widest range of coatings/roll covers at one place.
One of the biggest dynamic balancing machines in India.
Biggest range of rollers manufacturing, from the smallest to the biggest.
Launching new products almost every alternate year.
Latest addition of embossing/design rolls.
One of the biggest lists of live clients.
Manufacturing Facilities and Technical Capabilities

Speaking about the company's manufacturing facilities, Mr. Gupta said, "We started with a 4,000 sq. ft. shop floor area; now we have more than 70,000 sq. ft. over a total area of approximately 6 acre. Right now we feel that we are well equipped. What has made us well equipped is our core competence, that is, doing what we know the best – making rolls and rolls only. Today we are making rolls/shaft/rods – and this makes us robustly equipped. We now find it very easy to add a new type of roll to our product portfolio, as the basics remain the same. Focusing on your core competence is really very important."

Core Competence

According to Mr. Vikas Gupta, MRL only manufactures cylindrical shapes, namely rolls, rods, rams tie-bars, etc. Unlike its competitors, MRL does not manufacture framings, housings, blankets, suction boxes, etc. Mr. Gupta also stressed that "core competence" is the "mantra" at MRL and that this core competence creates customers' delight and instills confidence in them.

Swadeshi

In its working of last 10 years, MRL has given many new and alternative products to the Indian industry. MRL has sourced the best-known technologies in the world. Though MRL's competitors have to find a strong name to push their products into the market, MRL does everything on its own.

Here MRL wishes to thank the people and friends situated all over the globe for their help. MRL has been regularly buying readymade products from overseas but has always kept its swadeshi face.

Research and Development

R & D is an integral part of any organisation, without which the company cannot grow or keep its position in the industry. MRL insists that this department should know whether it should work to achieve the already set benchmarks in the industry or work to make its own set of rules. "At MRL, as of now, we are working really hard to achieve the benchmarks that have already been set very high by the other companies around the globe," said Mr. Gupta.

Ethical Business Activities

MRL preaches and obeys the concept of ethical business activities, and the industry has acknowledged this by giving enormous support to the company.
.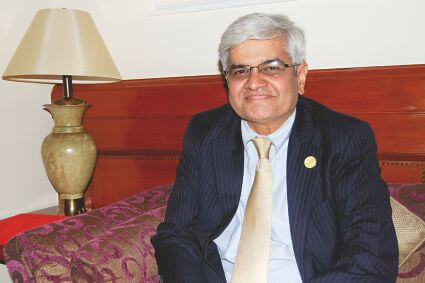 Lathia Rubber Manufacturing Company Pvt. Ltd.
A Pioneering, Long-Serving Rubber Roller Company
What began as a modest enterprise in the early 1950s has today become one of India's most successful multi-unit, multi-dimensional rubber companies. The company, which has served 500-plus paper company Indian Paper Industry, makes rollers of all types and sizes.

Company's journey

"We have been serving the Indian Paper Industry for more than 60 years. We have served all the 500-plus paper companies, which make up the Indian Paper Industry so far. What zbegan as a modest enterprise in the early 1950s has today become one of India's most successful multi-unit, multi-dimensional rubber companies. We currently manufacture quality rubber rollers, rubber lining, rubber blankets and other industrial products. Our latest facility is only 5 years old, situated in Vapi, Gujarat. This spacious, top-class plant has latest and modern manufacturing equipment. We are still adding equipment and there is still space for more. We have a technology agreement with SW USA, a world leader in the manufacturing of roll coverings.

"Mr. S.V. Lathia, my father, started this company 61 years ago. He was a technocrat, having received a degree in rubber technology in London, UK. After he came back to India, he started his own rubber business, which included manufacturing rollers. Since our inception, and even today, we are the preferred supplier of Rubber Products to the paper mills.

"The company has many feathers in its cap. We have won many government awards for Import Substitution and quality work. Our focus has always been on giving paper industry what it requires. For this purpose since our beginning, we have imported equipment and special materials. In this we received excellent support from all – our Customers, Suppliers, Government etc. Even in those days of License Raj we did not face any difficulty due to support of paper mills and our reputation. The industry helped us because they wanted a local supplier to provide them with the products they needed," said Mr. Sanjiv Lathia, Director, Lathia Rubber Manufacturing Company Private Limited.

Importance of Rubber Rollers

Commenting on the importance of rubber rollers in paper-making, Mr. Lathia said, "Covered rollers are important as they came in direct contact with the paper raw material. This contact has duration of a few milliseconds only and has great impact on efficiency and quality of paper. Properly designed Roll Covers can help to make paper better and efficiently, while poor covers can do the opposite and damaged the costly pulp. Good rollers improve the profitability of the paper mills and hence play a critical role in Paper industry."

Facility and Infrastructure

Speaking about his company's facilities and infrastructure, Mr. Lathia said, "At our world class facility in Vapi, we manufacture rollers of all types and sizes. Our rollers help make all types of paper and board – from slow speed sun-dried board to the widest newsprint to the heaviest packaging board to the fastest tissue machines operating in India and World today. Our products meet the international standards of quality. We can bond covers on any type of base roll materials and our covers are made from all materials – Natural as well as Synthetic Rubber, including PU."

Innovation for Paper Industry

"We are proud of the fact that we introduced the concept of jumbo presses with proper rolls and roll covers to the industry. We have successfully introduced many new roll covers and concepts and helped Indian Paper Industry. For this we have a Govt. of India approved R & D facility."

Mr. Sanjiv added "We regularly have customers coming to us, seeking our recommendation for suitable covers for proposed applications, during design and for modernization of paper machine. We offer practical solutions to paper industry, which have performed not only in India but also in other parts of the world. Indeed, we have acted as a premier roll cover supplier to the Indian Paper Industry, but what really cheers us up is the fact that we have been able to help paper mills in paper making process through the use of our technology, knowledge and expertise. We continue to regard the Indian Paper Industry as a bag of opportunities and challenges."

Industry Trends and Further Improvements

Speaking about future trends in the rubber roller segment, Mr. Lathia said, "More and more emphasis will be given to quality. And it's not just about Roll Covers; the bases too will become better. You see, the cover works only if the roll base is good: any building is as good as its foundation only."

Expressing his views on the current state of the Indian paper industry, Mr. Lathia said, "The Indian Paper Industry should enhance its knowledge base and increase emphasis on Manpower Training, both are not occurring as quickly as it should. Our company is aware of the best practices in the world as far as paper-making is concerned, but currently the industry is not prepared to take it. The industry must take advantage of technology available from knowledgeable and experienced suppliers like us… ."
.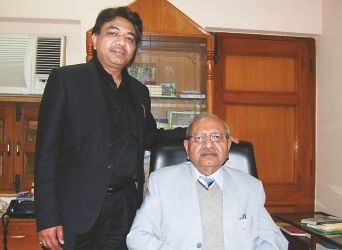 AMAR ELASTOMERS Pvt. Ltd.
Rolling Out Quality Rollers
Founded in 1977, AMAR ELASTOMERS has been an active player in the Indian paper industry since 1978. In 1996, the company set up a new state-of-the-art plant with all the best available technology at Kundli, Sonepat, to manufacture rubber-coated rollers.

To serve paper industry with state-of-the-art technologies, AMAR went for a technical collaboration with SAMCO, Inc., USA, in 2005; and ever since then, it has been delivering high-profile rubber roll covers for high-speed and increased nip load presses of paper machine.

The Paper Mart team (PM) recently interviewed Mr. Amar Nath Singal, Chairman , Amar Elastomers Pvt. Ltd., Mr. M.P. Singal, Managing Director, Amar Elastomers Pvt. Ltd., and Mr. Rajiv Agarwal, CEO, Amar Elastomers Pvt. Ltd., to get an understanding of the company's infrastructure, technical capability, unique selling proposition, product portfolio and future targets. Given below are edited excerpts from this face-to-face interaction.

The Company: Its Journey, infrastructure and Technical Capability

Speaking about his company's journey, his state-of-the-art factory and the company's technical capability, Mr. M.P. Singal said, "My father set up this business in 1977 and I joined the company in 1983. We started this business in Delhi's Wazirpur industrial area. In 1995, we moved to the current location. In the last few years, we have served 60 per cent of the 450 paper mills in the country. We are currently exporting our products to certain African countries and are trying to expand our sales in Europe.

"Our manufacturing unit is spread over an area of 1.5 acres and we have approximately ninety employees. Our factory is totally dedicated to manufacturing rubber roll. We specialise in paper mill rolls. We have a facility here to manufacture rubber-coated rollers for paper machines. As far as capacity is concerned, we can go diametrically up to 1.5 m, and in total length, we can go up to 10 m. Within this range, we cover all the big paper mills in India. Weight-wise we can handle here up to 20 tons. We have complete machines for grinding and recovering. We make all types of rubber grades coverings – starting from the softest cover for, let's say, lump breaker rolls, to the hardest coverings, that is, Samrock. Apart from manufacturing complete rolls, we do repairing, rebuilding, overhauling, recovering of all rolls, etc.

"To enhance our technical capability in the area of rubber coverings, we went for a technical collaboration with SAMCO, Inc., USA. We have successfully manufactured rubber coverings for high-speed machines and are also into manufacture complete suction rolls and complete internals – single zone to three zones – for complete suction rolls. We can also make excellent combi rolls. I am proud to tell you that we have developed ceramic coverings for rollers – something that has happened for the first time in India. The first trial was done on Fibermarx Paper's machine; it was 100 per cent successful. Now we are ready to do complete ceramic coverings."

Mr. Rajiv Agarwal felt that AMAR's capacity and credibility depend not so much on the size of the factory and the installations it has as on its engineering and designing competence. He said, "We are an engineering company and our capacity and credibility cannot be assessed on the basis of the size of the factory or the installations it has. These factors should be assessed on the basis of our engineering and designing competence. The rubber rollers we manufacture reflect the importance we give to engineering and designing. We have been giving our rolls to OEMs like Arjun Technologies and Walmsleys. We are the approved vendors of these companies – and that proves that we are technically approved vendors for such type of machines. We have the best infrastructure – minimum infrastructure – and an efficient team of mechanical design engineers, which is supported by excellent machine personnel. Also, we keep in touch with paper manufacturers. They often seek our help in finding the right solution. When we deliver our rolls to paper mills, we supply our technology and engineering – the entire solution – not just the rolls… . We are trying to expand our engineering and designing setup. In years to come, we will focus more on building up a bigger team of design engineers."

Unique Products

Mr. Amar Nath Singal also underscored the uniqueness of the products manufactured by AMAR. He said, "Our aim is accuracy, customer satisfaction and durability. We are trying to get insights into the latest chemicals and compounding systems to further enhance the durability of our rolls. So durability is one of the unique features of the rolls we manufacture. And we give a lot of importance to it. You see, if I take Rs 1,000 more from the customer, it will not matter; but the downtime will count if the customer has to close the mill for, let's say, four to five hours to change the roll. Closing the machine for such a long period will prove to be more costly. So, better quality pays in the long run."

Product Development

Giving a brief overview of product development at AMAR, Mr. M.P. Singal said, "We started making complete suction rolls around three years ago– that's a recent development. So far we have supplied our suction rolls to many paper mills. We have also developed ceramic coverings – that's also a recent development. Now we are focusing on developing composite covering – something that the Indian paper industry urgently needs. Paper mills are currently getting composite coverings from Europe. So, developing composite covering is our next target and we hope to achieve this target within one year or so."

Research and Development

The management at AMAR believes that R&D investment is important for future growth. "R&D efforts are a regular part of any industry. Paper industry used slow-speed and small manufacturing machines around 20 years ago, but even during those days, rubber roll was a major part of paper machines. The introduction of high-speed and more sophisticated machines led to a spurt in demand for more sophisticated covers. We also had to put in a great deal of effort into R&D. We developed the compounds with support from SAMCO. To put it briefly, the level of our ability to deliver solutions rose as the industry grew," said Mr. M.P. Singal.

Corporate Social Responsibility

AMAR also attaches a lot of importance to its corporate social responsibility. "My father is running a school at Cheddar, Uttaranchal. It's a Sanskrit vidyalaya. He made special efforts to get the school recognised by the government. This school is a free school – 100 per cent free. Students get everything from the school – copies, pencil, books, etc. It currently has around 100 students – and that's because not many today like to learn Sanskrit. This school is connected to Sampurnanand Sanskrit University, Varanasi," said Mr. M.P. Singal.