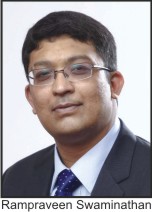 September 9, 2014

International Paper announced that Rampraveen Swaminathan has been named president IP India, effective November 1, 2014 and will continue to serve as a vice president of International Paper. Swaminathan will replace Michael W. Amick, Jr., who was promoted to senior vice president, N.A. papers, pulp and consumer packaging. In his new role, Swaminathan will be responsible for International Paper's business interests in India.

Swaminathan joined IP in 2012, as managing director and CEO of International APPM Limited (IP-APPM). He became an International Paper vice president in 2013. Swaminathan will continue to be responsible for IP-APPM's operations in India. Swaminathan also is chairman of the IP India Foundation. He serves as a member of the advisory board of the World Wildlife Fund (WWF) and is an independent director of EREOI Power Systems, a renewable energy technology company.

Prior to joining the company, Swaminathan held a number of management positions with Cummins Inc. He holds a degree in commerce from St. Joseph's Commerce College, Bangalore University, India, and a post graduate diploma in industrial management from the TA Pai Management Institute, Manipal, India. Swaminathan will continue to be based in Hyderabad, India.