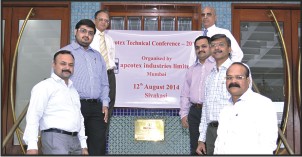 August 14, 2014

Apcotex Industries Ltd. organised a technical conference at Sivakasi on 12th August 2014. This was one of the unique modules designed by the company to help customers enhance their knowledge and expertise.

The topics at the seminar included SBR latex and its influence on board properties, printing techniques and trouble shooting.

The speakers at the seminar included Dr S.V. Govindaraju, GM, Apcotex Industries Ltd., and technical and print consultant Mr. Kiran Prayagi. The seminar was well appreciated by the representatives of the companies that participated in the event.

The keynote address and vote of thanks were delivered by Mr. Manish Goel, Country GM, Sales and Marketing, Apcotex Industries Ltd.

It may be mentioned that Apcotex is a leading supplier of SB/SA latex used for quality coating of paper and paper board. It is also one of the leading exporters in the country.