Growing water scarcity and heightened awareness of water conservation are inducing more and more paper mills to explore areas like water conservation and water recycling within their facilities.
In an exclusive interview given to Paper Mart, Mr. Raghvendra Khaitan, Managing Director, Krofta Engineering Limited, talks about the scope of Krofta's fiber recovery and water reuse technologies for the Indian paper mills.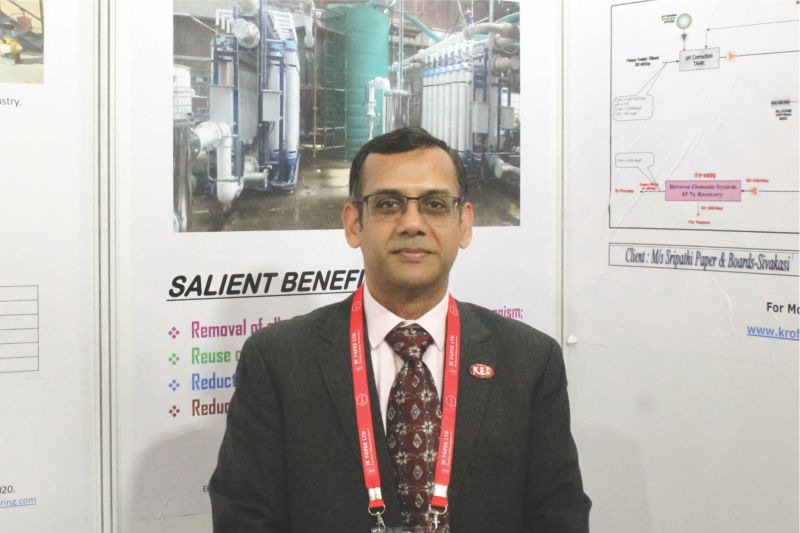 Excerpts.

Paper Mart: Could you tell us a little bit about Krofta Engineering and your product portfolio?

Raghvendra Khaitan: Krofta Engineering was started in 1983. Dr. Milos Krofta, who developed DAF Technology, was the founder of Krofta. The company has always been in the business of fiber recovery and water reuse systems – sacrosanct areas for the paper industry. Fiber as a resource is always a payback, and water, steam and energy are important variables for the industry. Needless to say, reusing or conserving water is always beneficial for paper mills.

PM: What is membrane technology?

RK: Membranes are of utmost importance to the pulp and paper industry; every mill has to adopt it sooner or later. With the mandate of zero-liquid discharge, membrane technology has become all the more essential. However, it is not something that can be adopted immediately. It can be applied in a phased manner. But to apply membrane technology, prior treatments have to be executed in the mill. Membrane technology is the need of the hour, but every mill needs to first quantify its water systems and water balance and have a proper system before adopting it. Membranes should be adopted diligently to ensure efficient water reuse.

PM: Has Krofta invested in membrane technology?

RK: We have adopted micronfiltration and ultrafiltration for a couple of jobs we've got overseas – post our Krofta units and customer's biological systems. The biological system has to be in place because it takes care of a lot of dissolved contamination. Suspended contamination is handled through the physicochemical methodology, but biological systems have to be implemented before the implementation of membranes. I think the concept of membranes will definitely come to India in a big way. It is just as matter of time. If overseas mills can do it, Indian mills can do it too.

PM: Could you tell us about the recent developments that have taken place at Krofta?

RK: We keep launching new products because our core focus is on fiber recovery and water reuse. As per our product-development plan, we launched a new product called Megacell, which is much more compact than our other product – Sedicell. It offers direct power saving and has a lot of civil saving for the customer. We never lose sight of innovation. Also, we always keep our customers posted about our new products. Our customers may find our new technologies a bit expensive, but they need to keep in mind that, in the long run, the running cost and operating performance matter a lot.

PM: How responsive has the Indian market been to your new technologies?

RK: Like I said earlier, people are quite aware of our products, as we have been in this business for so many years. Our customers have found the new pieces of our equipment quite impressive, and I am sure they will derive the benefits of our products in the long run. Our products do not compromise on quality, performance, technology and fiber recovery, as these are the areas we excel in.

PM: What are your future targets?

RK: I think water reuse and water conservation at every stage of production would be the vital goals for the industry in the future. We will try to educate our customers on the importance of innovation – how it can reduce the operating cost – and membranes. There is no dearth of membrane suppliers. So, customers should select the supplier or company that is fully acquainted with the paper industry and papermaking process. Some of the customers have inefficient effluent treatment plants – and that is because of poorly designed ETPs. However, these plants are excellent platforms for knowledge- and experience-sharing.

PM: What is sludge handling?

RK: Sludge is generated during water treatment. Some of the sludge can be reused. In a duplex mill, sludge can be reused in the filler layers. In kraft, W&P and tissue mills, it has to be discharged in an environmentally friendly manner. NGT does not permit mills to throw out sludge as slurry. So, it has to be dewatered. Krofta has equipment for dewatering sludge, which can then be thrown out as landfill. Moreover, the water of filtrate can be treated back again. So, the whole gamut of water, waste water, sludge handling and biological system is definitely doable in India as well. There are many mills in India that have been doing all that; they have stood up for environmental protection.