A leading global manufacturer and supplier of exercise notebook machines, paper converting machines and packaging machines, Line O Matic Graphic Industries recently launched a product called Folio Size Sheeter FSS 165. The company's advanced services and automation solutions improve the productivity of its customers and enhance the effective utilization of raw materials.
In an interview given to Paper Mart, Mr. Dilip Golani, Senior Manager, Marketing (Domestic), Line O Matic Graphic Industries, talks about the company and its product portfolio and Folio Size Sheeter FSS 165.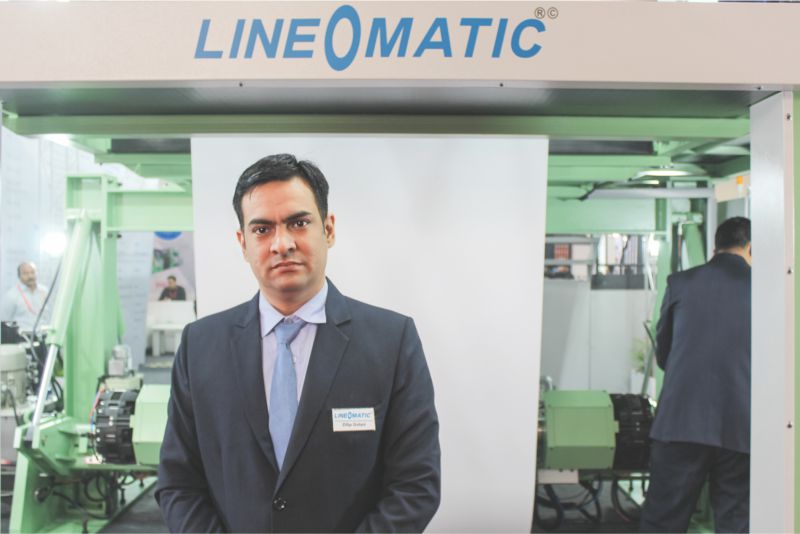 Excerpts.

Paper Mart: Could you tell us a little bit about your company and product portfolio?

DG: Line O Matic Graphic Industries is an Ahmedabad-based company. We are pioneer and world leader in making exercise notebook machinery, paper converting machinery and packaging machinery. We have made 3,500 machines so far and supplied our machines to India and 70 other countries.

Our new folio size sheeter is a machine for making sheets from paper or board reel. This machine can work for paper and board. We have four different models: FSS 145, FSS 165, FSS 195 and FSS 255.

Our machine has been manufactured using the latest technology and innovative engineering processes. It should be noted that no other company in India makes this type of machine. In the last couple of years, we developed five to six new machines. We have upgraded all our older machines.

PM: How has the paper market been for your company?

DG: We see around 25 percent growth every year. We are also into the education industry. As we already know, education is always growing in our country. In fact, it is a worldwide market. We focus on India and other parts of the world. In India, we have more than 90 percent market share for our machines.

PM: Are you also making machinery for tissue production?

DG: No. We don't have any plans for making machines for tissue production. Right now we are busy with our existing projects. Every year we have two or three new projects to carry out. So, this year we don't have any plans for making machinery for tissue production.

PM: How do you strike a balance between quality and price?

DG: We focus on in-house manufacturing of parts with more than 60 CNC and VMC machines. So, 90 percent of our mechanical components are manufactured in-house. Right from design and R&D to manufacturing and production – all are carried out in-house.

PM: How much time does your company take to produce, deliver and install a machine?

DG: Production, delivery and installation take around 60 to 90 days depending on the model. In our notebook segment, we are making around 25 machines in a month – a machine a day. Specifically, delivery time for our folio size sheeter will be 4 to 5 months and around 2 months for notebook machinery.

PM: Is there anything else you would like to add?

DG: For machines, I can say that nobody else in India is making this type of machines. We are the first manufacturer, and this type of machines can be compared to the machines made in Germany and USA. The performance of our machines is as good as that of the machines made in these countries. But we have an advantage over the manufacturers in these countries: Our machines are not costly! We believe in giving quality products at a lesser price. The price of this type of our machines is lesser than that of the same type of machines sold in Germany and the US. As far as the features of this type of machines are concerned, our machines are certainly better than theirs.