Ms. Prachi Sharma, Associate Vice President (Corporate Strategy), Kuantum Papers Ltd., sheds light on the challenges associated with the paper industry being male-centric and the message to the women looking forward to foraying into the paper industry.
Believe in yourself ! It is your commitment and professionalism at work that define you and not your gender.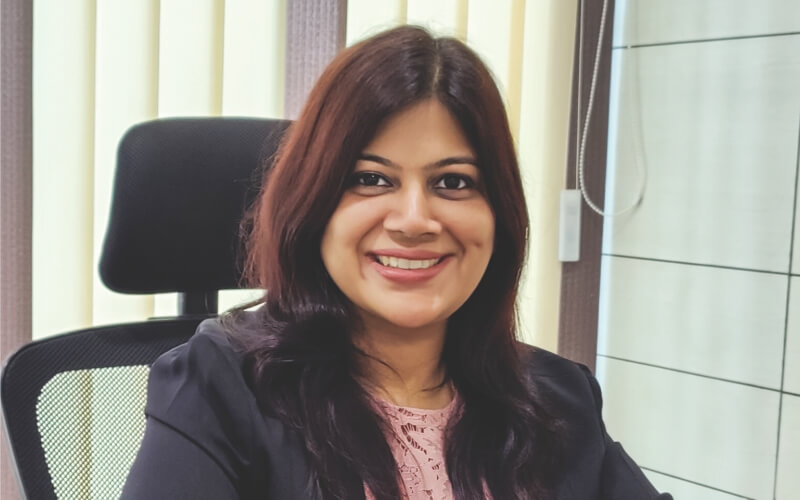 Paper Mart: Could you present a brief overview of your company and its product portfolio?
Prachi Sharma: Kuantum Papers Ltd. is one of the leading wood and agro-based paper manufacturers in India and is committed to manufacturing high-quality maplitho, cream wove, copier, and speciality paper. The company has a fully integrated manufacturing facility with the capacity to produce 1,64,250 MTPA of paper. Its plant infrastructure includes four paper machines, agro and wood-based pulping streets, a co-generation power plant, and a chemical recovery plant. Kuantum Papers' products are extensively used in the printing of books, notebooks, annual reports, directories, envelopes, diaries, calendars, computer and office stationery.
Our product offerings also include value-added speciality products like Azurelaid paper, parchment paper, cartridge paper, ledger paper, stiffener paper, coloured paper, cup stock, and carry bag paper with a GSM range of 48 – 180 GSM. Kuantum Papers has a strong network of 100+ dealers spread across the length and breadth of the country.
PM: Paper is a predominantly male-centric industry. What are the challenges you strive to overcome every day?
PS: In India, the manufacturing sector as a whole is predominantly male-centric. According to studies, women constitute barely 12 percent of the workforce in the manufacturing industry. While women have made their mark in the services sector & IT, one of the key dissuading factors in hiring women in the manufacturing sector is the perceived inability to do hard laborious work. The likes of Mary Kom, Mirabai Chanu, and the Phogat sisters (to name a few) have definitely proven that women are strong and have great endurance levels be it in the sports field or at work. Women were and are capable of doing great things!
It is heartening to see that many manufacturing companies are now taking proactive steps in being more inclusive and focussing on diversity while hiring. Women bring collaboration, sincerity, creative thinking, and a sense of semblance to the workplace and are invaluable assets to the organisation.
At Kuantum Papers, I am fortunate enough to be part of a team that has always treated me as an equal and respect the value that I bring to the table. My biggest challenge is ensuring that I strike the right work-life balance and play all my roles as a woman with elan.
Watch: IVAx Paper Chemicals Interview
PM: What are your views on the paper industry in terms of challenges and opportunities?
PS: The paper industry, after facing a couple of challenging years due to the pandemic, has started this year on an excellent note and demand wise we are in fact in a better position than the pre-COVID era. There are still some macro hurdles at play like escalation in the prices of various inputs like fuel, and raw materials and supply chain disruptions. However, the first quarter of FY 22-23 has put things back on course and has paved the way for a much better year ahead. Order books are running full and most of the mills have been able to pass on these cost increases via improved NSR's.
The Central government's decision to put a complete ban on single-use plastic products w.e.f. July 1, 2022, is a shot in the arm for the paper industry, as the paper is the most viable and sustainable alternative to plastic. Going ahead, you will see a surge in demand for speciality paper due to this welcome move by the government. Kuantum Papers has already been developing new products to cater to this demand like straw base, cup stock with bio coating, biscuit wrapping paper, and Oil & Grease resistant (OGR) paper for food wrapping.
In addition to this, the implementation of the NEP is expected to further provide a boost to the industry especially players in the writing & printing segment.
PM: Paper mills are generally located in remote areas and considered less lucrative than other sectors. What are your thoughts?
PS: Not only paper mills, manufacturing units of many other sectors are also located in remote areas, but that does not make them any less lucrative. I recently spoke to a new joinee at our plant and asked him about his experience of staying in the residential colony within the mill campus. His prompt reply was, "It's like staying in a resort (because of the greenery) with one big family and I feel that my family is safe and secure!" In recent times, these so-called remote locations are preferred by many candidates as they allow them to lead a better quality of life with their family, with less pollution and lesser commute times, which basically translates into a great working experience. Also, in today's connected world, "remote" is a misnomer.
PM: Could you shed some light on the future potential for the pulp & paper industry along with the key trends that are catalysing the growth of the market?
PS: Paper consumption in India is projected to grow by 6-7 percent per annum in the next five years so as to reach 30 million tonnes by the year FY27, making it the fastest-growing paper market in the world. The government's emphasis on education and literacy coupled with the implementation of the NEP will result in a surge in demand for writing and printing paper. The booming e-commerce sector, demand for quality packaging of FMCG products, pharmaceuticals, textiles and organised retail will continue to give an impetus to the packaging paper segment. Improved standards of living and a more hygiene-conscious population will also add to the demand for tissue and related products.
The next few years will see the paper industry achieve new heights and benchmarks both in terms of financial growth and innovation in products and technology.
Also Read: Pioneering Women in the Paper Industry
PM: In brief, tell us about your journey in the paper industry along with your experience at Kuantum Papers.
PS: I have been associated with Kuantum Papers and the paper industry for more than 5 years now and it has been quite an exciting journey. In fact, this is my first experience in the manufacturing industry as before this I had worked for more than 15 years in the financial consulting and services sector. Though a CA by profession, Kuantum Papers has given me the platform to showcase my abilities not only in the financial space but has also empowered me to take on new challenges in Investor relations and business expansion and growth strategy. Working with visionary management at Kuantum Papers has enriched my professional growth and experience.
PM: What would be your message to young women, who would want to follow similar footsteps?
PS: Believe in yourself ! It is your commitment and professionalism at work that define you and not your gender.