Experts share technical information at Metso pulp, paper and power seminar at Eros Hotel, New Delhi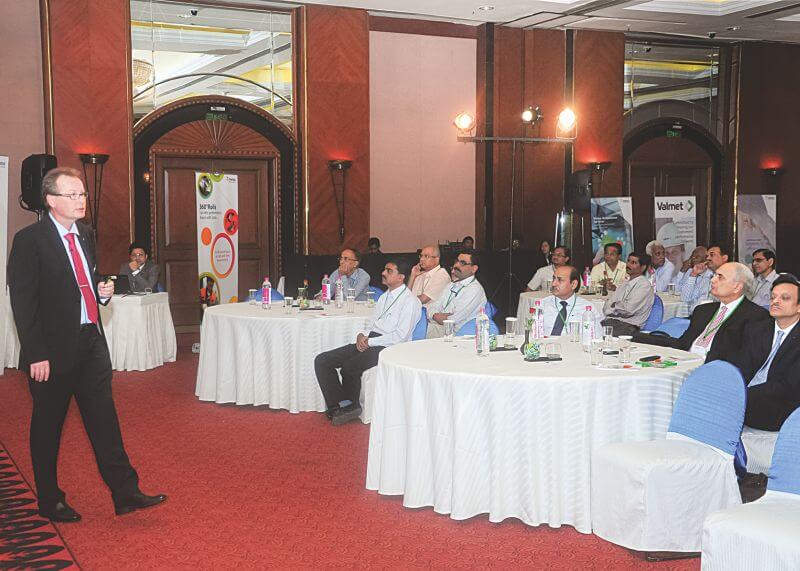 At Metso's information-loaded seminar on Metso pulp, paper and power held at Eros Hotel, Delhi, on October 23, 2013, the participating experts and delegates gave interesting presentations on various aspects of the industry and Metso's business worldwide. The event included two parallel sessions, namely paper board and services session and fibre, power and services session.

The opening words at the seminar came from Mr. N. K. Jain, Director – Sales, Metso Paper India, who later gave an informative presentation on the topic, 'Environment and user-friendly ECF fibre line for high-quality pulp.'

The day's first presentation was given by Metso's Area President – Asia Pacific Mr. Hannu T. Pietila. His presentation on the topic, 'Metso pulp, paper and power update', focused on where Metso currently stands and the developments that are likely to take place in the Company in the near future.

Speaking about Metso's current position in business, Mr. Pietila said, "Our net sales is €7.5 billion, and our global presence is quite impressive. Metso has 30,000 employees based in over 50 countries. Basically, we are in three sectors: mining and construction, which is growing at a rapid pace; automation, where are we are developing many products; and pulp, paper and power, which, like the other two sectors, has a bright future. Our companies, which operate under one umbrella, use the knowledge that we have collected over the years; they combine the best practices… .

"Research and development pose a big challenge for us. In order to develop the processes and solutions that would serve our purpose, we remain active in the area of research and development. We can't be suppliers for long if we concentrate only on supplying our products. We constantly seek the customer's feedback on what we deliver – to do R&D. We spend around €70 million every year on R&D, and we have around 600 R&D specialists in our organisation. We have quality facilities around the world where we make our own trials, conduct laboratory tests… where we also use our customers' ideas to improve what we deliver. Importance is given to issues such as what kind of raw material mix we should use in a paper machine, how energy can be saved and so on. Yes, we invest a lot in R&D, and that's the reason why we are so strong today."

Speaking about Metso's presence in Asia, Mr. Pietila said, "Asia figures prominently on our business map; for here is the growth; here is the population; and here is the future. We are currently active in many Asian countries; Asia is our focus area. We have been setting up offices, services points and manufacturing units in Asia Pacific. Roughly speaking, we establish a new operation every year in this region. For instance, this year, we opened an office in Malaysia. There are many good projects in the pipeline. We want to be close to our customers in our daily operations. Take a look at what we have done in India: We have nearly 200 engineers working for us in this country, and we utilise them globally. We also utilise our project management people globally. We have some kind of excellence hubs in some parts of India. We have tried to be more and more involved in our units in India. Also, we have developed a lot of local sourcing – how to utilise local possibilities globally. And all that has yielded good results.

"As far as power is concerned, we were not quite involved in power generation in Asia Pacific earlier, as we had been concentrating more on pulp and paper. But I'm pleased to tell you that we have been able to supply two power boilers to Indonesia; they are quite big.

"On the pulp side, we have the latest pulp technology and that enables us to be in the top zone of the industry; and we are making special efforts at remaining in that zone for long. Also, we have the biggest global services network. You cannot take care of your customers if you are not close to them. Our services are growing everywhere … . Our customers like to focus more on their core businesses… and so they want to outsource the things that are not part of their core business. In paper industry, packing crates are witnessing growth. There is growth in the area of tissue as well. A little bit of the printed medium is going down, but that is also growing in certain regions; it may not be growing globally.

"In brief, all our business lines have a good future. We are concentrating on the new things we can do in the new environment. We are aiming at doing something that is different from what we have done in the past. We have identified four focus areas where we can do something new, something different: first, the customer; second, technology; third, excellence or quality; and fourth, people. 'People' here means that we want to build a good relationship with our customers, that we want people to trust us and that we want to be a global champion by serving our customers."

Summarising and concluding his presentation, Mr. Pietila said, "If you have to start to think about your daily work, what would you think about? You'd say, 'I would like to increase my revenue; I want to make some investments, but I don't have so much money; I would like to reduce my operating costs; I would like to avoid taking risks.' We all have similar concerns to address. But let me tell you that Metso is a partner for all those who are in this industry… . As a Company, we want to be more and more active in India. And I fully believe that India will witness the biggest growth in times to come."

The day-long seminar gave the participating experts and delegates plenty of opportunity to exchange their thoughts and ideas and discuss various industry-related issues. It may be mentioned that Metso has held quite a few technical seminars in the past as well.

Company Profile

Metso supplies technology and services to customers in the process industries, including mining, construction, pulp and paper, power and oil and gas. Created in 1999 through the merger of Valmet and Rauma, Metso Corporation is headquartered in Helsinki, Finland. It consists of three reporting segments: mining and construction, automation and pulp, paper and power.

As a result of acquisitions and mergers, today's Metso supports a host of products from numerous companies. The main pulp and paper industry companies and brands currently covered by the Metso umbrella are Metso, Valmet, Sunds Defibrator, Kvaerner Pulping and Power, Beloit and Tamfelt.

In 2001, Metso Corporation's automation and control technology business area was renamed Metso Automation. Formerly the name of the company was Neles Automation, which was formed in 1999 by merging two companies – Neles Controls and Valmet Automation.

In 2007, Metso acquired Aker Kvaerner's pulping and power businesses. The former Kvaerner Pulping and Kvaerner Power operations became an integral part of Metso.

The power business comprised the former Swedish Götaverken and Finnish Tampella boiler businesses. These two boiler businesses developed separately over a period of 150 years until they were brought together by Kvaerner in 1996.

Interestingly, Metso has roots in the second half of the nineteenth century and many stories about its genesis, which are tales about young engineers or scientists who had the courage to start something new, have not been forgotten.