Nikita Papers invests INR 182.20 crore to install a new 250 TPD paper machine in its existing plant.
In an interview given to Paper Mart, Mr. Ashok Bansal, Managing Director, Nikita Papers Limited, talks about his company's expansion plans.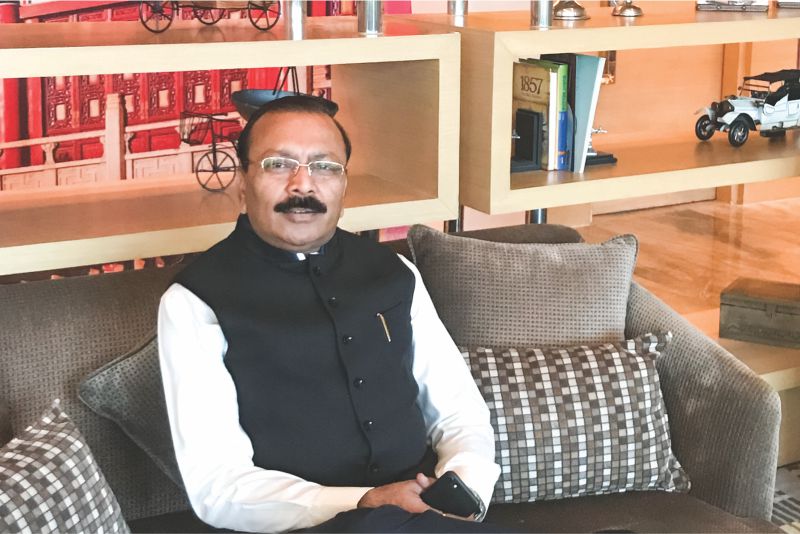 Excerpts.

Paper Mart: Could you tell us a little bit about your company and product portfolio?

Ashok Bansal: Nikita Papers was incorporated in 1992 as a kraft paper manufacturing unit with an installed base of 10 TPA. The company and the associates have been evolving since then, and is now producing 150 TPD currently. We manufacture kraft paper in various shades, bursting factors and grammage ranges to cater to a varied market base.

PM: Could you tell us about the 250 TPD of new capacity that you are planning to add to your existing capacity?

AB: The existing capacity is 5000 TPM. The additional capacity under installation is 10000 TPM. After expansion, the company will manufacture a complete range of BF from 18+ to 42+ and GSM from 60 to 250. The product would be high RCT and export-oriented. With our focus on export, our operations are concentrated to offer the market the best in quality and timely servicing.

Our existing machine PM1 has the deckle size of 2.50 meter and machine speed of 350 MPM. The new machine PM2 comes with the deckle size of 5.0 meter and machine speed of 600 MPM. The machine design is one of its kind and is the first 3-D designed and executed paper mill. The technology and execution have been under the continued guidance of experts and consultants from India as well as China. Different experts have been assigned the balancing of the process and integral processes to provide efficiency in the system. We have been a zero-discharge plant and aim to further improve upon the environmental front with this capacity addition. The major machinery and design have been sourced from China's best manufacturers as this is a high-speed machine with the latest technology on the market. The total project cost is 182.20 crore.

The plant is totally based on recycled waste as raw material. The process consumes 50:50 of domestic and imported paper as required by the process. The company is already procuring the same for the existing unit. At present, the company is purchasing the same from traders in India and importing out of India from the suppliers. Adding both sources, domestic and imported, the raw material supply is not a matter of concern for the expansion.

Best practices have been put to use when designing different sections of the process. Every circuit is well balanced and designed to yield above standard efficiencies. The experience of the designers and promoters has come in handy for keeping all timelines and technical parameters up to the mark. The plant erection and installation are under full swing, and the promoters expect to roll out trial production by July 2020.

PM: What markets are you currently serving? Do you have any market expansion plans?

AB: We are currently catering to various industrial consumers based in North India. We also export high- end products to neighboring countries. With this upcoming production line, we would be able to cater to a much more varied market in terms of geography and requirements. Our focus will broaden to include countries like China, Vietnam, Thailand, the UAE, Egypt and Iran as well.

PM: Has there been any technical upgradation at Nikita Papers in the last 2-3 years?

AB: Our company has been consistently endeavoring to upscale quality and quantity on an annual basis. We regularly upgrade our sections and systems to match up with the targets. The company has not just been increasing production levels continuously but also investing in technologies for more efficiency and better quality.

PM: There has been an increasing focus on the environment and minimizing resource consumption in paper mills. What steps have you taken on this front?

AB: Definitely, we are a very proactive and aggressive plant when it comes to the environment. We are one of the few paper plants that are operating successfully on the 'Zero Liquid Discharge' process. We also have implemented a successful model of rain water harvesting around the plant campus and maintain regular monitoring to ensure the efficiency of the same. We maintain a very healthy working environment in and around the plant for the society and workers as well.

PM: What opportunities and challenges do you see in the paper industry?

AB: Nikita Papers has been in business for the last 28 years. Over these years, we have come across the most persisting challenges and favorable opportunities that have helped us reach where we are today. If we talk about the opportunities, there is a huge growth potential in the market, product demand, scope for socio-economic development, output recyclability, innovative new product creations, production of wide variety of paper, recyclability of waste paper, restriction on uses of polythene, and so on.

We face certain challenges as well – challenges like increased raw material costs and changing government policies that need to reconsidered. Also, there is huge competition on both domestic and global markets. There is a myth that the paper industry is degrading the environment and uses gallons of water to produce paper. These misconceptions need to be corrected. Moreover, entry of substitutes like e-paper, plastic and other products and increasing fuel and transportation costs are some of the other challenges the paper industry faces today.

PM: A lot of investment is being made in packaging kraft and high-end packaging. Where do you place yourself in this growth story of the paper industry?

AB: With respect to various paper products, the biggest share in production is at 41 percent (in 1991), followed by kraft paper at 27 percent, paperboard at 17 percent, newsprint at 12 percent and specialty paper at 3 percent. Our installed production capacity increased substantially from 0.77 million tonnes in 1970-71 to 3.95 million tonnes in 1994-95. Production, however, has not increased accordingly. In 1994-95, only 2.51 million tonnes of paper and paperboard were produced. Capacity utilization had decreased from 99 percent in 1970-71 to a low of 60 percent in 1992-93 and slightly increased again to 64 percent in 1994-95.

The growth of the paper industry in India has been constrained due to high cost of production caused by inadequate availability and high cost of raw materials, power cost and concentration of mills in one particular area. The government has taken several policy measures to remove the bottlenecks of availability of raw materials and infrastructure development. India is facing an era of profound economic change. Economic liberalization and reduced import duties for paper as well as paper products have triggered a significant restructuring in the India pulp and paper industry. The domestic supplier's ability to meet the rapidly growing demand of the printing industry for paper products is limited by the shortage of high-quality fiber and technology gap prevailing in India. Securing the fiber supply is an important precondition for the growth of the domestic pulp and paper industry. The shift from small scale to medium- and large-scale operations has become important due to the erosion of important tariff barriers and consequent supply pressures from abroad. The changing market scenario has pushed paper manufacturers to rethink and plan strategies to sustain future markets. The industry has to respond to the challenge of the changing market situation.

The paper industry in India is one of the fast-growing industries in India. The industry is one of the 35 high priority industries having a bearing on the socio-economic development of the country. One of the key social objectives of the Indian Government, namely eradication of illiteracy through compulsory primary education, bears a direct relation to the paper industry.

The Indian paper industry requires around 2.5 million ha of land for pulpwood plantation to fully meet its requirement. Government support is therefore, required. In accordance with India's economic growth, the industry is estimated to touch 13.95 million tonnes by 2015-16. It is estimated that there would be an increase in demand to the tune of 1 million tonnes. As per industry estimates, paper production grew at a CAGR of 8.4 percent, while paper consumption grew at a CAGR of 9 percent in 2012-13.