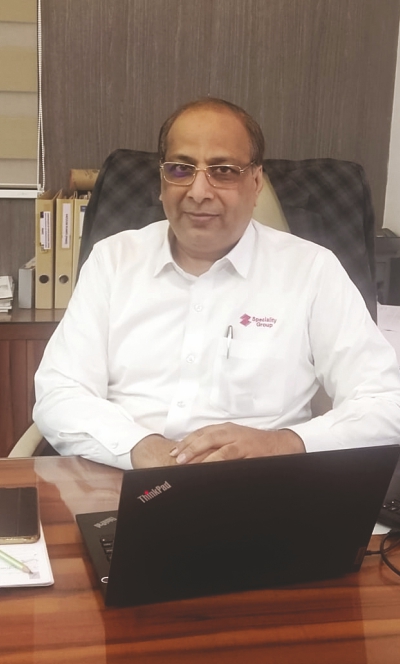 Speciality Group is planning expansion in its current operations on a large scale. The Nigeria-based group has recently added a corrugation unit at its paper manufacturing facility. In the near future, a writing and printing paper plant will also become operational. In an interactive session with Paper Mart, Mr. Rajiv Kumar, Chief Executive Officer of Speciality Group, shared highly-informative insight into the organization's current and future capacities. He shared details about expanded production capacities, key features, and the suppliers who are aiding the organization in its quest.
Paper Mart: Please tell us about Speciality Group and the key features of your mill.
Rajiv Kumar: Speciality Group is a manufacturing organization with a presence in the paper industry and the steel industry. Speciality Pulp and Paper Limited is our subsidiary operating in the paper industry. We have a plant area of 125 acres, where we are already running a Two Layer Packaging Paper machine producing brown and WTL grades. Towards the forward integration, now we have installed a state-of-the-art corrugation unit. We are also in the process of an expansion in the form of writing and printing paper machine.
We have the capacity to produce 275 TPD two-layer packaging kraft paper in the range of 20 to 24 BF along with WTL, with the operating speed of the machine as 400 m/min. On an average, we produce around 7,000 TPM of kraft paper, including production of 1500 TPM of white top liner.
PM: Please elaborate on your recently installed corrugation plant setup and key features.
RK: We have added corrugation plant at our current manufacturing site, and the production has already started. The production capacity is almost 7500 TPM, with corrugator from BHS and box making from EMBA.
Watch: JMC Paper Tech Launches New Subsidiary JMC Papers
PM: Tell us about your writing & printing paper project along with other future plans.
RK: We are coming up with a new writing and printing paper plant with a production capacity of 175 TPD. It will be a state-of-the-art plant manufacturing recycled fiber base writing, printing, and A4 copier paper. We will have a double loop deinking process for pulping supported with dilution headbox, film size press, and soft calendar along with a bi-nip press section on paper machine side. The machine will operate at a speed of 750 m/min, with a deckle of 3.6 meters.
At the new writing and printing plant, the dilution headbox, and soft calendar are from Henan Dazhi. The machine has been supplied by Saloni Machines Private Limited, stock preparation by Parason Machinery and rewinder by The Globe Radio Company. We bought our sheeter from China. We have also added our own captive power plant at the site with a 7.5 MW turbine from Triveni and a boiler from Thermax.
Once the machine is stabilized, we will integrate automation and add copier paper manufacturing. We are already installing Distributed Control System (DCS) for the entire Stock Preparation and on the Paper Machine including Approach Flow. Initially, the machine will be 100 percent recycled fiber-based, but in the future, we are planning to set up our own wood fiber line of about 250 TPD, as we have plenty of wood and bamboo available in this region. This would be followed by a duplex board machine and tissue manufacturing in the future. However, this is long-term planning, and it may take another couple of years for these plans to become fully operational.
Also Read: BTG Group Launches India Centre of Excellence as Part of its India Vision 2025
PM: Please tell us about the target market.
RK: Our target market is Nigeria as it is a big market having a population of nearly 223 million. Moreover, no one is yet producing writing & printing paper and presently the entire material is being imported, so we see great market potential. The market size is estimated around 15,000-20,000 TPM, giving us a wide scope as well to expand our potential.
PM: What is the USP of this mill that assures you of its impending success?
RK: Ours shall be the first plant of writing and printing in Nigeria. Our project is an extremely prestigious and one-of-its-kind project in the entire West Africa, especially with manufacturing capabilities of both kraft and writing & printing paper. We have plans to do backward integration with a wood pulp mill and have the entire gamut of all grades of paper.