With world-class programs like Biobond and OptiFill, Solenis is helping the paper industry to improve the sustainability of paper. The company is also customizing its chemistries and optimizing its programs to suit smaller machines in India.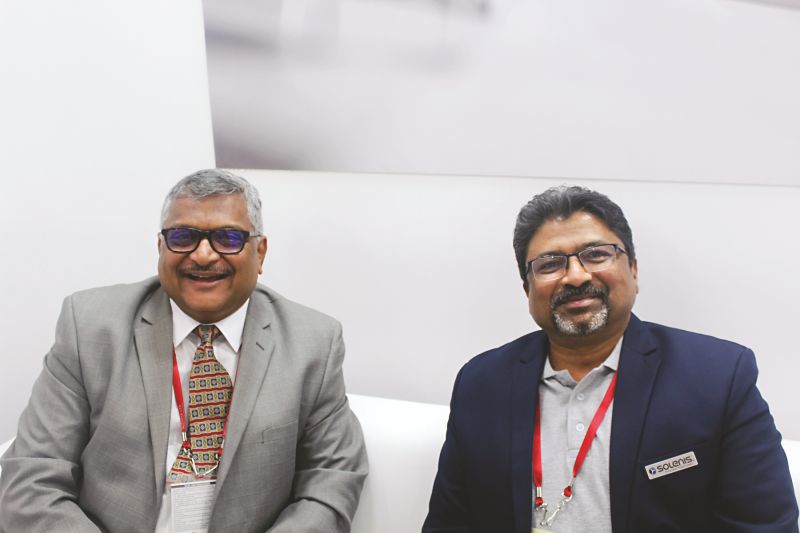 Solenis, formerly Ashland Water Technologies, is a global manufacturer of specialty chemicals for the pulp, paper, oil and gas, chemical processing, mining, biorefining, power and municipal markets. Headquartered in Wilmington, Delaware, in the United States, the company operates 30 manufacturing facilities located around the globe. Its product portfolio includes a variety of process, functional and water treatment chemistries, as well as monitoring and control systems.

The Customer Applications Laboratories are located in Wilmington, Delaware; Krefeld, Germany; Barendrecht, the Netherlands; Drammen, Norway; Terrassa, Spain; Paulínia, Brazil; and Shanghai, China. These facilities house extensive analytical capabilities, comprehensive paper-testing and water analysis resources, and innovative process testing instrumentation.

Paper Mart recently had an interview with Mr. Nandu Dhekne, Vice President, Asia Pacific – Solenis and Mr. Suhas Kulkarni, Regional Director Pulp and Paper – India & Asia Pacific Market Segment Manager – Packaging at Solenis. Excerpts:

Paper Mart: As we already know, you are one of the leading companies in retention drainage chemical technology for the paper industry, so we would like to know the recent product developments that have happened and that is going to happen in the near future.

Nandu Dhekne: We as Solenis have separated out of Ashland in 2014. The objective was to focus on this business, which we believe has a very good future. We are the only company who is investing heavily in pulp and paper, and even in water treatment today. A group of scientists in Wilmington, Delaware and technical centers of Asia Pacific, Latin America and Europe are continuously developing new technologies and products focused on tissue and towel, where we have a leading position. We also have great expertise in packaging; especially the process technologies that we bring to the market are pretty unique. In the past, we were known for functional technologies like AKD (Alkyl Ketene Dimer) and wet-strength. There are now people, who are producing it, but we still have the leading position. Now, the focus is on process. A lot of new products are coming in microbiological control, like dry-strength and wet-strength among other things.

Paper Mart: As you said, your products are mainly for the pulp, paper and packaging industry and are related to processes and water treatment. So, can you become a little specific about the processes where you help with your chemical technology?

ND: The packaging industry people use recycled paper. The recycled paper goes into the making of brown paper. It is a growing industry on which all the online market giants are eyeing on. Talking about the brown paper, we need to ensure that when you recycle paper, you are able to retain some of the chemistries that existed in that paper and then add supplementary chemistries to preserve its strength. Moreover, everyone wants to have a product which is as light as possible but with a lot of strength. I guess this is our objective. For instance, we try and retain starch and we have microbiological programs to help us do that; it's amazing and I am glad that we have a leading position with regards to those kinds of solutions. Even in treating pulp, we have a major share and market in that area.

Paper Mart: To meet environment compliance and reducing the water footprint, how do you help the pulp and paper producers in consuming the least water possible and in treating the used water?

ND: When I meet the customers around the region, their wish to use the least amount of water per tonne of paper produced is something we invariably come across. This requires a superior technology over the entire production chain of pulp and paper with an effective water treatment facility/process. The environmental norms are getting stricter in many countries including India. Likewise, mills need to tighten their own water consumption practices by revamping their processes and investing in the latest technologies leaving smaller water footprint along with better product. When it comes to application of various functional chemistries to help reduce water consumption, it requires really excellent and outstanding application knowledge along with superior production technology, which we have as we make the polymers ourselves. We have formulations which have helped mills achieve the superior quality with minimum water intake per tonne of paper.

Application knowledge makes a lot of difference. We are not just selling a product but are selling rather a complete solution, which makes a big difference. We get differentiated on this point, which is also a factor in why we are in a leading position. In Asia Pacific region, Solenis is widely acknowledged for its broad ranging solutions for wastewater treatment systems. Some of the tremendously upcoming segments in Asia Pacific like aseptic liquid packaging and other high-end food grade packaging are very important for us and Solenis today leads the solutions industry, especially in North America and Europe, in terms of food grade packaging products. We expect to have a similar position in Asia Pacific and we are already seeing signs of that growth and are quite geared up to solve all those problems in other regions.

Suhas Kulkarni: If you look at the Indian pulp and paper Industry and take its overall capacity into consideration, you will find that the top 10 mills are actually manufacturing close to 50-60 percent of the capacity. The rest 40-50 percent are very small mills. These smaller mills need to work extra to improve the product which can compete with the products made by tech-savvy large mills and which can be meet the packaging needs of established brands like Amazon, Flipkart, etc. to name a few. We run a highly acclaimed, multi-stage program Biobond for such mills to help make them absolutely good quality recycled liner board. Biobond program ensures that the majority of incoming starch is preserved, reused and recycled, leaving the paper mill as it should—with the paper. This valuable raw material can now be reused, significantly reducing input costs in paper production.

Companies like Starbucks and such others today need a tissue which can be 100 percent recycled. We have a program for that too. Solenis offers an extensive product portfolio that includes exclusive creping adhesives and dry- and wet-strength additives. Our solutions are supported by experts who offer a deep understanding of forming, creping, drying and converting.

When it comes to water retention, you can see a mill which is 100 percent closed and the water usage is very less. We have deinking programs as well. The water which is flushed out uses our program which leaves fewer microbes into the water on being dispersed. We can help in conserving good amount of water.

Now coming to packaging, there are a couple of programs that we have launched. One is the Fusion™ program – Fusion™ Strength and Performance Technology, which is specific to recycled liner board. This program helps in adding strength to the recycled liner board to be used in high-end packaging, i.e. liquid packaging board. The aseptic packaging is growing in India. Tetra-Pak has been the major player in our country, but now the other players too are investing a lot in this growing segment. That segment is growing close to 12-13 percent and it's not just milk; it's about juices and a number of other fluids consumed by us. You need more liquid packaging board which can adhere to the food grade manufacturing. That is where we come in. We supply products which are food grade by making sure it remains compliant to food packaging standards. That's our strength. We have been doing this for years, and today, we are making sure that the new customers and converters are also understanding about the specialty Solenis comes with.

Paper Mart: What does your long association with the paper and packaging industry in North America, Europe, and Asia-Pacific tell about the trends in packaging and how do you help?

SK: One of the key things for packaging is increasing production and yield with lower costs. Thereby, you are reducing the gauge of the actual board but by making sure that the performance of the board is also same. We come and specifically work with a global R&D team to make a strength program where we have worked successfully to give a higher and better yield. Reduce freshwater usage and decreased reliance on virgin fiber, are the other significant benefits that we brought to our customers.

Paper Mart: You have worked globally with other companies and experienced working with Indian companies as well. So what kind of trends in the chemical and chemical technologies is followed the world over and what is the difference in their usage in India?

ND: I love the Indian market as people are very intelligent and they have appreciation for value that we deliver. They work out well with the cost economics. They understand the return on investment so well than many of the customers I see elsewhere. They have an admiration for the latest technology. That's why we are here to talk about products that go for tissue towel and the Fusion program for strength and performance of the packaging board. The Biobond and the Optifill℠ programs are already very well received, which are world class programs along with spectrum of products.

We have made several acquisitions globally and have a portfolio that is unmatched by any of our competitors. Moreover, the applications services that we provide are quite useful. Even in India, the customer is getting the global technology at their doorstep with the huge pool of application experience that we have. We are headquartered in Shanghai, China. India, being part of the Asia Pacific region for us, gets all the attention it really deserves.

The difference I see in India and other countries is that the machines in India are much smaller. The production of paper in India is probably 13 million tonnes, but the numbers of machines are too many. If a company alone produces 12 million tones, the reason is that their machines are pretty bigger. We are also customizing and optimizing our programs to see to those smaller machines and the feed systems that go with it. We have world class feed systems, which are part of the offerings that we provide and that make the program very successful. We have had great successes here and most of the leading companies in India are our customers today. Even in China today, we have a significant market and it's still growing.

We have a rich heritage. We have been known almost 100 years as Hercules. Then, we became part of Ashland. We have companies like Houghton, Betz Dearborn, as a part of our portfolio. A new name Solenis was given in the year 2014. Coming together of all these names means a great assembly of world-class technologies, all brought together for our customers worldwide including India. That's why we are here and have really worked hard for our direct presence in the country.

I think we are glad to see a great response from the customers. They are happy because Solenis offerings go really well with their modernization attempts. What you see in Europe and US as our portfolio is also directly available. We are in an investment mode and have focused our attention too much around pulp, paper and water, which is a great story in itself and we are getting excellent response from the customers.