4evergreen's 'Guidance on the Improved Collection and Sorting of Fibre-Based Packaging for Recycling' – contains a review of the collection and sorting systems across Europe.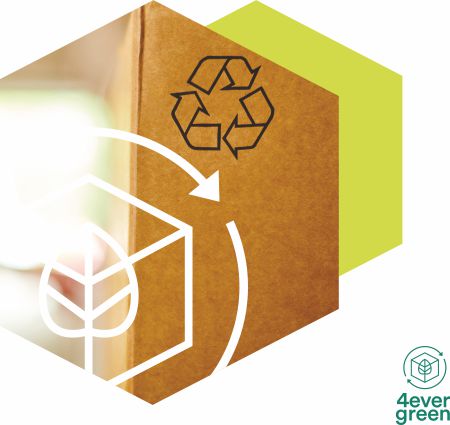 4evergreen, a cross-industry alliance, promoting low-carbon and circular fibre-based packaging, strives to bring together the entire value chain. With the aim of a comprehensive outlook and facilitate the eventual recycling of fibre-based packaging, 4evergreen has endorsed systems that provide adequate sorting at the point of collection. After two years of work, combining the expertise of 24 individuals and validated by a further 75 industry representatives, the 4evergreen alliance released its 'Guidance on the Improved Collection and Sorting of Fibre-Based Packaging for Recycling'. The Guidance is based on inputs received from around 50 participating companies from all relevant industry segments along the value chain.
With 4evergreen's Guidance, pertinent regulatory and institutional frameworks are reviewed and provide an assessment of available collection and sorting scenarios. The recommendations given are grounded on a consensus reached through discussions between work stream participants and experts. These guidelines are written based on best practices and are intended to guide the implementation of the future collection, sorting, and recycling infrastructure, in order to meet EU legal requirements and realise 4evergreen's aspirational targets including a 90 percent recycling rate for fibre-based packaging.
As such, this Guidance affects all key actors in the (fibre-based) packaging waste value chain (e.g. producers/importers, (local) authorities, waste handlers/collectors, recyclers, NGOs), but is geared towards policymakers and packaging recovery organisations.
Watch: IVAX Paper Chemicals Interview
Proper Collection Systems to Increase Recycling Rates
Here, fibre-based packaging is to be collected in either the regular paper and board stream or the lightweight packaging stream. The 'routes' from collection to recycling at dedicated paper and board mills are also examined, followed by practical recommendations how to improve collection. Likewise, the aspirational goal of 4evergreen is to increase the overall (European) recycling rate of fibre-based packaging to 90 percent by 2030. Collection systems are endorsed where material is sorted into different streams at the source (e.g. households), laying a strong foundation for recycling at suitable paper and board mills.
4evergreen is in support of legislative initiatives that incentivise more investment and the wider participation of all relevant stakeholders in separate collection and post-collection sorting actions aimed at increasing the recycling rate of fibre-based packaging.
This Guidance, and specifically the routes from household collection to recycling, are written as a recommendation for building future collection, sorting and recycling infrastructure. In every respect, 4evergreen also supports alternative infrastructures capable of meeting the recycling rate (sub) targets. The focus needs to be put on household collection, while maintaining high recycling rates for industrial and commercial collection, since the current recycling rates need to be improved to reach an overall recycling rate of 90 percent.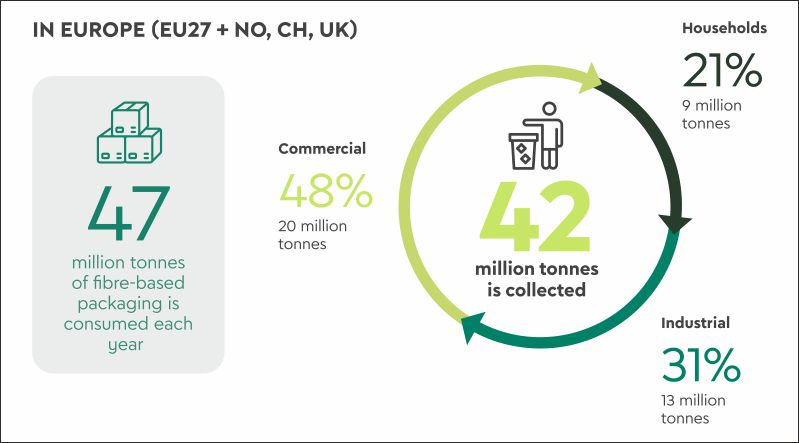 Notably, the collection and sorting set-up guides the different paper grades towards the right recycling process and end use to secure the highest quality and yield of recovered material across different types of recycling mills processing different types of fibre-based materials. Moreover, each paper mill will have its own special recipe and appropriate technical equipment related to the properties of the intended end products.
The highest efficiency and recycling rates will thus be obtained by ensuring that paper mills have access to fibre-based material that is collected and sorted into different feedstock fractions with sufficient quality to create the required recipe for their own products.
Also Read: Metsä Group Putting Emphasis on a Sustainable Supply Chain
Handling of Household Collected Paper and Board
In principle, the household collected paper and board described above is ready for recycling in standard paper and board mills. As the material is already sorted by households, no further sorting is required. Prior to reaching the mill, the bulk of the material will be pressed into industrial size bales of 'paper for recycling' and checked for quality in dedicated plants. Here again, consumers play a vital role in the (at source) sorting process, and public education is key.
Alternatively, the household collected paper and board can be handled at dedicated (de-inking) sorting lines. This generally splits the stream in two: a de-ink stream (e.g., mainly used newspapers and magazines) which can be consumed by de-inking mills and an OCC stream (e.g. mainly used packaging) which can be consumed in standard paper and board mills. The goal of the alliance is to raise the overall recycling rate of fibre-based packaging while bringing a particular focus on packaging with a lower circularity performance, namely the types used for household, out-of-home, and on-the-go consumption.
The alliance brings together industry representatives from across the fibre-based packaging value-chain, from pulp, paper and board manufacturers and recyclers to packaging producers and converters, including brand owners, retailers and waste management companies. It also comprises non-fibre material suppliers (e.g., adhesives, inks, coatings), technology providers (e.g., machinery, collection, and recycling solutions), and leading research institutes.