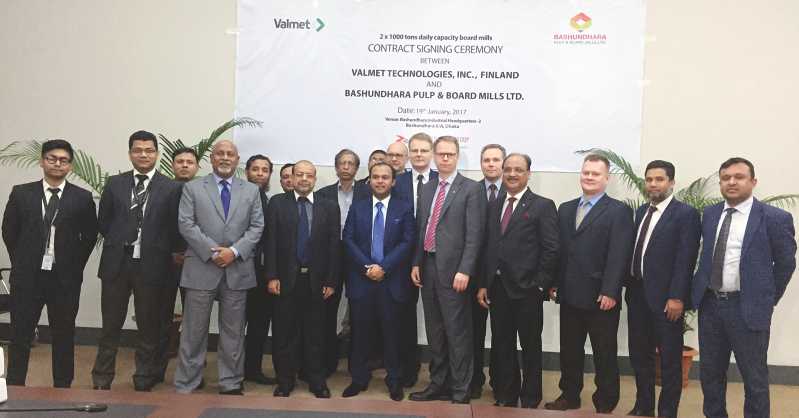 Bashundhara Group will establish a packaging paper manufacturing facility in Bangladesh with world's latest technology by Valmet to produce high-quality products as import substitutes.


January 19, 2017
Bashundhara Group recently signed an agreement with renowned Finland-based Valmet Technologies Inc. Valmet offer the latest technology for the manufacturers to produce high-quality packaging boards, and the technology is famous for its energy-efficient features. Safwan Sobhan, Vice-chairman of Bashundhara Group, Md Mustafizur Rahman, Deputy Managing Director (DMD) of Bashundhara Group, Petri Paukkunen, Vice-president of Valmet Technologies and Veli-Matti Miskala, General Manager (sales) of Valmet Technologies signed the deal on behalf of their respective sides.

Mirza Mujahidul Islam, Executive Director (Accounts and Finance) of Bashundhara Group, Md Mozammel Hossain, head of project of Bashundhara Multi Paper Industries Limited, Jukka Aalto, Technical Product Manager, Risto Oksman, process Technology Manager, and Juha Kovanen, Senior Board Technology Manager of Valmet Technologies were also present on the occasion. Initially, two paper manufacturing units will be set-up in Bashundhara Especial Economic Zone in Keraniganj. The project will cost around Tk 4,000 Crore and the new units will start production after 27 months. These units will have the capacity to produce at least 2000 tonne pulp and board each day, against the market demand of about 5 lakh tonne annually. Also, this would create jobs for 10,000 people.