8 June, 2011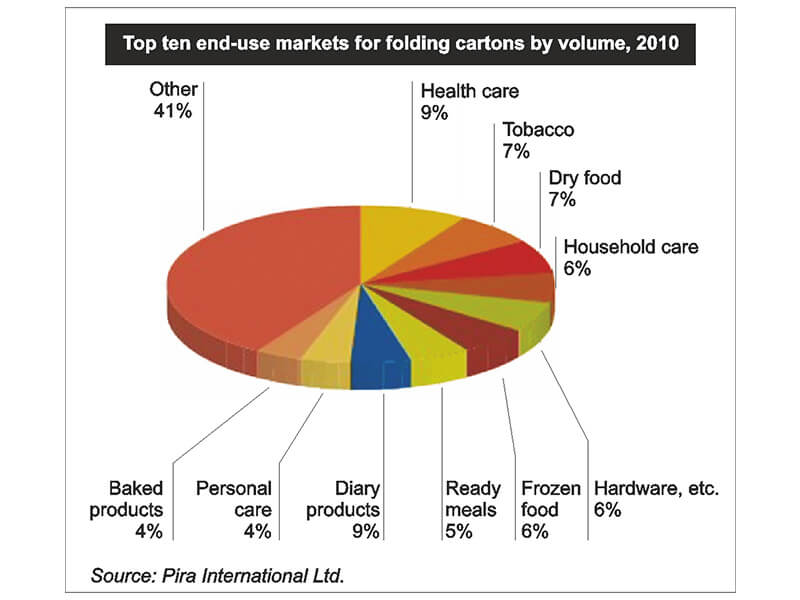 Folding cartons will see an average annual growth rate of 7.9% in BRIC (Brazil, India, China, Russia) between 2010 and 2016, according to the latest research from Pira International.

According to Pira, overall actual consumption of cartonboard as measured by converter sales will grow by an average of 4.4% annually from 2010 to 2016, with Asia showing the strongest growth at 6.5% over the period. Total actual consumption (conversion net of trade) of cartonboard amounted to 40 million tonnes in 2010, worth $78 billion.

A new study from Pira – The Future of Folding Cartons: Market forecasts to 2016 – shows how global production has increased by an average of almost 2.5% a year since 2005 and totaled over 43 million tonnes in 2010. Asia accounted for 45% of the total volume, followed by America and Europe with a combined total of 52%.

The major end-use markets for folding cartons exhibit their own micro-demographic trends that are affecting demand. In the health care market, good growth is anticipated in product lines such as analgesics, sleep therapies, tranquilisers & other calming products, as well as new products such as nicotine replacements, contraceptives, vitamins, diet supplements and nutraceuticals in general, many of which are packed in folding cartons.

Liberalisation of the over-the-counter (OTC) market will see increased sales of products through non-traditional outlets, and technological advances such as interactive packs may provide further stimulation in the long term.

The tobacco industry is facing bans on smoking in public places, bans on advertising, higher age limits, reduced brand imaging and higher taxes, which Pira expects will eventually result in a decline in demand. In the dry food market, modernising of retail systems in developing regions will boost overall product consumption and an increase in demand for higher-quality graphics, coupled with demand for smaller packs, may boost folding carton consumption. Pira also sees further potential for growth from barrier coating technology and the 'bagless box'.

According to the study, rising disposable incomes in developing markets will boost growth in white goods sales. This will in turn increase demand for the household chemicals used in their operation, although the folding carton sector faces a continuous threat from liquid products packed in plastics and ongoing product concentration resulting in ever smaller packs.

In the hardware and electrical sector, 'i-Products' alone have probably accounted for more than 25,000 tonnes of cartonboard since the launch of the first iPod in 2001 and this phenomenon is likely to continue for some time to come. Elsewhere, the car parts and DIY markets, major users of folding cartons, are receiving a huge boost from the economic downturn.

According to Pira, limited retail infrastructure in the developing regions is likely to be the most significant hindrance to higher growth in folding carton demand in both frozen foods and ready meals. Nevertheless, increased use of refrigeration by consumers in developing countries, plus a gradual improvement in infrastructure, is expected to boost folding cartons in both markets, as well as in dairy product packaging. Consumers are increasingly environmentally aware, and demanding products that combine natural ingredients and eco-friendly packaging in the personal care market.

Although consumers are becoming increasingly aware of the need for healthier alternatives to the traditional bakery product line-up, and cartons face stiff competition from flexible packaging in this sector, the 'bagless box' may provide opportunities for development.

At end-user level, demand for folding cartons will show average annual growth of 4.4% during 2010 – 16. The highest growth sectors in percentage terms will be spirits, health care, confectionery, tobacco, hardware and chilled food. The lowest growth will be in pet food, soft drinks, savoury snacks and baked products, all of which face growing competition from flexible packaging.

SOURCE: Pira International