The company is known to produce one of the fastest and most efficient paper machines in the world. Having sold over 120 paper machines worldwide, CCL has quite a noticeable presence in the Indian subcontinent with some prominent names in its kitty as customers. The company has recently added a new workshop at its facility to produce parts and equipment for the paper machines it develops.
Excerpts from the interview with Mr. Rong Ying, Director-Export Sales, Sichuan Chengfa Paper Machinery Co. Ltd. (CCL).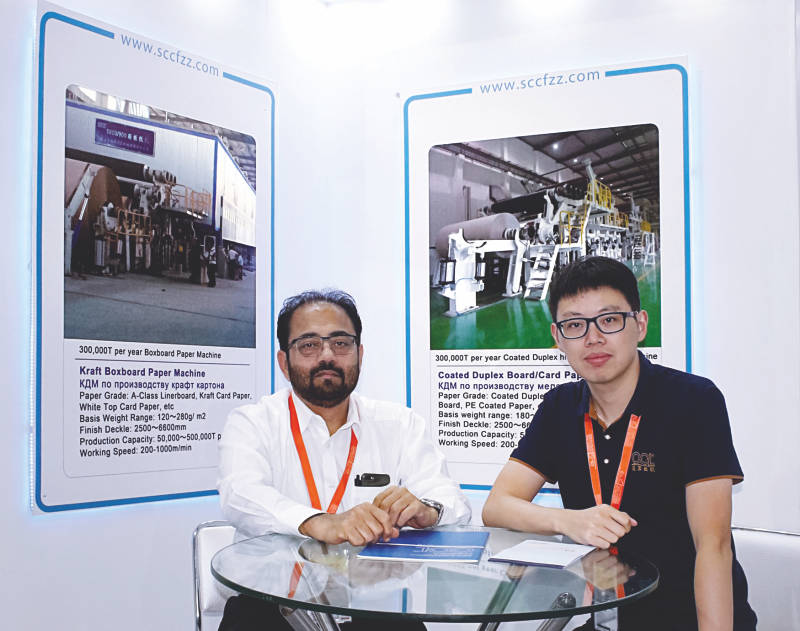 Paper Mart: Briefly tell us about the company, and when was it established?
Rong Ying: Sichuan Chengfa Paper Machinery Co. Ltd. (CCL) was established in 1989. It is the predecessor of Leshan Chengfa Paper Machinery Co., Ltd., which originated from a military enterprise AECC Chengdu Engine Co. Ltd. We are one of the biggest paper machinery manufacturers in China. We have been exporting paper machines to Russia, India, Thailand, Vietnam, Brazil, Turkey, Kyrgyzstan and many other countries for the last 20 years.
PM: What kind of products do you have for the paper industry?
RY: Our product range includes machines for manufacturing high strength corrugated paper, kraft boxboard paper, coated duplex board/card paper, writing & printing and all kinds of specialty paper. We also provide all services related to paper machine erection and commissioning, and thereafter.
PM: Tell us something about the infrastructure you have?
RY: Our factory covers 260,000 sqm and has over 400 employees. We are a leading enterprise in this industry with strong design capacity and production strength with an annual sale of 320 million RMB. With 30 years of experience in innovation and development, we have achieved a capacity of producing 6-8 paper machines annually with the maximum finished deckle of 6600mm. So far, more than 120 paper machines have been put into operation successfully.
We have added a new workshop with 40 new CNC machines to manufacture the essential parts and equipment of our paper machines. We even work in two shifts to expedite the work and meet the deadline. CCL works in collaboration with prominent companies such as Andritz Group, IBS and Metso to build the whole paper machine system.
PM: Tell us more about the design capabilities of CCL?
RY: Our design team comprises of fourteen staff, of which one of the senior persons was working with Valmet for the last 19 years. He is now helping us with his technical know-how and support. CCL is known for manufacturing one of the biggest and faster paper machines in China. Even ten years ago, we had a technical expertise to produce machines with the deckle size 5800mm and speed 900mpm. We constantly upgrade and carry out trials to develop faster machines and are now producing machines with the deckle size 6600mm and speed 1000mpm. CCL aspire to become one of the first manufacturers in China to develop paper machines with such specifications.
PM: What are the key factors that make CCL competitive in the market?
RY: We consider customer's requirements as our first priority. If customers have specific design needs and costing priorities, we ensure to provide them with the tailor-made solutions within their budget without compromising with quality and efficiency of the machine.
PM: How many machines have CCL delivered to the Indian market?
RY: In 2007, we delivered our first machine to Deevya Shakti Paper Mills Pvt. Ltd. located in Hyderabad.
Back in 2012, Emami Paper Mills Ltd. installed our machines in their facility in Balasore (Odisha). Emami Board machine were conjointly developed by CCL and a European supplier. The main machine was provided by CCL, while the European supplier delivered shoe press, calendars and other critical equipments. Our European associate ensures to follow set quality standard and uses technology that enhances the overall performance of the paper machines. Although the technology used in paper machines is European, the costing is substantially lower than our European counterparts.
In 2017, we have signed a contract to supply Kraft PM of deckle 5200 mm and design speed of 600 MPM to Jodhani Paper Mills, Bangalore.
PM: Are there any projects that you are currently involved with in India?
RY: We are in discussion with JK Paper Ltd., ITC Ltd, and a few other customers in India.