Established in 2013, CN Automation LLP was founded by Mr. Ashish R. Chokhawala and Mr. Arshad Nathani to explore industrial applications using automation with the core intent of contributing to the advancement of pulp and paper industry. The Company is engaged in providing turnkey EPC solutions to the pulp and paper industry in the area of electrical and automation systems. In an interview with Paper Mart, Mr. Ashish R. Chokhawala, Co-Founder & Director, CN Automation LLP, talks about their journey, product portfolio, expertise in developing process-centric solutions, and the future roadmap.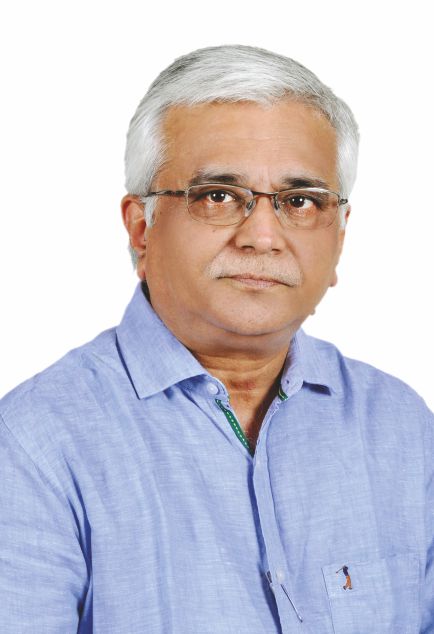 Paper Mart: Could you please present an overview of CN Automation – the business journey, specializations, and some notable accomplishments?
Ashish R. Chokhawala: CN Automation LLP was established in 2013. In the following year, we started commercial operations in Pardi, Gujarat, which is situated in the vicinity of Vapi – regarded as an engineering hub for pulp and paper machinery.
I, along with another new-generation technocrat – Mr. Arshad Nathani (Ex-Director, M/S Ruby Macons Ltd.), went on to establish the Company with the aim to provide value-added and cost-effective automation solutions to the industry. Previously, I was the partner for M/S Kinetic Engineering Systems. Mr. Nathani was engaged in the machinery division of Ruby Macons which was into the manufacturing of value-added and highly precise consumable components of various equipment such as – screen baskets, rotors, internal parts of suction rolls and other peripheral equipment of paper plant and machines.
On the other hand, my experience has been in supplying automation solutions to various industry segments, namely pulp & paper and plastic processing. Having a vast experience in design and know-how of manufacturing processes, Kinetic Engineering had supplied a number of rugged and reliable low-cost systems to the pulp and paper industry through Ruby Macons Ltd. Thus, we have a collective experience of more than 35 years in machinery manufacturing and automation business. Our venture – CN Automation has never looked back in terms of achieving excellent growth since the very beginning.
Watch: Orchid Laminates: Looking Beyond Conventions and Expanding Capacities in Different Areas
To date, we have provided automation solutions, ranging from micro to mega-scale, to reputed paper mills, namely, Mehali Papers, Shah Paper Mills, Binjusaria Papers, The South India Paper Mills, Binjusaria Papers, etc. At CN automation, we are specialized in providing turnkey automation solutions to the pulp and paper industry.
PM: Talk about your expertise in creating highly efficient and productive automation solutions and machinery for the pulp and paper industry.
ARC: Since both partners have achieved exponential growth in the pulp and paper industry, we have developed our own unique understanding and expertise of pulp processing and operations of paper machines. Across our entire product portfolio, we've developed many modular small to medium and large-scale automation solutions to optimize the performance of various processing equipment and plants such as:
Air cushioned/hydraulically pressurized headboxes, coarse screening, fine screening, pulping system, high-density cleaners, de-inking cell, disperser, refiners, steam & condensate system, press section operation, size press and size kitchen, pope reel, twin drum rewinder with or without break generator.
Medium to large-scale plant-wide automation solutions based on the DCS system for Mehali Papers, Shah Paper Mills, NR Agrawal Industries Ltd., Binjusaria Papers, The South India Paper Mills, and many more to come viz. Shree Ajit Paper Mills Ltd., Kuantum Papers; Nigeria, Uniglobal Papers.
Sectional drives solutions to Mehali Papers, NR Agrawal Industries (Unit 5; Wire Part), The South India Paper Mills Ltd., Binjusaria Papers, etc.
PM: What are the strengths of the product portfolio of CN Automation? Since process efficiency is core to profitability, how do you design process-centric solutions which can achieve process optimization for pulp and paper manufacturers?
ARC: CN Automation has established its reputation for supplying systems which performs satisfactorily and ensures trouble-free operations. Presently, we've been working in the direction of providing turnkey EPC solutions to the pulp and paper industry in the area of electrical and automation systems.
We are using devices made by leading brands like Siemens, ABB, Phoenix, Mitsubishi, etc. for the development of all our automation solutions. As a matter of fact, we don't make any compromises in the selection of components for the design of control panels. Also, we abide by European standards for the programming and documentation of our solutions, leading to minimize downtime for the end customers. This has helped in keeping the rate of service inquiry calls to a minimum level.
One of our major USPs is the understanding of process applications thoroughly which enables us to develop value-added solutions that are long-lasting and highly efficient. For instance, in our solutions of sectional drives, we use a common DC bus with 12 pulse application. This helps in maintaining the level of 5th and 7th-order harmonics to almost at par or lesser than the standards of various electrical institutions.
Also Read: Abirami Engineering Company Launches Underwater Submersible Pumps
PM: What is the future roadmap of CN Automation?
ARC: We are in the process of development and integration of multi-axes robots and robotic applications for material handling systems. Further, we are looking forward to imparting to the development of finished goods handling using automated guided vehicles with artificial intelligence. These kinds of solutions will be quite helpful in large capacity mills having a variety of product grades of higher volumes.
We would like to emphasize that we've been consistently growing in our business. By adopting the latest state-of-the-art technologies and with continuous development of our automation solutions range, we would continue to strive to scale new heights and grow gracefully.