Many have found Fortune Magazine's recently published news story on toilet paper rather unbelievable. According to the magazine, "The average American uses 3 rolls of toilet paper each week—and it's devastating forests." Critics say that not everyone has the same bathroom needs and habits and that some of the claims that the story makes are exaggerated and misleading. According to this news story, "the U.S. consumes more toilet paper than any other country, almost three rolls per person each week. And the brands they choose to use aren't sustainable, with hardwood trees being pulped to create the soft toilet paper consumers want. Following the United States' annual use of 141 rolls of toilet paper per capita is Germany with 134 rolls and the United Kingdom with 127. Japanese consumers average 91 rolls annually, while the Chinese average just 49." Quite a few Americans have found it hard to believe that each American uses 141 toilet paper rolls in a year: "That seems like a lot," they say.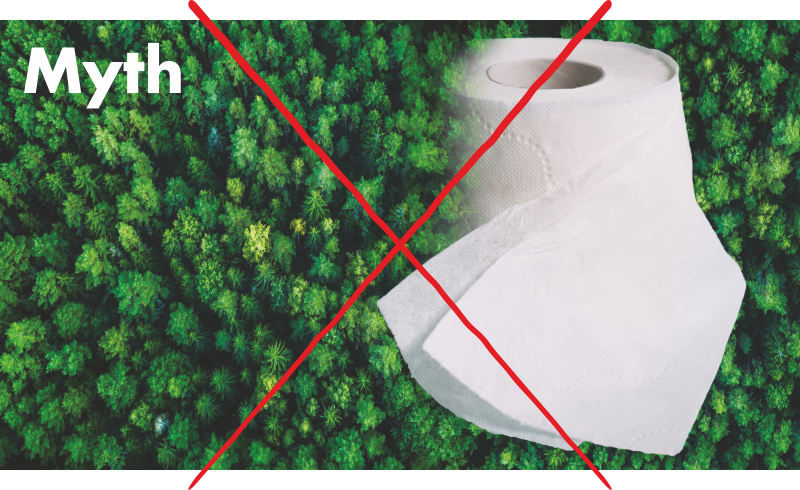 According to this news story, "soft paper can only be made from wood pulp, which means trees have to be felled for it." Is humankind's desire for toilet paper really devastating forests? It is true that paper products made from recycled materials are less soft, less absorbent and lack the strength that products manufactured from virgin fibers can provide, but paper companies across the world do not fell trees to manufacture tissue paper; no one is cutting down 200-year-old trees for toilet tissue. The wood fiber that paper companies need comes from responsibly managed forests, certified by third parties such as the Forest Stewardship Council. Besides, wood chips, many of which are the leftovers after larger pieces of wood are taken from trees, are the main component in toilet paper.

Are European Forests Shrinking?

There is a great myth that European forests are shrinking because of paper production. One wonders how this myth got so firmly established in the popular consciousness when the truth is that European forests have been growing by over 1,500 football pitches every day! European forests grew by 44,000 sq. km. – an area bigger than Switzerland– between 2005 and 2015 (FAO data, 2005-2015).

It should come as no surprise that the most common pressures causing deforestation and forest degradation are agriculture, unsustainable logging, mining, infrastructure projects, and increased fire incidence and intensity. Around 50 percent of the global wood harvest is used for energy and 28 percent for construction. There are some other uses of this harvest but paper directly takes only 13 percent of it (FAOSTAT, 2015). Also, the paper industry, NGOs and consumers are deeply concerned about issues over land rights and natural forest conversion to industrial plantations in some countries, particularly in the tropics.

The area of protected forests in Europe increased by around half a million hectares annually between 2000 and 2010, and half of the protected forests are managed for conservation of biodiversity (EEA, The European Environment — State and Outlook, 2015). In northern Europe, where almost all ancient forests are protected, paper comes from managed semi-natural forests where the cycle of planting, growing and logging is carefully controlled. Historical concerns in northern Europe and Canada have now been largely resolved through co-operation between legislators, campaigners and forest industries to protect ancient forests. "The area under forest management certification has continued to increase, from 18 million ha under internationally verified certification in 2000 to some 438 million ha in 2014" (FAO Global Forest Resources Assessment, 2015).

Pulp and paper manufacturers the world over do not depend on natural forests anymore. To meet their demand for virgin fiber, quite a few of them are growing trees in a big way while some of them are supporting agro-forestry wholeheartedly; and their efforts are paying rich dividends.

Forests in Sweden

The forests in Sweden are privately owned to almost 80 percent, with individual ownership of 50 percent and private companies, 25 percent. The state has a share of 18 percent. Sweden's total land area is just 410,000 km2. Out of these km2 about 68 percent is forest (some 280,000 km2), so it is not strange that Sweden's paper industry has become so dominant in the world. With just less than one percent of the total forest in the world, Sweden is No.3 in pulp production and No.4 in paper production.

Today's industry is in harmony with nature. In around 25 years it has changed from being environmentally destructive to environmentally friendly. Some 10 percent of the forest land is set aside, voluntarily, as part of nature preservation at felling time and as natural parks and nature reserves. In addition, over the last eight to ten years, most emissions to air and water have been reduced by 90 to 95 percent.

The reforestation has been doubled over the last 650 years and today the annual growth in the forest is exceeding felling with some 30 million m3sk (m3sk=forest cubic meters solid volume over bark, i.e. the volume of the whole tree trunk from stump to top, including bark).

Sweden alone has five companies in Europe's top ten Nordic bleached market pulp. There are also about 50 large companies with many subsidiaries, and the big 12 account for 64 percent of the total capacity. Paper products include everything from fluff and tissue, fine papers, packaging and board products. In this group are both very big players and small niche companies.

In Sweden, there are four players producing tissue and fluff products. The first is SCA with units in Edet and Falkenberg, second is Mets-Tissue with mills in Katrinefors, Paulistrm and Nyboholm. The other two companies are Munksj, with a unit in Jnkping based on recycled fibers, and Duni, with three mills in Kisa, Dals Lnged and Skpafors. Munkjs has become a subsidiary of Jefferson Smurfit Group and Duni is owned by two investments funds.

SCA: Europe's Biggest Private Forestry Owner

With over two million hectares of forests, SCA is Europe's biggest private forestry owner. SCA is known the world over for its wood products, pulp, paper and packaging material. Its nature conservation strategy integrates nature conservation measures with its practical forest management. The company plants trees that will spend almost 100 years growing before being harvested. This long-term approach is part of SCA's business strategy, and that is why it manages its forests in a way that ensures their wealth of biological diversity, natural attractions and timber never ceases to be great.

SCA manages its forest on a long-term basis to integrate productive and profitable forestry management with effective nature conservation that preserves biological diversity. The aim of its forest management is to have as much timber, biodiversity and nature experiences in its forests in the future as it has today.

During spring and summer 2019, SCA acquired forest and land assets in the Baltics. The acquisition in Latvia consists of a total of 10,400 hectares. The assets comprise 7,600 hectares of productive forest land, 2,000 hectares of farmland and 800 hectares of other land. The standing timber volume amounts to one million cubic meters. The assets consist mainly of self-rejuvenated forests.

The acquisition in Estonia consists of a total of 10,300 hectares located on the two islands Dagö and Ösel. The forest assets consisting of 8,800 hectares of this land is forest land with a standing volume of 1,300,000 cubic meters. The forest consists mainly of pine, but also some birch.

Georgia-Pacific: Sustainability Matters

People at Georgia-Pacific also place a high premium on sustainability. Georgia-Pacific is an American pulp and paper company based in Atlanta, Georgia, and is one of the world's largest manufacturers and distributors of tissue, pulp, paper, toilet and paper towel dispensers, packaging, building products and related chemicals. The company operates in ways that enhance the quality of life in the communities, help ensure the economic stability of the company and help protect precious environmental resources.

Georgia-Pacific practices sustainable forestry. It manages forests today so there will be plenty of healthy, diverse forests in the future. The company has always been careful in the way it uses natural resources. It has also invested in helping show others in the forestry and environmental communities how they can do the same. The company has also reduced its oil consumption by 75 percent since 2015 and thereby reduced the fossil fuel CO2 emissions from its processes by 58 percent.

Kimberly-Clark Corporation: Market Leader for Responsible Fiber Sourcing and Forest Protection

Another American company that protects forests to address climate change, conserve terrestrial biodiversity and ensure a resilient, healthy supply chain is Kimberly-Clark – an American multinational personal care corporation that produces mostly paper-based consumer products. Its brand name products include Kleenex facial tissue, Kotex feminine hygiene products, Cottonelle, Scott and Andrex toilet paper, Wypall utility wipes, KimWipes scientific cleaning wipes, and Huggies disposable diapers and baby wipes.

Special mention must be made of the Kleercut campaign against Kimberly-Clark launched by Greenpeace in 2005. The campaign was launched because the company had been linked to the logging of ancient boreal forests. Greenpeace charged that Kimberly-Clark was using more than 3 million tons of pulp a year from forests to produce tissue paper products, such as the Kleenex brand. The environmental organization led a large grassroots student activist campaign targeting Kimberly-Clark for sourcing 22 percent of its paper pulp from Canadian boreal forests containing 200-year-old trees.

Kimberly-Clark soon released a new environmental policy, and Greenpeace ended its campaign in 2009. The two organizations announced that they were moving "away from conflict to a new collaborative relationship to further promote forest conservation, responsible forest management, and the use of recycled fiber for the manufacture of tissue products."

Today's Kimberly-Clark is proud that major environmental groups, including Greenpeace, FSC® and the World Wildlife Fund, have recognized it as a market leader for responsible fiber sourcing and forest protection. Its 2022 goal is to innovate its tissue products to reduce its natural forest footprint by 50 percent while increasing its use of environmentally-preferred fibers (EPF) by 2025. Besides, the company is committed to continuing to source 100 percent virgin wood fiber for its products from certified sources and has expanded this commitment to its fiber-based packaging.

Sofidel Group: Committed to Sustainability

An Italian group of companies, Sofidel is one of the world leaders on the market for tissue paper for hygienic and domestic use: toilet paper, napkins, kitchen paper, handkerchiefs and tissues. Its best-known brand is Regina.

Like the other players in tissue production in Europe, Sofidel attached a lot of importance to sustainability. The companies in the group oversee the entire production process – from processing to the finished product. The entire production chain is required to comply with the principles of sustainability that are the basis of the Sofidel value creating system. The group has clear and strict policies on the responsible procurement of raw materials from forest resources, the contained use of water, reduction in climate-altering gas emissions, reduction in waste and the promotion of responsible consumption through the development of innovative products.

People at Sofidel see to it that new forests are constantly being created. They are conscious of the importance of plants and forests and are deeply committed to sustainability. Paper production at Sofidel is part of a sustainable and eco-friendly process.

Metsä Tissue: Promoting Sustainable Development

Metsä Tissue is part of Metsä Group, one of the largest forest industry groups in the world. Interestingly, Metsä Group is owned by 103,000 Finnish private forest owners. This unique ownership base and business structure give the organization a competitive advantage and reinforce the long-term stability of its operations. Metsä Tissue is a manufacturer of tissue paper, greaseproof paper and facial tissue paper. Its main brands are Lambi, Mola, Serla, Tento, Katrin and SAGA. In addition to its own brands, it develops and manufactures a range of supplier label products as well as tailored customer label products for leading European retailers.

Metsä Group is committed to promoting sustainable development, to continuously improving its operations and to conducting its business in a responsible way. Environmental care is an integral part of its corporate responsibility and sustainable development. Metsä has integrated environmental management into its entire range of business activities.

Metsä Tissue is committed to using fresh wood fiber sourced only from sustainably managed forests, where economic, social and environmental impacts are weighed up carefully. The company is also dedicated to promoting reliable forest certification systems which are based on independent third-party verification and are tailored for local conditions. Sustainable forest management guarantees the preservation of forest biodiversity and the steady production of wood raw material, which benefits both the forest owner and the industry.

Metsä cooperates only with pulp suppliers that can verify the origins of their wood fiber. The suppliers must be able to prove that the fiber comes from sustainably managed and responsibly procured commercial forests and not from protected areas or illegal sources.

Lucart Group: Holding Environmental Resources in Respect

Lucart Group is one of the top ten European manufacturers of paper and tissue products. Consumer Business Unit puts Lucart Group among the main players in Italy and the European biggest retail partners for airlaid and tissue products, made from pure cellulose as well as recycled paper, such as toilet paper, household paper, napkins and handkerchiefs for household use. Lucart pursues sustainable development; it strives to create high-quality products by respecting the environmental resources and the future of people.

The group carefully selects the raw materials by preferably using recovered fibers and cellulose from certified supply chains. Lucart S.p.A. and Lucart Kft. are the first companies in the tissue sector to have obtained the ecological quality label issued by the European Union, which marks products and services with a low environmental impact, in the respective countries.

Lucart S.p.A. is one of the first Italian paper mills that obtained the PEFCTM and FSC® (INT-CW-001076, INT-COC-001076) certifications, which ensure the raw materials come from suppliers who implement sustainable forest management systems and have a certified custody chain.

Tissue Paper Production: The Indian Scenario

In 2015, SCA entered the estimated 4,000-crore market in India for baby diapers and toiletries with the launch its first manufacturing facility near Pune. The company entered the market with the belief that the low penetration of hygiene products and the large population in India would provide the potential for future growth. SCA India also looked forward to making a foray into feminine hygiene products.

Fast forward to the present and we find international companies dominating sales of hygiene products in India. Strong brand names and consumer trust have pushed sales for international companies. As India is a developing country, it offers considerable potential for tissue and hygiene. The middle-class population is growing rapidly, as income per capita is steadily increasing. But the fact remains that the per capita consumption of tissue and hygiene products in India is quite low when compared with global levels. Consumer-awareness and affordability are the two key impediments to the growth of this market.

It is therefore quite evident that pulp and paper manufacturers in India do not destroy forests. In fact, the industry has, over the years, planted more trees than it has taken from the land.

It is also interesting to note that, unlike their counterparts in Europe, Indian paper manufacturers do not own forests for paper production. Most of them depend – partially or fully – on agro-forestry or certified pulp, or both.

Agro-forestry is a kind of agricultural practice whereby fast-growing trees are grown along with a crop. It not only increases the tree cover and makes available to people the required quantity of timber, fruit, fuel-wood, and fodder for which they traditionally depend on forests, but also prevents degradation of the environment. Agro-forestry, in effect, helps in reducing the pressure on forests.

It is therefore quite evident that pulp and paper manufacturers in India do not destroy forests. In fact, the industry has, over the years, planted more trees than it has taken from the land.

Pudumjee Paper Products Limited: Depending on Certified Pulp

Pudumjee Paper Products Limited is a leading Indian manufacturer of special papers and soft tissues. It has an installed capacity of over 60,000 TPA.

Pudumjee contributes its share of environmental protection by buying certified pulp, which it uses as raw material for producing paper at its mills. By using certified pulp, the group encourages responsible forestry and helps save the natural reserves for future generations.

It may be mentioned that Chain of Custody certification verifies that certified material is identified or kept segregated from non-certified or non-controlled material through this chain. Chain of Custody certification allows companies to label their products, which in turn enables consumers to identify and choose products that support responsible forest management.

Century Pulp & Paper: Shouldering Its Environmental Responsibility

Another Indian tissue paper manufacturer that shoulders its environmental responsibility well is Century Pulp and Paper. It is the largest and most advanced manufacturer of Jumbo Soft Tissue Paper Rolls in India. Its plant houses the state-of-the-art "Metso Machine with Crescent Former" that produces world-class tissue paper.

As the company is committed to the conservation of the environment and protection of its stakeholders' interests, it follows local legislations closely. The company therefore adheres to major raw material requirements set by the Agro-forestry sector.

Century carries out its own plantation activities by preparing high-yielding eucalyptus clones on one of the best soils in India. This increases the size of the catchment areas and fulfils the company's own raw material requirements. In addition, Century runs a number of forest and water conservation initiatives in line with its corporate philosophy.

Orient Paper and Industries Limited: Planting Saplings

Orient Paper Mills is one of India's major players in paper production with a wide range of writing, printing, industrial and specialty paper. The company has set up state-of-the-art facilities to produce a spectrum of quality soft tissue paper.

Orient Paper has achieved plantation of one crore trees covering 4,500 hectares. The company intends to increase plantation area coverage year-on-year. A target of planting 1.5 crores saplings has been taken for FY19-20, which will increase to 2 crores saplings per year from FY20-21.
"You can make tissue paper from straw, bamboo or other raw materials and it will bring different properties to the finished product. One thing is sure, however, at least in Scandinavia, no trees are harvested to provide raw material for the production of pulp for tissue paper," says Björn Lyngfelt , Communications Director, SCA.
Paper Mart: There is a great myth that forests are shrinking because of paper production. How did this myth get so firmly established in the popular consciousness?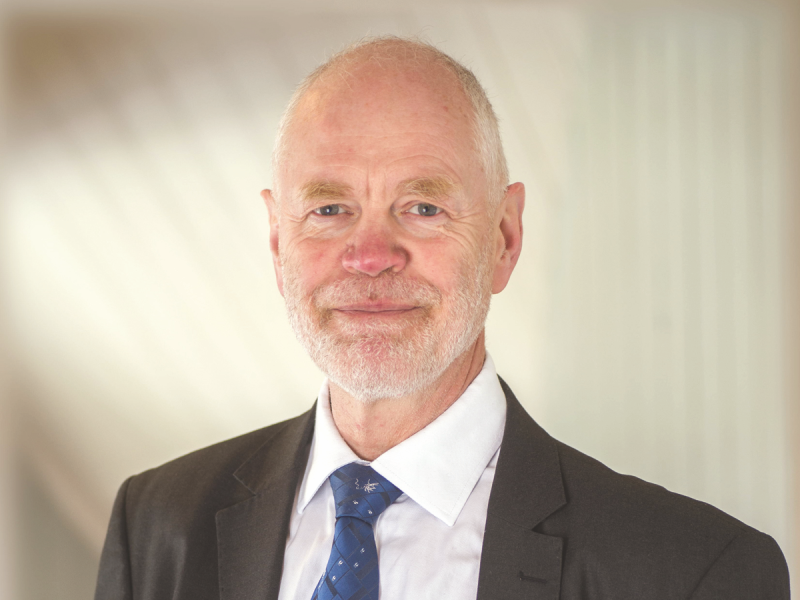 Björn Lyngfelt: There is great global concern for loss of forests with images of burning forests in the Amazonas. However, this has nothing to do with forestry for raw materials for forest products such as paper. The clearing of forests in the Amazonas is driven for getting more land for cattle grazing and soy production. In other parts of the tropics the production of palm oil is the driving force. In Scandinavia, the standing forest volume is increasing. It has grown with more than 100 percent from the 1920s and is growing further, even though 25 percent of the forest is set aside from fellings for nature conservation.

PM: Is it true that soft paper can be made only from wood pulp? Why can't we make tissue paper from recycled materials?

BL: Tissue can be made from several raw materials. The material most used is recovered paper. But you most often need a share of softwood kraft pulp for strength, and you may want a share of hardwood kraft pulp for softness – interesting enough. You can make tissue paper from straw, bamboo or other raw materials and it will bring different properties to the finished product. One thing is sure, however, at least in Scandinavia, no trees are harvested to provide raw material for the production of pulp for tissue paper. Trees are managed and harvested to provide raw material for wood products. Only what cannot be made into wood products – saw mill chips, tops of trees, trees too small to provide saw logs – is used for pulp and paper production. And what cannot become pulp and paper – bark, sawdust, mill residues – is used for energy production.

PM: How strong is your presence on the Indian market for sanitary paper, baby diapers and toiletries and feminine hygiene products?

BL: The hygiene and forest products group SCA was divided in 2017 into one hygiene and health company, Essity, and one forest products company, SCA. We at SCA produce no hygiene products. We do sell some volumes of sawn timber to India. And we sell pulp to producer of tissue, but we do not know on what markets the finished products will be sold.

PM: How committed is your company to the conservation of the environment and protection of its stakeholders' interests? What have you done so far to protect the environment?

BL: SCA has very high ambitions when it comes to sustainability. SCA is Europe's largest forest owner with 2.6 million hectares of forest land. One tree out of five on SCA's productive forest land is set aside in order to protect biodiversity. Our mills are among those with the smallest carbon footprint in the world. The positive climate effect of the net growth of our forests, the substitution of products with a heavier carbon footprints and reduced emissions of fossil carbon dioxide emissions from our own forests amount to 8 million tonnes of CO2 per annum, more than the combined emissions of all truck transports and all domestic air traffic in Sweden.

PM: What are your future targets for environmental protection?

BL: We want to increase the positive climate effect further by increasing the forest growth and producing more renewable forest products that can substitute steel, concrete, plastic and fossil fuels, while we are reducing the fossil carbon dioxide emissions from our own operations.
"Some of the efforts that we take include producing over half of the energy we use as a company from renewable sources, recycling over 2 million tonnes of recovered paper a year, and employing industry-leading practices to ensure that our fiber comes from legal and responsible sources," says John Mulcahy, Vice President of Sustainability, Georgia-Pacific.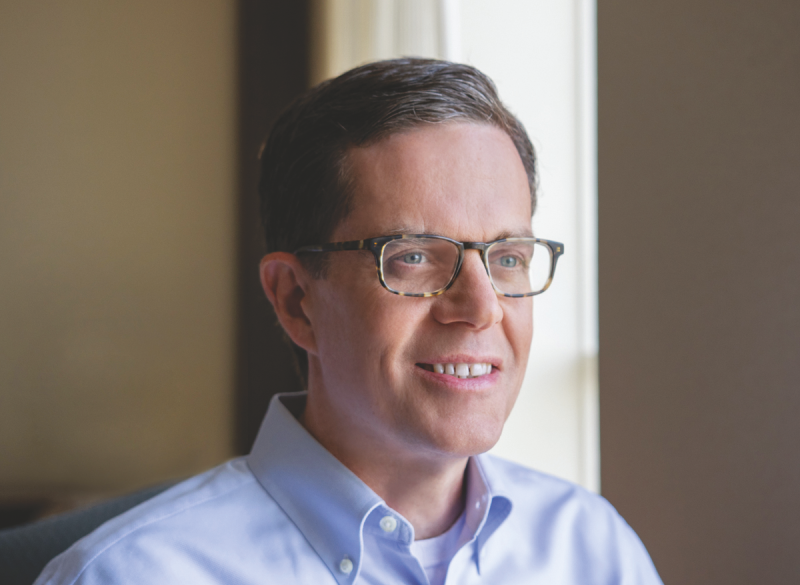 Paper Mart: There is a great myth that forests are shrinking because of paper production. How did this myth get so firmly established in the popular consciousness?

John Mulcahy: One reason is that human activity can lead to shrinking forests. According to the US Forest Service data, the total amount of forested acres in the United States declined by almost 30 percent between 1630 and 1920. The good news is that it has grown by 6 percent since 1920, in a period where US population more than tripled and the US economy is more than 25 times larger.

Strong property rights in the United States and robust markets for timber have provided the right economic incentives for landowners to manage their property for timber and replant to keep that income stream coming. Most of the forestland in the United States is privately owned, and most of that is owned by individual family landowners. These families manage this land for a variety of reasons including economic, recreation, and family heritage. Having the ability to sell timber when it's ready for market provides an incentive to take care of their land and to replant.

Based on this, we believe that the major driver of deforestation is not the forest products industry but rather alternative uses for land. Deforestation remains a significant global issue in other parts of the world and is, therefore, something we should all care about.

Another reason that people see the paper industry contributing to forest loss is because an image of recently-harvested forestland can evoke strong emotions, particularly in people like myself who have a love of nature and want to be good stewards of the environment. It's easy to see what happens to a parcel of land while it's being harvested – trees that were standing yesterday are on their way to the sawmill today. It's harder to see what's happening across a broader landscape as the amount of standing timber continues to grow. Counterintuitively, part of the reason why we're seeing an increase in the volume of standing trees in the United States is because there is a strong market for timber.

PM: Is it true that soft paper can be made only from wood pulp? Why can't we make tissue paper from recycled materials?

JM: Consumers look for a variety of attributes when selecting bath tissue. Strength, softness, bulk, and absorbency are some of the most desired attributes and papermakers utilize a variety of fibers to optimize performance against these dimensions.

Hardwood pulp from deciduous trees, softwood pulp from conifers, recycled paper, and alternative fibers including bagasse and bamboo each brings different attributes. Softwood fibers are longer and help provide strength, while shorter hardwood fibers help provide softness. Recycled fibers are short but can create a weaker sheet that is not as absorbent.

Georgia-Pacific produces tissue paper from both virgin and recycled sources to meet the differing market preferences. It's also important to know that paper is the most highly recycled commodity in the United States. According to the American Forest & Paper Association, 68 percent of the paper that was supplied to the US market in 2018 was recovered for recycling. There is strong demand for recovered paper and this volume naturally flows to the grades that value the attributes it provides. This is why we see high recycled content in brown paper packaging and away from home tissue paper.

PM: How strong is your presence on the Indian market for sanitary paper, baby diapers and toiletries, and feminine hygiene products?

JM: GP Cellulose has a growing presence in India as a provider of various cellulose products, including quality fluff pulp for sanitary products like disposable diapers and feminine hygiene. As sustainability becomes a focus of consumers there and utilization of hygiene products increases, cellulose-based products are expected to provide the attributes consumers desire.

Because of the focus in India to improve sanitation and hygiene, GP Cellulose has partnered with UNICEF and is donating $1 for every tonne of product sold into India to fund improvement initiatives in schools and pre-schools. India is a strategic growth area for our business, and we have offices located internationally to efficiently serve this important market.

PM: How committed is your company to the conservation of the environment and protection of its stakeholders' interests? What have you done so far to protect the environment?

JM: At Georgia-Pacific, we believe that the role of business in society is to help people improve their lives. We do that by providing products and services that produce societal benefits including shelter, hygiene, and convenience. We also do that by being involved positively in our communities and being responsible operators.

The manufacture of paper products requires a significant amount of wood, water, energy, and chemicals; the conversion of these resources into our products generates waste. We're committed to being good stewards of the environment, which includes being efficient with the resources we use and reducing the waste we put back into the environment. Some of the efforts that we take include producing over half of the energy we use as a company from renewable sources, recycling over 2 million tonnes of recovered paper a year, and employing industry-leading practices to ensure that our fiber comes from legal and responsible sources.

For over a decade, we have implemented an endangered forest program that was developed in conjunction with three major environmental organizations. Through this program, we help ensure that wood from high-conservation value lands does not get used in our facilities.

PM: What are your future targets for environmental protection?

JM: Conservation requires taking steps like those outlined in our Endangered Forest program to protect existing ecosystems. It also includes efforts to create positive ecological outcomes where there are needs. We're working with conservation groups to identify opportunities and we're making investments in those areas. We're currently working on a project to reforest land in California that was devastated by wildfire in 2018. We're also working with another group to manage longleaf pine habitat in the southeastern United States, a fire-dependent ecosystem that is home to many important species.

We continue to look for more opportunities to have a positive impact where we conduct business.