Established in 1966, Fabio Perini – a leader in the supply of tissue-converting and packaging equipment and services – is strengthening its presence in India.
In an interview granted to Paper Mart, Mr. Neil Murdoch, Regional Sales Director, Fabio Perini S.p.A., talks about the company and the tissue paper market in India.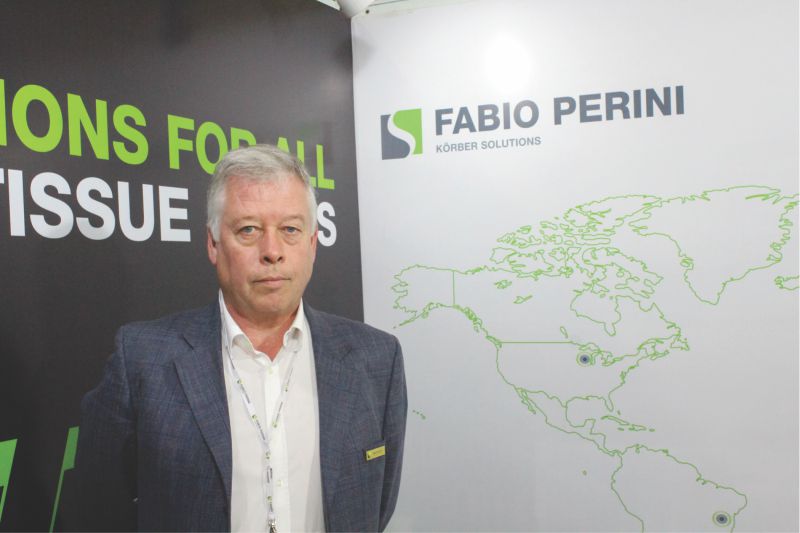 Excerpts.

Paper Mart: Could you tell us a little bit about your company and product portfolio?

Neil Murdoch: I represent Fabio Perini. Our Head Office is based in Lucca, Italy. Our manufacturing plants are located globally. In this way we have an international footprint for all our manufacturing machines. We have three plants in Italy, two plants in China, one plant in North America and one plant in Brazil, all producing converting and packaging machines for both rolls and folded products. We have a global footprint.

At Fabio Perini we are able to produce any sort of tissue product you can imagine – whether it is toilet roll, kitchen towel or folded products. The challenge for us here in India is really to make this technology available for machines having a lower performance. The technology exists. We have to do a little bit of re-engineering to make the technology become available for lower volumes, whereas it is usually associated with more sophisticated machines.

PM: The market for tissue and hygiene products in India is still growing. Do you think you can drum up business for your company in India?

NM: The Indian market for me is a very dynamic market. It is low in terms of volume at the moment. One of the difficulties I have seen in the past two weeks is getting a global figure, because the figures I get from different people vary considerably. What is common to all of them is 'growth'. They talk of a growth rate of between 8 and 10 percent, which is huge for international standards. So, the market itself is dynamic because even though people produce low volumes, they also produce sophisticated products, which is not normal for a market that has small volumes – and the capacities that I hear about would not justify sophisticated equipment. So, it is different from all the other international markets I have come across.

PM: What have you to say for the quality of the tissue paper made in India?

NM: What I have seen is that there are industry players here in India who have bought extremely high technology tissue-making machines. They are making very good quality bay sheets with virgin fibers. Secondhand tissue-making machines are coming into the market as well. There are suppliers or brokers who are bringing into the Indian market virgin fiber. You see, the quality of paper is not an issue. You can find good quality paper – the same standards that you find globally. You can also find recycled paper. So, I have not seen that as a barrier to making good quality products.

PM: Can good quality tissue paper only be made from virgin fiber?

NM: It is difficult to generalize across all the products and across all the markets. It is not possible to have an answer that covers all of them, because each market has a different way of approaching it. But the US is perhaps the most sophisticated developed market as far as tissue making is concerned. They have structured bay sheets, but even with structured bay sheets, they still use a certain amount of recycled fiber. They can use recycled fiber. So, linking it and saying it is all virgin or all recycled is not correct. There are manufacturers in Europe that use 100 percent recycled fibers, and they make excellent quality products. So, you can't generalize to that extent.

As far as forests are concerned, I think if you manage the forestry in the proper way as many people do – obviously, you don't touch tropical forests – then virgin fiber is a sustainable product to be used in tissue business.

PM: Do you strike a balance between quality and price when it comes to doing business in India?

NM: The Indian market is fairly differentiated, because it has quality products as well. The thing that I find unusual is that in a developing market – the way India is – you have products that have high sheet counts. A high sheet count makes the finished product more expensive because you have more fiber in it. So, to me, it's a little bit unusual for a market – where the consumers, maybe, don't have a lot of spending power – to have products that are expensive to put on the shelf. So, perhaps a lower sheet count would make tissue and hygiene products available to a wider public. At the moment, I see products with 350 sheet count or 400 sheet count. And then for certain businesses or hotels, you have very small rolls.

PM: Could you tell us about the new developments that have taken place in your company?

NM: At the moment, we are focusing a lot on the environment like many other companies, and we are busy developing alternative packaging materials to plastics. In our current product portfolio, we have machines that can manufacture products that are made completely free of plastic and glue. In these cases, we don't have, for example, glue associated with cardboard cores and glue associated with laminating products. We are developing equipment that will enable us to create paper packages at high speeds. We are very careful about the environment and will continue making special efforts to reduce our carbon footprint.

PM: What are your future targets?

NM: We have plans for India. I think, the market in India is really dynamic, and we would like to make our presence on it much stronger. So, we are looking forward to investing in India. This year, we have started with a sales office. We have two people there – one is in Delhi and one is in Mumbai. We are also looking for the next steps from the company's perspective on investments and products. But we would like to keep this part of our target confidential.

PM: Is there anything else you would like to add?

NM: We have the knowledge and capability of finding viable solutions for industry players in India.