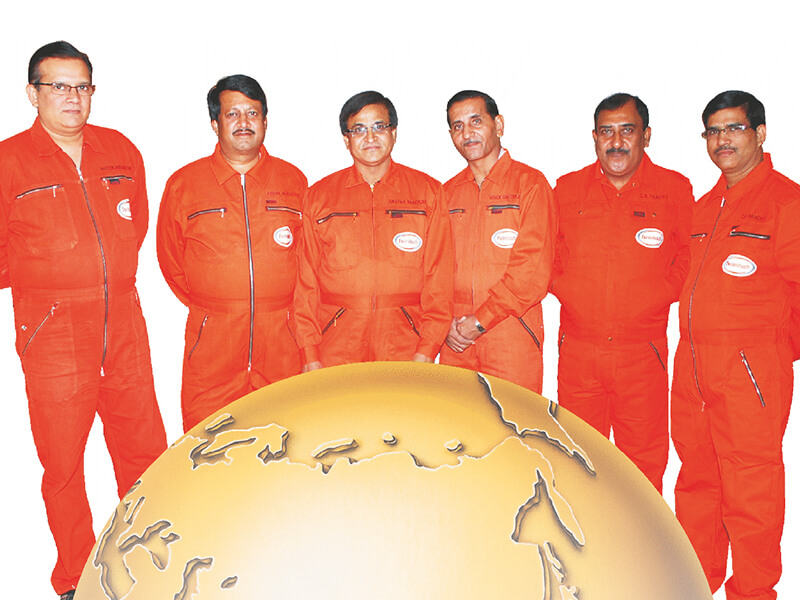 Mr. Ashish Mukhejree, a post graduate in paper technology & marketing and Mr. Naveen Shrivastava a BE in paper technology with an MBA, realized the importance of bringing higher technology to paper industry along with local technical services and started a company Foresight International in 1993. With their experience of visiting paper industry all over the world in their previous job and Mr. Mukherjee's hard core work experience of paper making at BILT gave them a wide spectrum of experience in various markets which they have used effectively for Indian paper industry. An aggressive providence of technical services locally has done all the magic.
They have a strategy to work right from paper machine to finishing house with focus on consumable products. This gives them the opportunity to work very closely with line managers and take their regular feedbacks on existing equipment. This feedback is translated into providing solutions through their capital equipment business. The main foundation is then provided with the aggressive service assistance to customers.
Foresight services are backed by the world class experienced principals who keep providing them the back up 24X7. They keep their portfolio dynamic so that to keep flexibility for providing technological solutions as per fast changing needs of paper industry at economical levels as far as possible. Their principals main focus is on paper industry and all born to die for paper industry as most of them have a very long experiences varying form 250 years to 25 years. Foresight has served more than 100 mills of India with their focus on 55 industries.
Paper Mart: One common market attribute is affordability (which at times leads to compromise in technology). How do you think about that, and how do you ensure that right technology/ solution is fit-in at right place?
Foresight International: It is good to talk about affordability but the real thing that leads to decision making about technology is its payback. Now despite the payback can be done in figures, it is subjective because everyone's perception on payback differs. We greatly feel that Indian paper industry has been very receptive to the technological upgradations all over the world. To provide you with an example our paper industry uses same technology of paper machine clothing what is being used all over the world. We feel from the point of view of all suppliers they we must flood our industry with the latest available technology in the world and that will be our contribution to paper industry. The right technological application is ensured by world class team of experts who supports us fully from various position to see that customer requirements are met.
PM: What innovations & practices you undertake to address the issues of Accessibility and Services?
FI: We ensure that we must spend time at all the levels along with the concerned personnel in the industry. This provides us good level of friendly feedback and what they need and when. Then, we translate this into technological offers and ensure that the offer has a high level of service back-up. This provides confidence to line managers to incorporate the solutions and products into their main stream giving industry an overall boost. This acts like a snow ball effect and a very close rolling of our structure along with paper industry requirements. We have a fully trained team of service executives who are capable of providing technical audit service to full paper machine and other parts of finishing house. Our services even include the specific technical audit of wire part, top former drainage, shoe press audits with complete press part material balance, full dryer part and hood balance survey. This can only be provided at this moment by big machinery builders at a fortune price.
PM: According to you what are the areas of improvement for the Indian paper manufactures when it comes to the technical capabilities and its know-how?
FI: We feel industry has an excellent level of technical capabilities. Industry engineers do not fear at all to explore and access new technologies and equipments. This we are comparing with a lot of other countries where most of the engineers stick to the existing routines and do not know what next hand is doing. But many times our paper industry investors resist going for newer technology and just taking decision on price basis. Nevertheless our engineers are smart enough to run it to success despite all odds but, sometimes in process of achieving to work within limitation the focus towards the quality is lost. To give you an example we have introduced the enzyme conversion of Starch Patented kitchen for size press, the response for this was tremendous and we have substantial inquiries and order just in beginning of introduction. We feel the investors should be courageous enough to invest in big or even bigger capacities and better quality of equipments and re-write the book of economics. The investors should go for the discipline investment rather than going for opportunistic & haywire investment decisions in order to provide future to Indian paper industry. Right now the focus of government of India is towards infrastructure building, but the whole of infrastructure is build up on paper, hence the paper industry should also be made priority industry for India. Then only it can grow to required levels. We can take example of China who has registered paper industry as their focus industry along with infrastructure.
PM: You've created and put together a terrific product portfolio for Indian paper industry. What aspirations of consumers are you trying to meet and surpass?
FI: We have a simple objective to meet consumer's aspirations that "whatever has been said should be done". In other words, the true assessment of customer objective and providing exact solution is what serves the ultimate purpose. We deal with a very wide spectrum of consumers with varied objective requirements. It is indeed a challenging task to keep up with our customer's objectives but we are trying to do our best.
Product Portfolio
Consumables:
• BTG, Switzerland for Coating and sizing requirements
• Heimbach, Germany for Paper machine clothing
• IKS, Germnay for Knives.
• Johnsonfoils, USA for Ceramic dewatering elements
• William Kenyon, UK for Carrier ropes & roping systems.
Capital Equipments:
• ABK Machinery, France for full paper machine and its parts.
• Andritz Rollteck, Germany for Rewinders
• BVG Germany, for coating and sizing kitchen.
• Milltex Italy, for sheet cutting machines
• RCS Switzerland for Reel handling and reel packing systems.