Indian Paper Manufacturers Association (IPMA) hosted the Annual Session and Awards Function on January 13, 2023, at Hotel Le Meridien, New Delhi.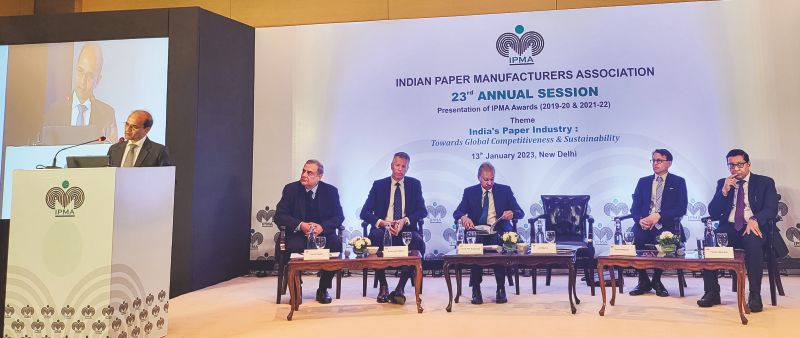 Indian Paper Manufacturers Association (IPMA) conducted its 23rd annual session & awards function in Hotel Le Meridien, New Delhi. Themed 'India's Paper Industry: Towards Global Competitiveness & Sustainability', the session witnessed the participation of many stalwarts from the industry. The apex body for the paper industry also announced its new office bearers at the event.
Mr. Pawan Agarwal, Managing Director, Naini Papers Ltd., and Mr. Vadiraj Kulkarni, Divisional Chief Executive, ITC Ltd. (PSPD) have been elected as President and Vice President of the Indian Paper Manufacturers Association (IPMA) respectively.
Watch: Paper Mart News Roundup
The event began with a welcome speech by Mr. AS Mehta, President & Director, JK Paper Ltd. He further discussed the scenario of the Indian paper industry. "Raw material security is going to be one area where we all need to be concerned. Unless we do extensive plantation activities, we may suffer. Thankfully, some of the players have been investing heavily in the plantation and clonal R&D activities but we need to do much more so that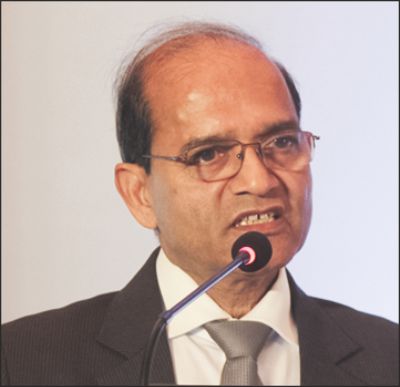 we have the right kind of material at the right price and a competitive price," said Mr. AS Mehta.
"Another area that is impacting the industry is waste paper. We should change this nomenclature and call it recovered fiber. How do we improve the collection system, what kind of infrastructure is needed and how can the industry help so that the fiber is recovered are some of the things we need to focus on. More than 55% of the fiber is recovered fiber today; hence, we can't ignore this area. The industry will have to play a very effective role in the fiber recovery segment.
On the various consumption parameters, whether it is power consumption, water consumption, or other environmental-related parameters, the industry has done a fantastic thing. Water consumption is just one-fourth of what it used to be, and energy consumption has come down by 30%, but we need to continuously do this.
Although the writing & printing segment is not growing globally, it is growing consistently in India due to the emphasis on the education sector. The packaging sector is also doing very well with double-digit growth. With all the demand drivers in place, the only thing that we need is to be far more competitive and agile so that we can take full advantage," he added.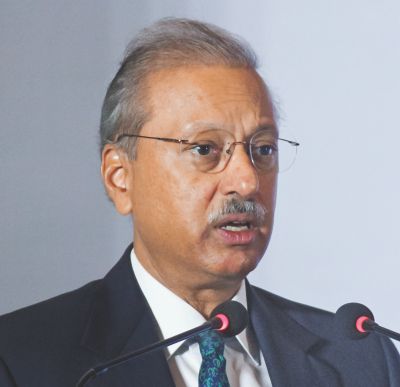 The welcome address was followed by a speech by the chief guest Mr. Harsh Pati Singhania, Vice Chairman & Managing Director, JK Paper Ltd.
Emphasizing the plantation activities of the industry, Mr. Singhania said, "The Indian paper industry is a shining example of a domestically created industry (Aatmanirbhar); it caters to the domestic market, produces domestically and uses largely domestic raw materials and inputs."
He further pointed out that sustainability is going to be another very important aspect of the industry. Elaborating on the current scenario of the paper industry, he added, "On one hand, you're observing structural changes in the form of consolidation and shift in the product portfolio. On the other hand, the industry is preparing itself to address issues such as climate change, sustainability, biodiversity, etc. The global paper market continues to grow at a CAGR of 0.5% to 1%, pivoting strongly on the packaging segment. However, there has been a decline in the printing and writing segment. Large global players such as Stora Enso and Sappi have carved out their printing and writing businesses and are now focusing on the packaging segment. The Indian paper market remains the faster-growing market, globally led by growth in the packaging segment. The printing and writing segment is still growing in India, though the outlook for segments within printing and writing i.e. newsprint and cream wove is not positive. These grades have shrunk from a 50% share in FY 2010-11 to about 32% in FY 2021. On the other hand, grades like copier and maplitho are continuing to grow. The packaging segment has increased from 47% to 62%. The pulp & paper industry is witnessing extraordinary challenges, and to emerge as the winner, we are required to transform, adapt, and innovate".
Talking about the near future, Mr. Singhania said, "In the coming decade, 2020-2030, there is a need to transform, adapt, and innovate", adding that sustainability has three key pillars, environmental, social and economic. He further informed that environmental sustainability has two dimensions. The process needs to be resource efficient, and the product should either be easy to recycle or a substitution for fossil-based materials.
"Companies are responding with bold declarations, mainly towards reduction of plastics and carbon emissions. Top FMCG companies have made declarations towards adopting sustainable packaging, focusing on increased recycled content, reducing the use of plastics by eliminating plastic peripheries such as single-use bags, reducing packaging weight, and innovating plastic substitutes. Likewise, several large corporates have made declarations towards becoming carbon neutral by adopting a hundred percent renewable energy strategy. The good news is that for the pulp & paper industry, this shift towards sustainability is actually an opportunity rather than a challenge. The pulp & paper industry inherently has sustainability, at the core, because wood products such as pulp and paper are renewable, biodegradable and recyclable. Pulp & paper making is an integrated process and recovered paper can be recycled multiple times to produce various papers and boards, therefore increasing the lifetime value of paper. Thus, the industry is truly at the heart of the circular economy," he said.
The inaugural session was followed by the presentation of IPMA Awards: 2019-20 and 2021-22. JK Paper Ltd. won the IPMA Paper Mill of the Year Award for 2021-22. Seshasayee Paper and Boards Limited (SPBL) bagged two awards — IPMA Paper Mill of the Year Award for the year 2019-20 and the IPMA Energy Conservation Award for 2021-22. ITC Ltd. (PSPD) was conferred with the IPMA Energy Conservation Award for 2019-20. Meanwhile, IPMA Environment Award for 2019-20 and 2021-22 were presented to Tamil Nadu Newsprint & Paper Ltd. and Bilt Graphic Paper Products Ltd. respectively.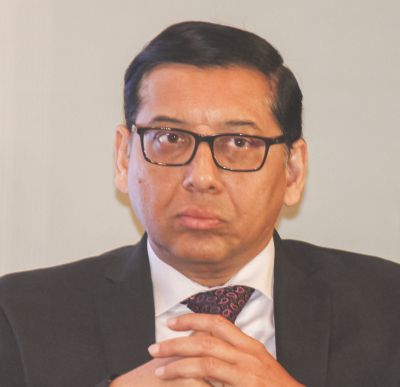 Presenting the vote of thanks at the session, Mr. Pawan Agarwal, Managing Director, Naini Papers Ltd., asserted, "I would like to start from a quote of Ralph Waldo Emerson, which goes, 'Whatever you do, you need courage. Whatever course you decide upon, there is always someone to tell you 'you are wrong'. There are always difficulties arising which tempt you to believe that your critics are right. To map out a course of action and follow it to an end requires some of the same courage that a soldier needs.'
I would like to congratulate Mr. Vadiraj Kulkarni of ITC Ltd. for being elected as the Vice President of IPMA. It would be my privilege to work with him at IPMA for the next two years. Both of us look forward to the support of all of you who are present here. I would like to express my sincere gratitude to all the past presidents, office bearers & members of the IPMA committee, CEOs of the paper industry players, and everyone for their guidance and unwavering support.
I would like to end my vote of thanks session with a couplet in Hindi – 'Raah Kathin ho Jitni, Sankalp Majboot ho Mera.. Nazar Kamzor pad Jaaye, Nazariya Mazboot ho Mera'. For our overseas friends, I would like to translate this as 'The road could be difficult but my resolve should be strong. The eyesight could be weak, but my vision should be strong'."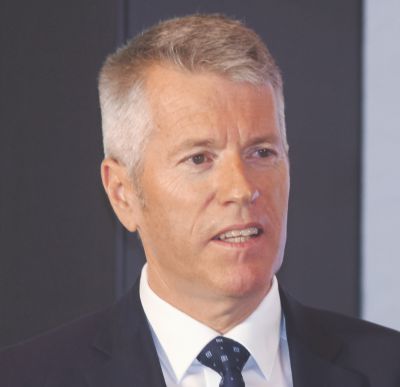 Talking about the Indian paper industry, Mr. Andreas Endters, President & CEO, Voith Paper GmbH said, "India is a huge market. If we look into the future to talk about trends and opportunities, it is difficult to assess in the world of unreasonable challenges due to the volatility and unprecedented situations, and a scientific approach might fail.
The good thing is that paper has been quite important in the past; it is still a key product today and will be even more important in the future because 'sustainability' as a key characteristic of paper is a unique aspect. Paper is produced from renewable fibers, is recyclable, and biodegradable, making it very different from other materials and providing you with good opportunities. When we talk about these opportunities, it includes – legislation pressure; consumer packaging becoming sustainable (particularly in Europe and the USA markets); and the restriction on single-use plastics around the world. In fact, it is not just the legislation but the interests of consumers all around the world to go for sustainable choices in their consumption patterns and behaviours. These factors, in turn, impact retailers and mega/large-scale corporations and top brands to adopt sustainable packaging materials. Since a product needs to be protected in transit and storage and the packaging should display the branding, paper and paperboards as packaging materials are quite unique. Besides conventional packaging materials, pulp molding is a new form of packaging.
When we talk about the substitution of plastic, this also means that paper has to substitute the functions of plastic, which means it should be resistant to grease, humidity, vapour, or smell. Earlier, these parameters were not easy to fulfill. However, there is a huge development around barrier coatings that are fulfilling all those considerations. In just a couple of years, there have been significant developments made in the segment of paper-based packaging. Today, technology is advanced enough to make such solutions possible. Also, there is a huge push from the consumers in this regard. This is one of the major growth opportunities for the paper industry. To achieve futuristic transformations, any industry needs to adapt and keep pace with the growth opportunities. In our understanding, there is a positive growth story for paper production globally.
The Indian paper industry is growing, which is great news. Also, we think that there are huge growth opportunities for the graphic papers segment in the country. Amongst the major demand factors in the paper and paper-based packaging industry are the growing education sector and the demand in consumer packaging. In the Indian paper industry, the share of paperboard as a segment is increasing and is expected to increase in the future.
Also, there is a good growth potential for segments such as tissue paper, speciality papers, and so on. And as mentioned, if we want to grow the production of paper and paperboards, the availability of fiber will be the key consideration. Interestingly, the share of virgin fiber, in the overall fiber consumption, is decreasing while the demand for recovered/recycled fiber is increasing. At the same time, there are large-scale plantations of Eucalyptus trees in South America that are actually fulfilling the requirements of a large part of the world, with China occupying a lion's share of the production.
In addition, using the data by artificial intelligence, we are being able to develop algorithms that help us to optimize the paper production process. This enables us to conserve fibers, energy, maintenance costs, and human labour. Thus, on an overall basis, one gets around savings with digital and intelligent solutions. We have developed algorithms that equip us with a virtual sensor for getting the real-time strength of the paper at any minute. This, in turn, allows optimizing the paper production at the site."
Concluding his presentation and emphasizing sustainability, Mr. Endters, said, "The industry should increase their dependence on renewable energy instead of fossil fuel. For instance, the electrification of the processes is one of our major focus areas. We are working on intensive things in order to increase our consumption of renewable energy. Also, the use of hydrogen as a fuel is going to increase, replacing some of the fossil fuels that are currently being used. Thus, those are two major aspects that will become very important in the future. The industry should be more sustainable in the future in order to ensure that we make our world better and we have opportunities to do that!"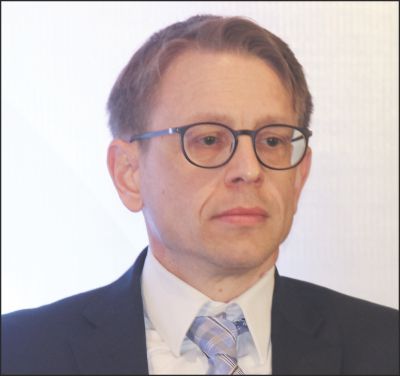 Giving his keynote presentation, Mr. Tomi Amberla, Director, AFRY Management Consulting said, "The size of the global paper and paperboard market is about 430 million tonnes and the growth has been quite consistent. In the past two-three years, there have been certain disruptions like the financial crisis and COVID-19 when the market temporarily declined. However, it has been a steady growth. There was a slowdown certainly in a few segments of the industry.
There are many mega-trends that are influencing the development of the paper industry, such as urbanization, increasing disposable incomes, and sustainability trends. Also, the bid to push plastic substitution is favouring sustainable products such as paper. On the other hand, it is also providing huge growth opportunities for paper-based packaging in the e-commerce sector around the whole world. Thus, it is clearly the packaging sector, which is leading the growth of the paper industry. For instance, if we look at the European folding boxboard segment, just less than 10 years ago, there used to be a situation wherein Europe was supplying to the regional markets. However, with these new conversion and expansion projects, Europe has become dependent on exports and high hopes are being set for North American opportunities. Also, there are huge investment opportunities in the North American market. Thus, it now looks like the packaging board segment is burgeoning in both Europe and North America.
Also Read: 'Energy Conservation, Cost Reduction and Developing Alternate Source of Energy'
In recent years, India has become one of the largest consumers of paper and paperboard with a demand of about 20 million tonnes. It seems that there are huge growth opportunities in the Indian market. Our view at the moment is to expect robust growth to continue in the market for the upcoming 10-15 years. Also, we are expecting above-average growth for certain specific segments such as virgin fiber-based paperboards, container boards from recycled sources, and so on. The writing & printing paper segment is also proliferating due to increasing business activity, and the development of education sectors while the market size is still reasonably good but not as big as the packaging segment. Thus, the domestic market opportunities are quite promising and healthy. However, beyond the domestic market, there are other significant market opportunities from other parts of the world. As a matter of fact, in recent years, exports have been going up and are showing an upward trend with the exception of the COVID-19 pandemic.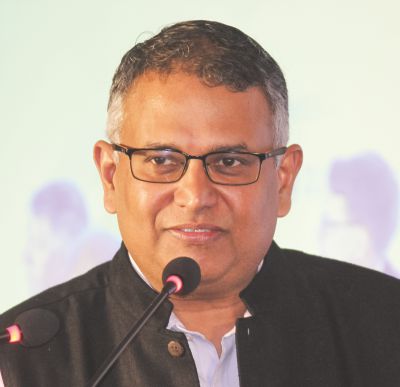 Thus, to conclude my presentation with some of the key takeaways, the mega-trends are the increasing demand & consumption of different paper grades and the surge in the packaging sector which has a mixed market outlook depending on the region. The paper producers have undertaken strategic transformations of many of their traditional business models. From a market perspective, this has been an interesting time period bringing a series of opportunities for Indian paper producers."
The discussion included a question-and-answer session with the audience. Meanwhile, Mr. Vadiraj Kulkarni, in his concluding remarks, thanked all the participants. "India is on a road trajectory and in the industry, we go through a lot of ups and downs, but in the long-term, we have a good growth story," he concluded.