Krishna Tissues, from its incorporation in 2005 with 100 TPD coated duplex board plant, has grown rapidly to amass a huge 900 TPD of capacity in its two units. Mainly producing kraft liner boards, white top liners, coated duplex board, coated kraft liner, the company has a near complete product basket in recycled packaging segment.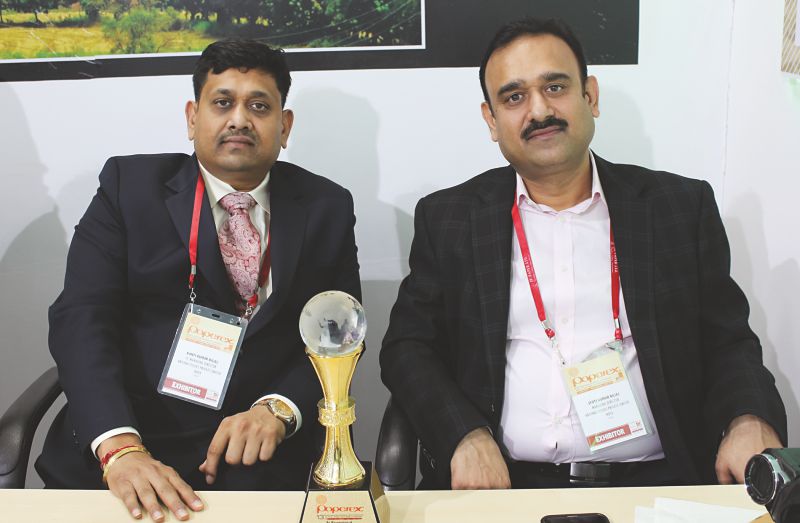 Paper Mart had a brief interaction with Mr. Jyoti Kumar Bajaj, Managing Director, Krishna Tissues Private Limited and Mr. Kanti Kumar Bajaj, Jt. Managing Director, Krishna Tissues Private Limited, where they explained the reasons behind the fast growth of the company. Two units at Bagnan and Burdwan in West Bengal are producing desired quality coated duplex board and kraft liner, which are truly the import substitutes in the category, they said. Excerpts:

PM: Please tell us something about Krishna Tissues, major points in the growth from the beginning.

Jyoti Kumar Bajaj: Krishna Tissues is a family owned business, which was conceived in the year 2005. We put our first paper mill in Bagnan, West Bengal and started the commercial production in the year 2008. Initially, we started with 100 TPD of coated duplex board and gradually increased the production to 400 TPD. Subsequently, the second unit for producing high quality kraft liner and white top liner was set up at Burdwan, West Bengal. We can definitely call our products as import substitutes.

The capacity of the second unit is 500 TPD and the commercial production started only recently, in April 2017. We have already attained a near 100 percent capacity utilization and our total production of duplex board and kraft liner comes to around 850-900 TPD. You can definitely say that Krishna Tissues is one stop solution for all packaging needs. If you need a mono carton, we have duplex board of different bulk and qualities. If the need is of CFC cartons, we are also manufacturing kraft liner boards.

PM: You say that you are utilizing almost 100 percent of 900 TPD of installed capacity. Did you face any hiccups during your course to 100 percent capacity utilization?

JKB: Every manufacturing set up faces some problems at first in order to realize its potential capacity. One cannot take up 90-100 percent utilization in the first go. Of course, there were few challenges in the beginning, but nothing sort of unusual. We have a good team of technocrats and with dedicated and continuous work of our technical people, we overcame those challenges in a very short span of time. And, happily, we are now running at 100 percent capacity in both the units.

PM: Could you please be a bit more specific about what all you are producing in board and kraft segments?

JKB: In the board segment, the main product is coated duplex board and coated kraft liner. It is being used in mono cartons in the form of sweet boxes, garment boxes, notebook and textbook covers, and so on. There are a range of varieties of duplex board, form high and medium quality HWC duplex boards to LWC ones. Then there is coated kraft liner board, matching global quality and preferred for food boxes and such other purposes. In the mono cartons, customers want kraft liner in order to increase the strength of the box with better printability. Since kraft doesn't give much printing freedom, customers usually need coated white top liner with strength in the paper as well as printing ability. For the very purpose, we introduced coated kraft liner board recently and it has already gained good success in the market.

We are making coated kraft liner variety mainly in the first unit. In the unit two, we are making kraft liner board, white top kraft liner, and semi-chemical fluting. All of these products are import substitutes. The corrugators in India were highly dependent on imports. There was not much choice with them except for importing and planning for six-month inventory in advance. Also, because of the dollar fluctuation, high risk was involved. They are now getting paper of international standard at domestic price with low inventory maintenance. The customers are satisfied and happy with the product, and we are receiving good response for the same. This is how we have achieved full capacity.

PM: Please tell us about the markets you are covering in India and overseas. And, how are you competing with the big players?

JKB: Our presence is all over the nation. We export to the neighboring countries as well – Bangladesh, Sri Lanka and China to name a few. A good amount of quantity is exported to UAE also. We have now slowly started to export to Turkey and other countries. As soon as the market grows, we plan to put up a third machine, but not now. Besides, we can leverage the existing capacity for further expansion. In the second unit, the machine has been designed in a manner that allows us to add further 300 TPD, taking the capacity to 800 TPD from the current 500 TPD, with necessary modifications.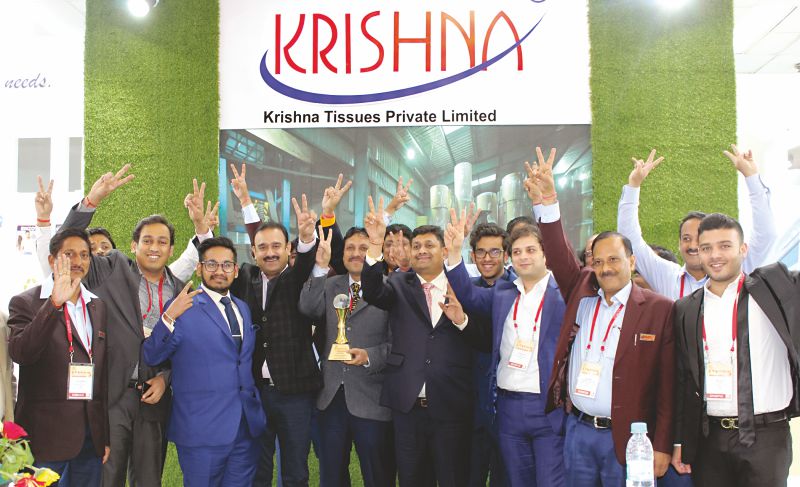 And talking about the competition, in kraft, there are no big players in the country right now. No one in India is producing 500 tonnes per day with machines having deckle size of 5.6 m. Moreover, there is nobody producing kraft liner board and white top kraft liner. We thus have no competitors in kraft. Just as I said earlier, it is 100 percent import substitute. The people are happy with the material as they are getting good quality in India.

In board, there are some 4-5 big players, and there is a healthy competition in this segment. Moreover, the market grows when there is competition. The market expands in the competition. And, we have our own network of dealers and converters who buy from us only. So, there is no challenge as such for us in the market to sell our products.

PM: How do you rate the performance of Krishna Tissues in the last 2-3 years, both in terms of sales growth and capacity?

JKB: We started the second kraft unit in the month of April, 2017 only. In the period of barely four months, we have achieved 100 percent of capacity utilization. We invest regularly in the company to optimize both quality products and operations. We upgrade our technology on a regular basis. People are appreciating us for the progress we are making in our work. We have increased our coated duplex production from 100 to 400 TPD, which again due to acceptance of our product in the market. The growth in sales and production is only the indicator of our continuous work on fronts such as quality improvement, process efficiency, and timely innovations as per market needs.

PM: Having a sizeable capacity of 900 TPD in the packaging segment also calls for some devotion to R&D on products front. Tell us something on that side.

JKB: R&D and quality control are both different things. R&D is a regular process, which is involved round the clock in gathering product related data from market and ascertaining what is the current need in terms of product demand. Accordingly, R&D department find ways to innovate a new product or improve the existing ones. We have a proper R&D team, which works on this line. Through such R&D only, we came to know about the market for coated kraft liner. Subsequently, we thought of making the product and finally got successful in it. The R&D team is exclusively focused on such tasks and is not concerned about production or quality, for which we have different departments.

Regarding quality control, I would say, my production people do not control the quality control people. They are individual entities. Once the goods are produced by the machines, the ownership is transferred to the quality control person. They then decide if a product is saleable or not and if saleable, then on which grade. The decision lies with the quality control people whether to re-pulp, degrade or sell the product. After their clearance, the products go to the market as it is. We have got very strict quality check rules.

KKB: For packaging grades, we always try to reduce the GSM of the paper. We continuously do R&D to reduce the GSM of the paper with increasing the strength at the same time. This is the key mantra of packaging, i.e. reducing the GSM by maintaining the same strength and making it printing-friendly. In today's competitive market, it's preferable to have lighter, stronger, and cheaper product, which is also logistics-friendly. We have achieved a lot in this respect in the new plant by reducing the GSM and maintaining/increasing the strength. We are giving products with better RCT and SCT results to the corrugators.

PM: When you compare your product with the international product, what do you find?

JKB: I guess there is a myth widely prevailing in our country that international products, especially America or Europe, are better in quality than the domestically produced goods. Initially, people had this notion about us as well that it won't be possible for Krishna Tissues, being an Indian mill, to make products at par with the international standards. Gradually, after a month or two, people researched and got to know that our kraft liner and white top liner is better or at par with any international product available. As quality speaks, people started believing in our products and the results are visible. Now, customers know what we serve is the best. We are receiving orders in abundance.

PM: As Krishna Tissues is a young company, how does it handle the environmental pressure?

JKB: We are extremely strict when it comes to handling environmental norms. We reuse 90-95 percent of the waste water generated. We are laced with one of the most modern ETP systems along with technically advanced people to run it. For Krishna Tissues, complying with the environmental norms is the priority, and production is the secondary thing. If there is an issue with the ETP system, we immediately stop the production.

Our main raw material is the waste paper, which is called the secondary fiber. Apart from that, we use virgin pulp sheets, which we import. If you look at the current scenario, you won't find any mill reusing 90 percent of the water. The quality of the treated water is absolutely perfect. We have a fish pond and the water, which we discharge to the canal, goes through the fish pond with fishes thriving in it. It shows that the water we are discharging is perfectly healthy.

PM: Your views on growing packaging market. Going forward, do you plan launching some new products?

JKB: The future of the paper lies in packaging. Due to e-commerce, rising middle-class, and growing economy, the packaging is flourishing. Both online and offline, the demand for packaging has become never-ending. And as we are in packaging, we can say that the growth in the packaging industry is about 7-8 percent, which is a steady growth and it means that the segment will keep growing with either this rate or more.

Definitely, being a packaging company ourselves, we will also try to match with the market growth. In the past years, we have leaped from duplex board to kraft and future may also inspire us to add something new in our kitty. R&D and product development are usual day-to-day activities. Based on the customer demands, market scenario changes quickly. Therefore, we change too and design the product as per the market scenario. In recycled board, we are offering almost all the grades. The current demand in the market is for semi-chemical fluting paper, which we are planning to market and manufacture on a large scale.

PM: Do you wish to add something?

KKB: We would try to grow with the paper industry and are very much bullish about the packaging grades.

JKB: Growing is alright, but the paper industry should grow with keeping the environment in mind. Growing sustainably by addressing all key environmental concern is the kind of growth Krishna Tissues would be aiming for.