New Kemi softwood and hardwood pulp mill is to be built at a cost of EUR 1.6 billion.
February 11, 2021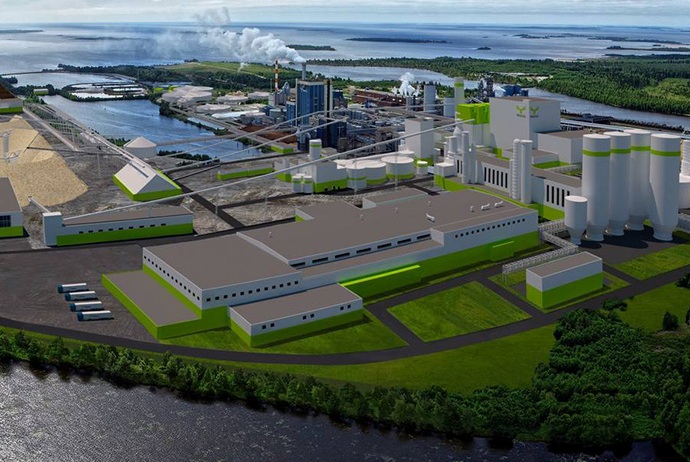 Metsä Fibre, part of Metsä Group, has made the investment decision to build a new bioproduct mill in Kemi, Finland. The value of the investment is EUR 1.6 billion and it is the largest investment ever made by the Finnish forest industry in Finland. The construction phase will take approximately two and a half years, and the mill will be completed during the third quarter of 2023.
Kemi bioproduct mill will increase the annual value of Finland's exports by approximately EUR 0.5 billion, and the positive annual income effect in Finland from wood sales and domestic purchases will also be approximately EUR 0.5 billion.
Wood required by the mill will be procured from sustainably managed forests, and the origin of the wood is always known. The Kemi bioproduct mill will use approximately 7.6 million cubic metres of pulpwood a year, which is 4.5 million cubic metres more than the current pulp mill in Kemi. Wood is planned to be procured mainly from Finland. The Kemi bioproduct mill will produce some 1.5 million tonnes of softwood and hardwood pulp per year, as well as many other bioproducts.
The Kemi bioproduct mill will be built using the best available technology. The technological level meets and even exceeds the EU BREF requirements.The main partners for the construction project are Valmet, ABB, AFRY and Fimpec. The project will be implemented as buyer-driven subcontracting, which also allows for the participation of smaller companies.
Also Read: Stora Enso Will Close its Virdia Operations in the United States.
Of the total investment to the Kemi bioproduct mill, EUR 1.6 billion, 40% will be financed with domestic equity and 60% with debt financing.