"We brought to market our first product – a food contact paper which is now one of the two solutions approved by one of the UK's largest supermarkets for use."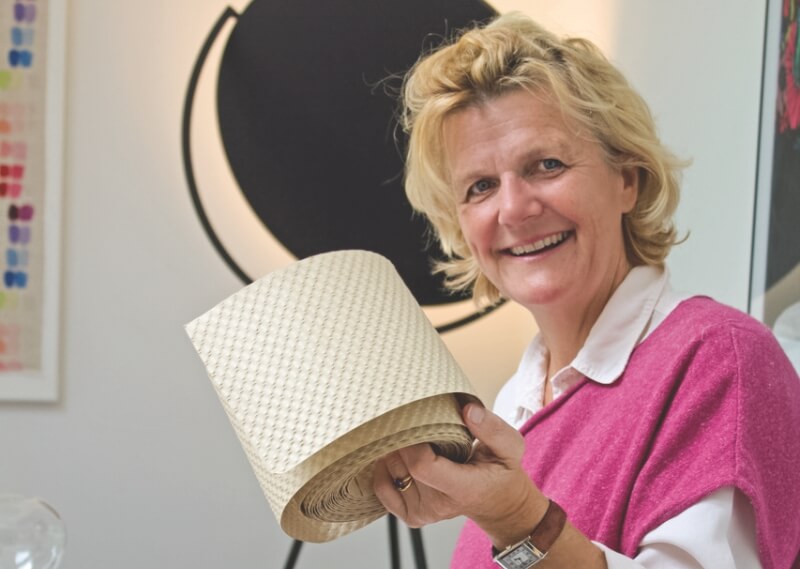 The concept of producing paper from agricultural waste is not new. In the early 1980s, India got its first paper mill which utilised bagasse – the sugar cane residue – as the predominant raw material. However, with the limited availability of wood resources and rising demand for fiber, the paper industry is now aggressively looking out for similar options including rice straws, cotton flax, hemp, and grasses. Paper Mart came across Tensei Limited, a biotech company that intends to normalise the use of agricultural residue for paper and packaging purposes, and interviewed its CEO and Founder, Annabelle Cox, to know more about her concept and formulations.
Paper Mart: How did the idea to start Tensei come about?
Annabelle Cox: Tensei Limited was born out of another company called SCIN, the UK's largest materials library and resource located in Central London. I founded SCIN with an objective of creating events to draw the specifiers – notably architects, designers, and procurement teams to find new materials. In 2013, we created an event called 'SCIN on the Farm'. This featured some materials that had evolved from farm materials including straw. One day, a researcher showed me a Margaret Atwood book printed on straw paper and this was the light bulb moment – the realisation that we could produce papers and other materials from straw.
So I gave up SCIN and set up Tensei with some other interested parties. At that stage, SCIN worked for 179 architectural practices and was well known within the UK design industry so this was a tough choice. However, the vision of keeping trees in the ground and developing technical materials from what is predominantly agrifiber waste– crop waste, grasses, and unrealised processed biowaste was too strong.
PM: What have the significant accomplishments been for the company so far?
AC: In 2013, we started to evaluate the technical opportunity using these fibers by developing a specific paper and comparing it against its wood pulp nemesis.
2016: We commercialised and started developing new papers having spent three years developing our technical know-how along with our initial pulp and paper supply chain.
2019: We adopted and further developed a fiber calculator to enable us to rapidly formulate furnishes from non-wood pulps to better curves and performance specifications requested by the paper mills, and end-user clients and to develop our own papers. It helps to use local pulp fibers to create local solutions, remove the transportation issues and support the local economy.
2020: Following rigorous development involving all areas of a complex supply chain and highly technical compliance requirements, we brought to market our first product – a food contact paper which is now one of the two solutions approved by one of the UK's largest supermarkets for use in fresh produce.
2021: We are in development with a further two FCM products, one construction paper, and a number of other biowaste-based compounds for different processes and markets. We anticipate the first two of these entering the global marketplace in 2022.
"We are in development with a further two FCM products, one construction paper, and a number of other biowaste-based compounds for different processes and markets."
We are also expanding the network of mills and pulp producers we are working with, to ensure we can accommodate the supply of locally sourced materials to local mills producing material for local and global markets. With locally available fiber sources that can be developed into furnishes that work with existing technologies to produce high-quality products, we see little reason to import pulps from distant forests.
PM: Kindly shed some light on the product portfolio and product development process of the company along with the USP.
AC: We work with existing processes and processors which is particularly interesting as we work together with paper mills to adopt these alternative fibers. What we do is work with the mill to optimise the process to use the pulp(s) and provide a furnish formulation – this can be altered to accommodate different pulps according to what is ideally locally available. It could be 100 percent non-wood or part of a formulation that includes wood pulp. We need to accommodate what the mill can or is willing to process.
Our USP is our ability to use agrifiber and biowaste to create best-in-class materials. For example, the food contact paper that we have developed is a single paper sheet, uncoated and wood free that can replace HDPE. Various independent tests have shown that this simple paper material can extend the shelf life of the product it protects.
In addition to this, we have developed a technical paper for the construction industry and other lightweight food contact papers similar to glassine but not as heavily refined. These are recyclable and biodegradable.
Our portfolio also extends into biocomposite material compounds for injection moulding and thermoforming. This is still in its development but should be commercialised next year.
Current research focuses on additional processing and chemical extraction. Our work as a biotech company also extends into the development of some interesting materials from lignin and we are looking for paper mills and in particular non-wood pulp mills that want to explore revenue streams from the liquor.
PM: What are the different manufacturing challenges you face, and how do you overcome them?
AC: The key issues for us lie in current processing availability and concerns introducing these non-wood fibers/pulps into existing operations. For the paper mill, these include the consistency and availability of the agrifiber pulp supply and the ways to mitigate this issue. We do this primarily through our fiber calculator as we can produce the same technical specification using different fibers and refining.
The limitations mills have with regards to the machinery or refining capabilities is another issue. We, therefore, work with the mill to ensure the furnish we develop works within their operational capabilities or make suggestions to optimise their operation to accommodate these agrifibers using small rectifications. Unless this is a new market product, we need to either demonstrate that the use of these fibers produces 'best-in-class' solutions or can save costs; for example, enabling a mill to produce more paper (not really manufacturing but an obstacle).
PM: The black liquor generated by an agricultural residue-based plant is said to be more than that generated by a wood-based plant. What are the steps taken by you to treat the vast quantities of effluent?
AC: In most instances, as we know liquor in wood-based paper is used in the recovery boiler to help generate steam. The issue with the plant is that some of the pulps produce high silicate content, and this needs to be extracted to be able to put into the recovery boiler. Our senior technical team has been involved in developing patents for successfully dealing with this specific issue so can advise on how to handle this using the specific processes they have been involved with. One of the by-products is also used in the tyre industry and the extracted silicate in construction.
PM: The aim of producing paper with agro-waste materials is an ambitious one, however, is it economically viable?
AC: We have done a lot of research into this and the challenges and opportunities that arise from issues surrounding carbon reduction – notably climate change, and identified managed forestry resource deficiencies, have reassured us that this is the zeitgeist moment for what we are doing and it is economically viable.
As an example, in the past year, wood pulp price has increased in Europe by 60 percent whereas the wheat pulp has remained much more stable. Clearly, this is demand-led. However, the flexibility to be able to use non-wood pulps will help to mitigate the risk for some, though the pulp price is usually higher. There are also studies that conclude that less non-wood may be needed to produce the same tonnage of paper. Bagasse for example is one such pulp that has been identified.
Equally, we are confident that we can deliver new papers and materials that can compete with plastics in certain markets over and above the capabilities of wood pulp. Hardwood and softwood pulps have fairly generic pulp specs and this makes their use less risky. We can not only use blended pulps to emulate them, but also offer furnishes that are technically more superior. This gives us a point of differentiation.
Compliance and enforcement are also on our side as brands look to reduce their own carbon footprints or ensure they do not have to pay fees leveraged from plastic taxes or producer responsibility.
"Our USP is our ability to use agrifiber and biowaste to create best-in-class materials"
Furthermore, the opportunity to help farmers generate revenue from their waste is part of our mission. One of the UN Sustainable Development Goals aims to alleviate poverty and the adoption of these agrifiber wastes is an important contribution to improving household income in agricultural areas.
PM: Do you face any logistic challenges while sourcing agro-waste? Tell us about your supply chain.
AC: Unfortunately yes! The current non-wood pulps are predominantly in India and China so this immediately creates issues in transportation costs for markets in other territories. There are also resources in Europe we are using and are aware of. We support new 'players' in this rapidly growing industry.
Also, there is not as yet a recognised and trusted international standard to ensure these agriwaste pulps are both environmentally and ethically sourced. One of our directors is a delegate member of Roundtable Sustainable Biomaterials (RSB) that is growing in its sphere of influence and has developed a sustainable certification towards this required traceability. At present, the focus is towards biofuel but it is changing and this will help these pulps to be more rapidly adopted. To date, we have done our own due diligence and prior to COVID, visited many pulp and paper mills. We very much look forward to picking this up again.
PM: What should be done for agro-based models to become more widespread?
AC: Adoption of the following in the supply chain can make agro-based models to become more widespread.
Customers:
Industries and consumers must be prepared to not only adopt them but demand these above other raw materials (where relevant), and accept that there may be an initial possible cost. It keeps trees in the ground and reduces the energy footprint of shipping pulps around the globe.
Producers:
Paper mills and convertors need to actively develop new papers or moulded products using agrifibers to create market demand.
Raw material processing:
There are simply not enough global agrifiber bio-refineries or pulp mills. Investment into the associated technology is needed to be able to commission the processing units to convert the field straw into an industrial feedstock. This technology or economic evaluation is territory and market dependant and we need to have units that produce a small amount of pulp at a micro-level and potentially portable to large permanently sited constructions. The investment will only happen when the key customers actively demand a shift change. This will occur when raw materials supply decreases through changing societal habits and the growing population. Climate change legislation forces them to innovate and consumer demand forces change as customers actively start purchasing more sustainable products.
The brands already prioritising sustainability initiatives, will understand that agrifiber waste is an opportunity to use a feedstock that contributes towards reducing climate change especially as it will have a positive impact on their triple bottom line and therefore balance sheets.