Tetra Pak has become the first carton-packaging company to launch paper straws in Europe. It will put its paper straw innovations into the public domain to encourage industry collaboration and will explore bio-degradable materials.
Riccardo Castagnetti, Director, Portfolio Planning & Strategy, Packaging Solutions Team, Tetra Pak, talks about Tetra Pak's newly launched paper straws in an interview given to Paper Mart.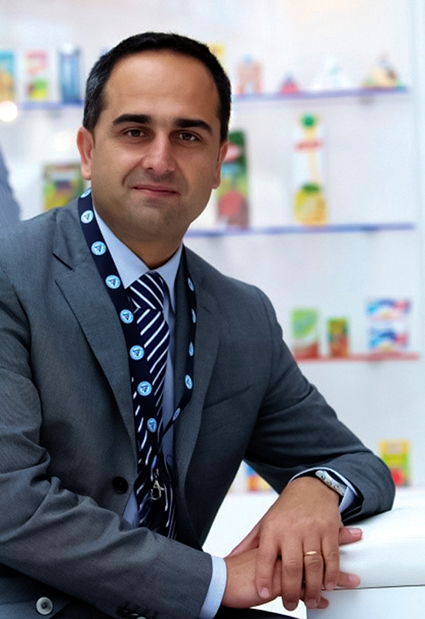 Paper Mart: Is it the ban on single-use plastics proposed by the European Union in 2018 that prompted you to launch paper straws? What is the inspiration behind your paper straws?
Riccardo Castagnetti: Our product development team has been exploring alternatives to fossil-based plastic straws and caps for some time now. We were the first to develop plant-based caps in 2011. A replacement to plastic straws needs to meet the same functionality, such as remaining robust during distribution and storage throughout the product's shelf life, and the ability to pierce through the pack as well as meeting all food safety requirements.
Our inspiration comes from our vision to create packaging only from plant-based material, which is why we developed a paper straw alternative to meet our ambition to deliver a package that contributes to a low carbon circular economy while not compromising our strict food safety and ease-of-use requirements.
PM: Can you tell us about the type of paper you use for making paper straws? Can straws be made from other grades of paper as well? Please elaborate.
RC: Our paper straws are more than 90 percent paper and less than 10 percent water-based adhesive. The adhesive is needed for functional reasons to hold the paper together in a tube shape. Our objective is to ensure food safety and quality for our paper straws while minimizing the environmental impact.
The paper in our straws is made from FSC™ certified paper and is recyclable with the rest of the package. The Forest Stewardship Council™ (FSC™) is a global organization that, by means of inclusive governance, sets the standards for what is a responsibly managed forest and promotes environmental protection, social justice and economic feasibility. We see FSC as offering a credible universal standard; we also know that 26 percent of consumers recognize the FSC logo, so we actively encourage our customers to display the logo on their packages.
PM: What is the length of your paper straw? Is the size of your straw bigger than that of a commonly used plastic straw in Europe?
RC: This first paper straw will be straight, 100 mm in length, and more lengths and shapes (suitable for different pack formats) will be available in the coming months. Our straws require completely different characteristics to those used in bars and restaurants. They are attached to carton-based packages and not sold loose, have different functionality and therefore have different technical requirements.
PM: A stainless steel straw can be reused indefinitely as a means to reduce waste. Don't you think stainless steel straws are better than plastic or paper straws?
RC: A stainless steel straw and a paper straw serve different purposes. We have designed our paper straw to attach to Tetra Pak cartons, and if pushed back in the pack after use, can be recycled along with the rest of the carton package.
PM: Are paper straws cheaper than plastic straws? Do you think the paper straws you have recently launched will enjoy a fair amount of success on the global market?
RC: The initial cost of paper straws will be higher than that of plastic straws. We expect the price will come down over time as the scale of production goes up. Our paper straw has passed rigorous tests in our product development process and so we are confident that we now have a paper straw that meets internationally recognized food safety standards and our requirements on functionality. In parallel, we have started other development tracks to find suitable solutions to plastic straws.
PM: Can you tell us a little bit about your company's other innovative successes? How does your company encourage innovation?
RC: In order to encourage industry innovation, we have committed to publicly sharing our research and innovations for the development of our paper straw to support industrial collaboration on alternatives to single use plastic.
Annually, we spend around €400m on R&D across all parts of our business. We recognize that innovation is of utmost importance and as such we are prepared to make all necessary investments. In May 2018, we launched our high capacity separators with Encapt technology, which are most commonly used to separate milk or whey. This technology reduces the air pressure around the spinning bowl which lowers the air friction and thereby the energy consumption. When this new technology is paired with the established AirTight design, it enables as much as 40 percent savings compared to alternative separator designs.
In addition, last year we launched Tetra Pak® Plant Secure, a game-changing plant management service that delivers profitability improvements for customers. Our investment in Industry 4.0 technologies such as artificial intelligence, automation and data velocity has enabled us to better-support our customers in the digital era. Tetra Pak® Plant Secure is a great example of how we use new technology to broaden our perspective and deliver bottom-line benefits for our customers.
PM: In what ways is your company contributing to a low-carbon circular economy?
RC: We believe that the economy of the future must be circular and low carbon with a minimal climate impact across the entire food value chain. Our ambition is to deliver a package that contributes to a low carbon circular economy – a package made entirely from plant-based and/or recycled materials that is fully recyclable.
In order to deliver a low carbon circular economy, we are focusing on four areas: delivering a package with the lowest comparable carbon footprint, delivering highly effective equipment and solutions, minimizing our operational impact, and working with partners to dramatically increase recycling and reuse. We have committed to spending approximately 100 million Euros per year for the next five years on developing and implementing alternative solutions to on-pack plastic straws, tethered caps and other drink-from systems. We are also working to minimize our environmental impact across the value chain, from sourcing to production, and from use to disposal of our products and equipment. Since 2010, we have cumulatively saved more than 10 million tonnes of CO2 equivalent throughout our entire value chain, and, in 2018, we passed the 50 percent mark for renewable electricity supplied to our operations just two years after making our RE100 commitment.
Recycling is one of the key enablers of a low carbon circular economy and so, last November, we announced a major new partnership with Veolia to demonstrate our commitment to helping improve recycling infrastructure. This will enable all components of used beverage cartons collected within the European Union to be recycled by 2025.
PM: What are Tetra Pak's future targets?
RC: We obtain half of our global electricity supply from renewable sources and are on track to meet our RE100 commitment of using only renewable electricity across all global operations by 2030. Further, as part of our commitment to Ellen MacArthur Foundation's New Plastic Economy, we will incorporate a minimum of 2 percent recycled plastics content (in Europe) on average across our beverage cartons by 2025. This is subject to technical and economic availability of suitable food-grade recycled plastic.
In 2016, we became the first company in the food packaging industry to have our climate impact reduction targets approved by the Science Based Targets (SBT) initiative. We committed to reducing Tetra Pak's operational GHG emissions by 42 percent by 2030 and 58 percent by 2040, from a 2015 baseline. We have also committed to reducing GHG emissions across the value chain per unit of revenue by 16 percent by 2020, from a 2010 base-year.