Equipped with modern technology and machines, Wires & Fabriks is ready to take risk, to be successful, to evolve.
Mr. Devesh Khaitan, Director, Wires & Fabriks (S.A) Limited, shares his views on market competition, product development, acquisitions and collaborations in an exclusive interview given to Paper Mart.
Here are some excerpts from the interview: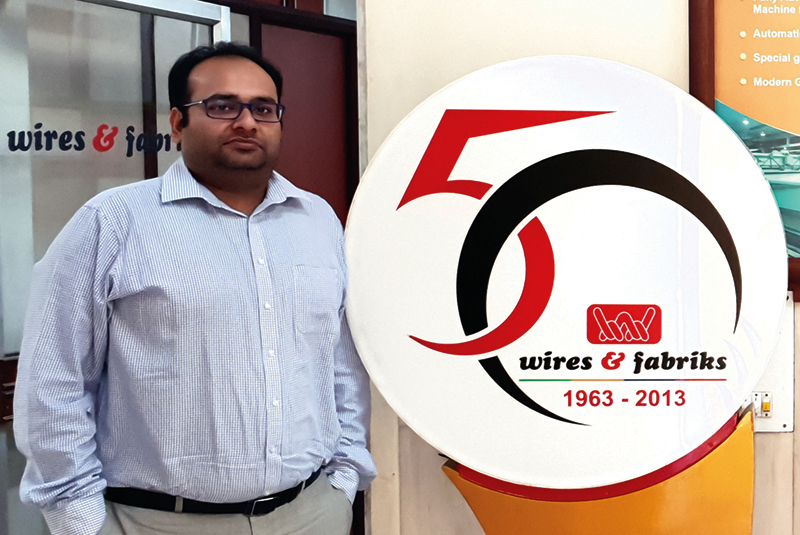 Paper Mart: Can you tell us about the new developments at Wires & Fabriks?
Devesh Khaitan: We have always welcomed new developments at Wires & Fabriks. However, development does not necessarily mean product expansion, capacity addition, or modernization. In fact, in the last 2-3 years, we developed some new products, about which we are super excited. Product development is an on-going process at Wires & Fabriks. We have a strong product development team which is responsible for developing new products for the customers.
We also focus on process development. Our project team reviews all manufacturing processes twice a year. The team comprises an in-house panel from various departments and foreign experts. This team has been quite successful in coming up with out-of-the-box ideas. It also focuses on the feasibility of the ideas it puts forward. With the help of this team, we have been able to achieve amazing breakthroughs in our manufacturing process. The ideas put forward by this team have helped us enormously in increasing our consistency and efficiency. As far as expansion is concerned, we follow the market trend. If the demand for paper increases, we expand our capacity accordingly.
PM: What factors do you take into account before going for product development?
DK: Product development enables us to keep ahead of the competition. The team works on design and inspects what kind of pulp raw material is going in, what kind of machines are installed, and what kind of paper is being produced. The idea to work on product development came from our desire to produce something different from the rest, compete with other players, and increase our sales. We also wanted to be on a par with European manufacturers.
Interestingly, two identical machines differ from each other when they are operated. Workers ought to have a good understanding of such working procedures. Sometimes our team has to stay on sites for a week to collect data and information. The development process starts only after relevant data and information have been collected.
PM: Can you tell us a little about your product portfolio?
Devesh Khaitan: The major part of our product portfolio includes forming fabrics. Our latest forming fabrics, i.e., Next Generation can be used for Writing and Printing, Packaging and Tissue. Forming Fabrics are designed to the specific need of the customer depending on the paper, which is being manufactured. Our other product range comprises woven dryer screens (including both side flat), spiral screen, conveyer belts, belts press for ETP, and pulp fabrics. We have a chemical division too wherein we supply various performance chemicals like Dienking, Defoamers, different Polymers and other various chemicals required for special applications. We also have a division for paper machine accessories in which we supply Showers, Filters, Doctors and Doctor Blades, Tail Cutters and Fiber recovery equipment.
PM: What is the current market share of Wires & Fabriks? What kind of growth do you expect to see in future?
DK: We at Wires & Fabriks never judge the market share in terms of numbers. We judge it based on customer response to our products, especially the new ones, and the number of customer solutions provided. What has played for us is the fact that the time required to develop a new product and launch it on the market has been drastically reduced. Rather than just selling the product, we have started partnering with our customers and moving towards solutions.
PM: What makes Wires & Fabriks different from its competitors? How do you add value to the paper industry in India?
DK: We don't believe in creating a market share based on price because this is something most of our competitors can do. We believe in partnering with paper mills and providing them with solutions. We are well-equipped with specialized equipment to conduct in-depth analysis and identify the source of the snag in the paper machine. We have provided our services to quite a few companies in the industry and have been accredited for our work. Our solutions have played an important role in improving the papermaking process and making production much more efficient. We have implemented sustainable manufacturing processes for paper and board without compromising quality and helped the clients improve and mend the issues in the machines.
PM: What new products and developments are you looking forward to seeing in the near future?
DK: By and large, paper manufacturers consider retention, drainage and longevity as their foremost priority. However, as far as Sheet Support Binder (SSB) is concerned, not many developments have taken place in the global paper industry. It started with a single layer; then came the double layer; then the multilayer; and then SSB. The cost of developing more than three layers is huge; it's just not viable. We are trying to bring about intrinsic changes and improvements as per the customer's demand, and this is something that is currently happening all over the world. We keep improving and modifying our products, which in turn helps us in improving the performance of the paper machines.
PM: In the last three years, the demand of paper in India has grown substantially. Do you think the paper market is ready to move from being a price-sensitive market to being a quality-sensitive market?
DK: It is not just India but other countries too that are greatly influenced by the price paradigm of the pulp and paper sector. Globally, the industry has invested a lot in technologies in the last two to three years. With the implementation of newer technologies, China now has moved to the next level. The global paper industry has witnessed big changes, and now the Indian pulp and paper sector is also ready to experiment with innovative technologies in its business processes, which is a good sign. The changes that are taking place in the industry have prompted us to amend the processes and improve our business operations.
PM: What are the future trends of paper machine clothing (PMC) in India?
DK: Currently, the industry is in the consolidation mode through joint ventures and collaborations. As you already know, Xerium Technologies, Inc. was recently acquired by ANDRITZ. Such events would keep taking place in the coming years. Further, paper machine clothing (PMC) business is not a multi-billion-dollar segment; rather it is a very niche market, which does not allow too many players to stay at a given time. One of the countries where consolidations would take place in a big way is China, because most of the European PMC manufactures have their facilities in China, and the Chinese themselves own a few big PMC manufacturing firms. However, not many acquisitions have taken place in India in the past.