The TT SYD was delivered in record time only 20 weeks after the order. The start-up is planned for the third quarter of 2021.
July 22, 2021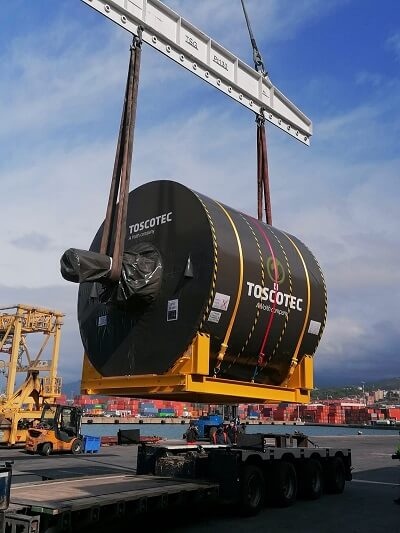 Toscotec has completed an order from Sappi to supply a TT SYD Steel Yankee Dryer to their mill in Stanger, South Africa.
Watch: Paper Mart Fortnightly News Roundup.
The cylinder was shipped off from Toscotec's fully integrated and innovative TT SYD Technology Center in Massa (Italy), where Toscotec manufactures all its steel Yankees. The Center is conveniently located three kilometres away from the seaport to expedite shipping operations of large diameter Yankees. The scope of supply includes the Yankee steam and condensate system and Toscotec's patented head insulation designed to ensure maximum thermal energy efficiency. Toscotec will provide complete project management, erection supervision, commissioning, and start-up assistance.
Nash Ayer, Procurement Manager at Sappi Southern Africa Ltd., comments, "We decided on Toscotec because they met our foremost selection criteria of high energy efficiency and reliability. The choice of leading-edge technology such as TT SYD that will increase the energy efficiency of our tissue line is part of our strong commitment to climate-smart solutions. Given the short timeframe we had on this project, Toscotec gave us their full support by shortening the delivery time."
Fabio Bargiacchi, Toscotec's Sales Manager, says, "We are glad to start a new cooperation with Sappi, one of the largest and most innovative pulp and paper producers worldwide. The 20 weeks delivery time obviously posed a big challenge but Toscotec achieved an outstanding result by tapping into the great manufacturing flexibility of its TT SYD Technology Center. With this order, Toscotec further strengthens its position in South Africa, where we have been awarded six new projects in the last 5 years."
Also Read: Toscotec to Supply a TT SYD Steel Yankee Dryer to Mirae Paper.
With over 200 TT SYD operating in 5 continents across the globe, Toscotec is the undisputed market leader of steel Yankee dryers holding more than 70% market share. Toscotec has manufactured the biggest steel Yankee dryer in the tissue sector, and its TT SYD has been selected for a wide range of applications, including tissue, MG paper, TAD, and tobacco.
Toscotec's continuously growing experience of Yankee dryers operating under the most diverse conditions drives the progress of TT SYD's design and services. In 2021, Toscotec launched TT Defender®, a breakthrough patented innovation that provides Yankees with an internal protection coating against corrosive steam.